Học Đường
Life Style
Male student won a full scholarship in the US with an essay on how to overcome events
To achieve this achievement, right from the 9th grade, Hoang Trung learned about the international educational environment and set a goal to study in the US.
Because of his early goals, male students always try their best in their studies to achieve good results, creating a premise for future development. Of course, in order to achieve a scholarship of great value like a full American scholarship, it takes Hoang Trung's unremitting efforts and striving.
Since 9th grade, Hoang Trung has set a goal of studying abroad for himself.
"With simple exercises, I usually don't lose too much time, I often find out and come up with different ways to solve a difficult problem and that gradually becomes my hobby.Talking about his learning journey, Hoang Trung shared that he has outstanding ability in Math and other subjects in the Natural Science block.
I don't have any great learning secrets or specific timetable, but simply after each class, I will complete my homework, I will study every day that day, not like "water comes to my feet". leap". I usually get up before 7am and spend some time exercising.
Most of the time, I manage with the problems I encounter, or with the lessons that are too difficult, I arrange my own time during the week to learn more, study in books or research on social networks or talk to teachers. Only when are friends satisfied," Trung said about his learning secret.
It is known that from a young age, Trung's parents have noticed that their children's thinking and reflexes are faster than their age through playing quizzes or doing basic math. And that statement was proved when Trung won the first prize in the 4th Open Chess Competition and won tickets to the Southeast Asian age group chess tournament when he was only in 3rd grade.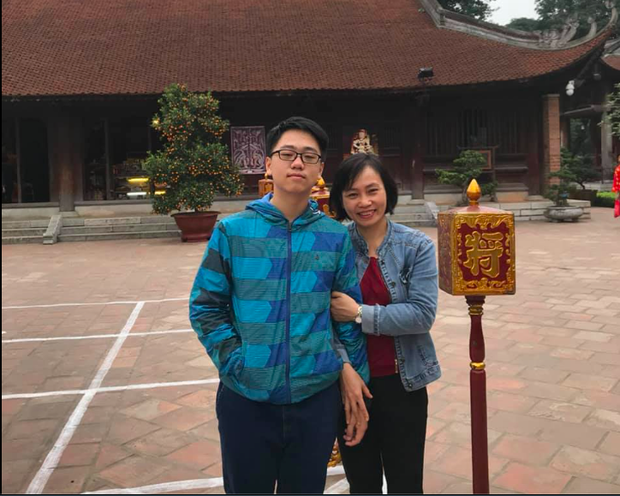 Male student Hoang Trung and his mother
Talking about winning a scholarship to study in the US, the male student shared that he started the process of applying for a scholarship from grade 10, including studying, taking an international English certification exam, and preparing science certificates. and extracurricular activities.
"In order to get a scholarship, I have to write an essay and I started doing this in 11th grade. To win the jury, I don't think I have to write anything too sublime or far-fetched.
I chose an essay about how I overcame my own incident and how I handled it to move forward. The content of the essay revolves around my own story from how I felt when I had an incident, how I faced it, and how I looked back at it after that.
In general, I also don't write anything fancy, I write essays to convince the judges with the most honest things about my story," Trung said.
And regardless of Hoang Trung's expectations, at the end of March 2022, Trung received the notice of admission to the Faculty of Natural Sciences of Dartmouth University (USA) with a full scholarship. Currently, this male student is preparing to go to study abroad in August.
When asked about the pressures of studying at a school named for "superheroes" like Hanoi – Amsterdam High School for the Gifted, Trung said that he, like other students, also had times of stress and felt tired. Tired because there are too many lessons and knowledge to learn, but when stressed, Trung realizes his situation and finds a way to overcome it.
"Faced with stressful classes, or the process of reviewing good students, there are also difficult problems that make me unable to find a solution, at that time I also look to sports such as jogging, playing tennis. to relax and have more energy, then continue to go online to find materials to solve the exercises.
I think everyone has their own talents and strengths to promote and of course there are weaknesses as well. With our own weaknesses, we should try to overcome them, not give up and give up, you will achieve your goals," Trung said.
Hoang Trung said that even though he is busy, he spends an hour exercising every day to relax, which is also a way to improve health and regenerate energy.
You are reading the article
Male student won a full scholarship in the US with an essay on how to overcome events

at
Blogtuan.info
– Source:
Kenh14.Vn
– Read the original article
here