Many bruises on the bodies of two children
According to the reflection of Mr. Doan Trong Sang (SN 1959) and Ms. Nguyen Thi Hong (SN 1965, Mr. Sang's wife), living in Huu Hoa commune, Thanh Tri district, Hanoi, the family has now made an application. sent to Hai Ba Trung District Police (Hanoi) to request handling of Mr. NTT (in Hai Ba Trung district) for child abuse.
According to Ms. Hong, in 2011, Mr. D.MN (born in 1987, son of Mr. Sang and Mrs. Hong) married Ms. NHNA (SN 1987) and gave birth to 2 children, grandson HA (10 years old) and grandson TN (SN 1987). 8 years old). In 2018, Mr. N. passed away due to serious illness.
After her husband's death, Ms. NA developed feelings for Mr. NTT. Then, Ms. NA took 2 small children to live with Mr. T.
In August 2020, the couple visited their two grandchildren and discovered that they had many bruises on their bodies, suspected of being beaten. When questioned, the children said they were beaten by Mr. T. At the climax, on April 9, 2021, Mrs. Hong and her husband welcomed 2 grandsons to their house to play. At this time, N said, the day before, his stepfather beat and strangled him, causing him to be injured and scared.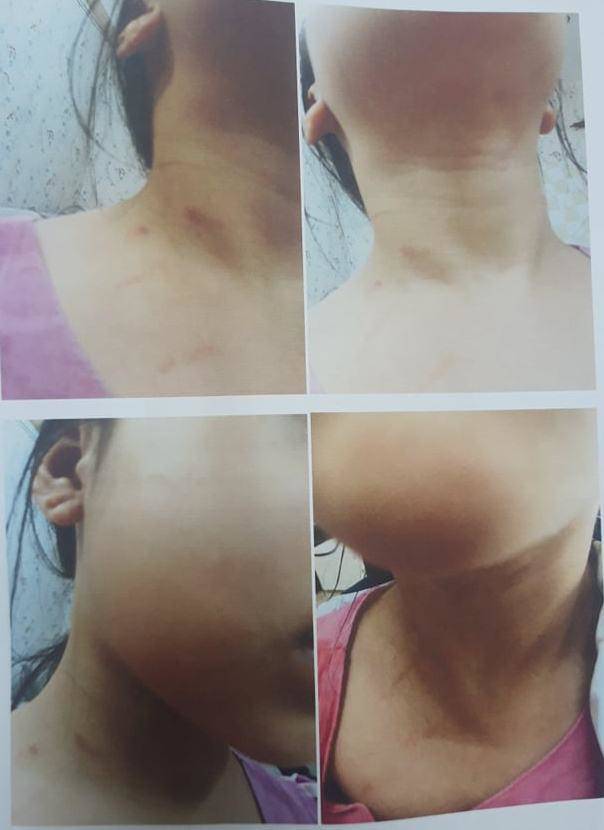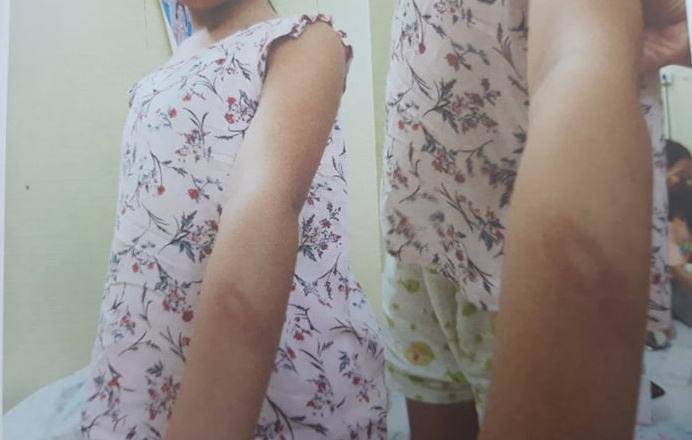 Many injuries appeared on the bodies of 2 children HA and TN (Photo provided by readers)
The next day, Mrs. Hong and her husband took their grandson N. to Minh Khai ward police station (Hai Ba Trung district) to report the incident. Because she was worried about her grandson's health, Mrs. Hong and her husband took N to Thanh Nhan Hospital for examination. Here, N was diagnosed by a doctor "monitoring for traumatic brain injury".
After her family reported the incident, Minh Khai Ward Police invited Mr. NTT (stepfather of 2 children) to the headquarters to work and take testimony. After that, the case was handed over to the Hai Ba Trung District Police by Minh Khai Ward Police for further investigation and clarification.
"After that, believing that Mr. T would change, my family applied for an exemption from criminal prosecution for this man," Ms. Hong said.
"I just want you two to live a safe and happy life"
At the license number 219/2021/VB-TPLHD established on April 23, 2021, Ms. NHNA herself (the mother of two children) said that during their life, HA and TN were repeatedly abused by Mr. NTT. (insult, beat), leaving injuries to two grandchildren. Meanwhile, Ms. NA has not taken measures to prevent the above-mentioned violent behavior of T. To ensure her material and spiritual interests, as well as the wishes of her two children, Ms. NA voluntarily handed over her grandson HA. and TN children give their grandparents full custody and care. NA has the right to travel, visit, care for and support her 2 children. On Mr. Sang's side, Mrs. Hong agreed with Ms. NA's wish. The decision to assign and take care of HA and TN's children was issued by the leader of the People's Committee of Huu Hoa commune (Thanh Tri district, Hanoi).
However, by the end of February 2022, due to the COVID-19 epidemic, NA took both children to her grandparents' house to stay temporarily. When the epidemic situation stabilized, Mrs. Hong and her husband went to pick up the children, but NA did not agree.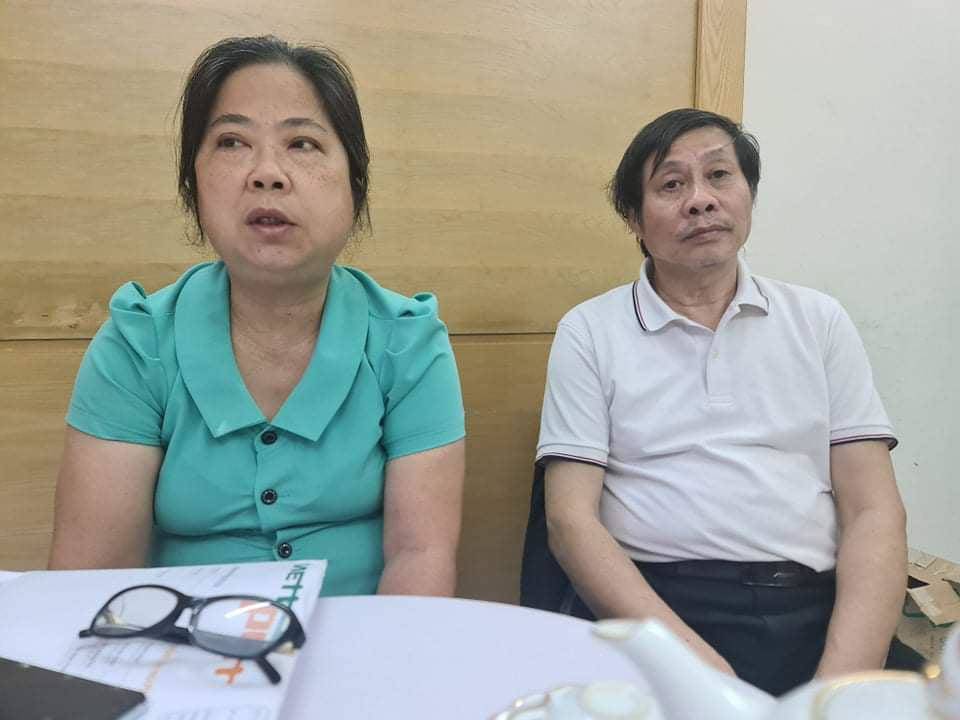 Mr. Sang, Mrs. Hong choked when talking about 2 grandsons
Sharing with PV, Mr. Doan Trong Sang choked: "My wife and I's biggest wish right now is that the authorities of Hai Ba Trung district and the Hanoi City Police will soon step in to take measures to ensure the safety of the people. safety for HA and TN The two children have one more day to live in the same house with their stepfather, and we feel anxious and insecure that day."
Regarding the above case, Hai Ba Trung District Police has received the case file and is conducting verification and settlement in accordance with the law.
Looking at the case from a legal perspective, lawyer Nguyen Anh Thom (Hanoi Bar Association) expressed his opinion: Through reviewing the documents and initial evidence, it was found that the subjects had used the behavior of the subjects. Using excessive force to beat 2 children, causing bruises on the body, showing signs of committing the crime of "Abusing or torturing children" as prescribed in Article 185 (Criminal Code 2015).
Although the behavior of the subjects did not cause serious injuries, but through the traces left on the bodies of the two children, there is a basis to determine the behavior of tormenting the children continuously for a long time with severe physical pain. physical and mental.
Obsessed with cases of violence against stepchildren of spouses
The abuse of a stepchild by a spouse is not uncommon. Especially, in recent times, when there have been many tragic incidents in succession.
Previously, in January 2022, after being arrested by the Hanoi City Police, Nguyen Trung Huyen (SN 1992, residing in Thach Hoa, Thach That, Hanoi) confessed that, during his life, Huyen beat, tortured, nailed her daughter N.Đ.A. (3 years old, in Canh Nau commune, Thach That) – NTL's daughter (SN 1995, girlfriend living as husband and wife with Huyen) causing A. to die tragically after 2 months of emergency at the hospital.
Or the case of NTVA (8 years old, living in Ho Chi Minh City) was beaten and abused by Nguyen Vo Quynh Trang (26 years old, from Gia Lai – the lover of the baby's father), violently leading to death. . A.'s biological father, Nguyen Kim Trung Thai (36 years old), was also prosecuted to investigate the behavior of "tortured children" and "hidden crimes".
You are reading the article
Suspect of two girls being abused by stepfather in Hanoi

at
Blogtuan.info
– Source:
Eva.vn
– Read the original article
here