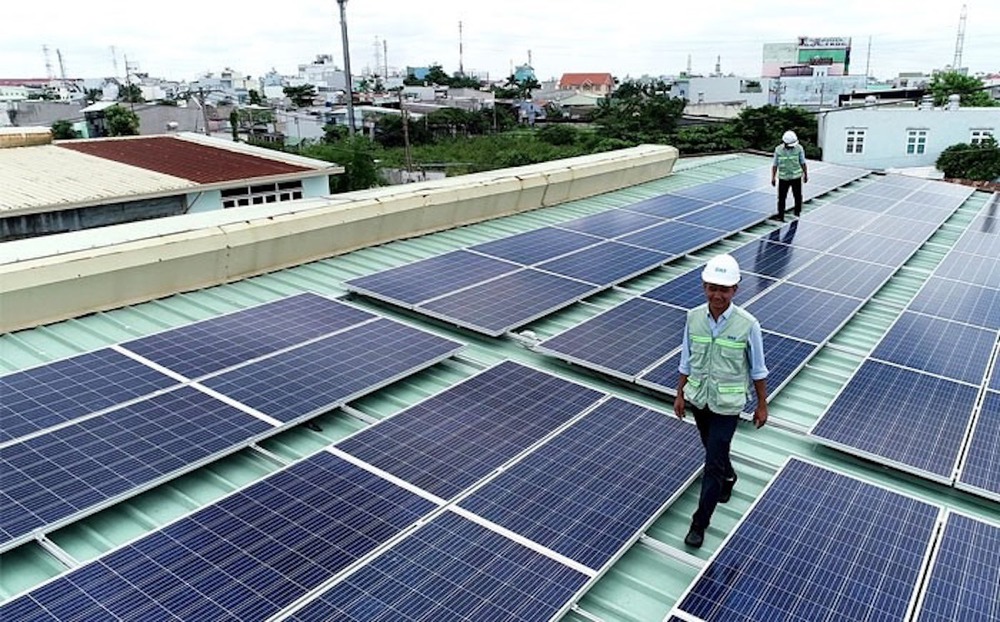 Many solar power farms have come into operation.
Solar power optimization
Solution "The control and monitoring system for solar battery power" by the authors Le Kim Anh, Pham Duy Phuong and Phan Thanh Minh, teachers of the Central College of Industry and Trade.
According to Dr. Le Kim Anh (team leader), people's demand for energy is increasing, especially electricity to serve daily life, production… Meanwhile, traditional fuel sources stand. at risk of shortage. In addition, these forms of energy pollute the surrounding environment and increase the greenhouse effect…
The solar battery power control system generates direct current from solar radiant energy, which can be used to supply power directly to DC or AC loads.
The system can be operated independently, or in grid-connected operation thanks to a DC/AC grid-tied inverter. The grid-connected solar battery power system includes main blocks: Solar panels, power converter blocks (DC/DC, DC/AC) and other supporting devices (protection, metering, connection). land…).
The grid-connected solar battery power system needs to ensure two purposes: optimal exploitation of the solar cell's generating capacity and maximum flow of power into the AC grid.
Dr. Kim Anh said that stand-alone solar power systems are often applied to areas without industrial power grids or for special consumption loads with small capacity. The disadvantage is that you have to use a battery pack, which is both expensive, requires regular care and pollutes the environment.
On the other hand, the battery pack can only store a limited amount of electricity, but with tens or hundreds of kW solar arrays, using rechargeable batteries is a huge problem, even impossible. body.
In a grid-connected solar power system, it should be noted that the solar cell only transmits active power to the grid without supplying reactive power. This affects the power factor of the grid. The selection of the generating power factor of the solar cell source is compatible with the required power factor of the grid to allow the amount of active and reactive power to be adjusted to be fed to the grid depending on the capacity requirements. of the power grid.
Currently, the technology to convert thermal energy into electrical energy of photovoltaic cells is still low in efficiency. The group has applied a cascaded control structure in the control of solar cell power, to ensure that the photovoltaic cells always operate at maximum capacity.
The uniqueness of the solution is to build a control model that ensures that the frequency, amplitude and voltage deviation always reach stable values. In addition, high harmonics can be reduced, which has great significance for improving power quality.
The stratified control method for solar PV power is aimed at developing smart grids and flexible grid-connected control. Talking about the practical ability and applying this solution to life, Dr. Le Kim Anh affirmed that it can be applied as a teaching model for higher education institutions; Vocational education institutions, continuing education centers, high schools… contribute to support and improve the quality of training, and at the same time use electricity for lighting.
Reduce costs for electricity users
Smart electricity monitoring system can monitor in real time. High quality sensors such as solar irradiance sensor/radiation sensor, temperature sensor, environment sensor… are assembled in the monitoring system to sense and record time data real.
The system performs centralized remote monitoring and tracks real-time performance data of the solar power systems such as performance degradation, downtime, loss, etc. causing power generation loss.
The smart photovoltaic monitoring system comes with a dashboard device i.e. one can view all the recorded data of all assets in one place via mobile or desktop app to table.
Recorded data is displayed in the form of graphs and is reported on a daily or monthly basis (a timely report can be generated upon request) via SMS or email. The monitoring system comes with alarm function when high temperature or abnormal fuse…
The analyzed data records and tracks the real-time gap between expected and generated energy. This allows customers to make future decisions depending on previously stored data.
According to Dr. Le Kim Anh, this solution has created a new direction in controlling the solar battery source to maximize the output power of the system, regardless of the load connected to the system, but the frequency and voltage always reach a stable value. Adding more electricity to the national grid system. Customers using electricity reduce costs by adjusting and monitoring the power generated from solar cells.
The solution also contributes to reducing climate change and reducing dependence on fossil fuel sources that are at risk of depletion, causing environmental pollution. The production, transportation, installation and operation of solar power plants basically do not emit harmful gases.
Mr. Nguyen Van Khoa, Phu Yen Department of Science and Technology, said that the solution has contributed to solar battery power users with a more efficient application method. If invested in methodical and in-depth research, the solution can be widely applied, especially in localities where solar power is being developed today.
You are reading the article
Monitor solar battery power

at
Blogtuan.info
– Source:
Soha.vn
– Read the original article
here