Gia đình
The "giant" is 1m92 tall and his wife is 77kg less: The day before he won the SEA Games gold, the next day he came back quickly to get married!
She said: 'When we were in love, he took me on a motorbike, I was sitting behind but I was invisible because no one saw me'.
Husband: Ha Van Hieu – National Wrestling athlete
1 gold medal at SEA Games 31
4 gold medals in SEA Games
Wife: Vu Thi Nghien – Physical Education Teacher
After winning the SEA Games gold medal, he returned home urgently to get married
Ha Van Hieu is considered a legend of the Vietnamese wrestling village. At the 31st SEA Games this time, the 1m92 tall and 125kg athlete excellently won the Gold Medal in the 130kg weight category. This is Ha Van Hieu's fourth time winning the SEA Games in his weight class. Known as the "Giant", Ha Van Hieu really left a great impression in the hearts of fans among the Vietnamese athletes at the 31st SEA Games.
Many people wonder what the "Giant's" wife will be like. When asked to introduce herself, Vu Thi Nghien – Hieu's wife laughed and replied: "I'm just a PE teacher".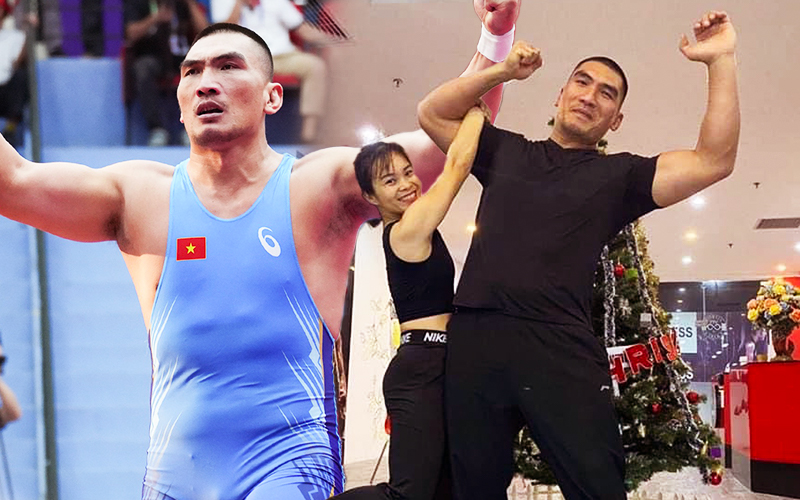 It is known that Nghien and Hieu knew each other while studying at the University of Physical Education and Sports. At first, they talked well, so they became closer and closer.
"I wasn't impressed with him because of his tall body, maybe because he was in love at the time, I thought he was very handsome, not paying attention to his outstanding physique or height. Hieu himself was also very emotional, caring and knowledgeable. How to share with me, so my feelings for him are growing," Nghien said.
Nearly 13 years ago, the two's wedding was held. More specifically, that year's wedding came right after Hieu won the first gold medal at his SEA Games.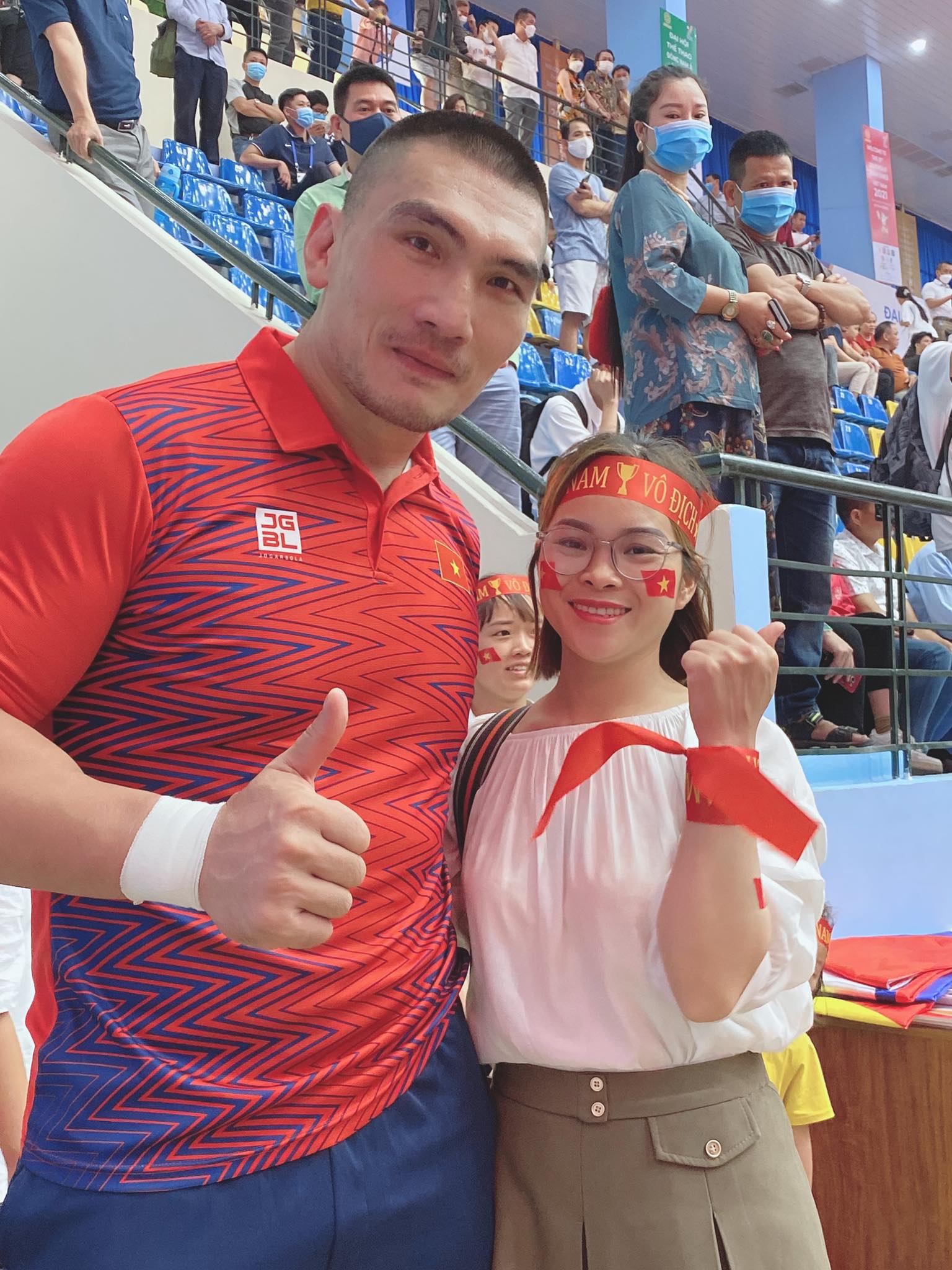 That year, on December 18, 2009, Ha Van Hieu finished playing. On December 19, he returned to the country, then on December 20, he got married and on December 21 got on a flower car. That is to say, the most meaningful and important days of his life took place in the last few days of 2009.
Ha Van Hieu is known as a giant because he is 1m92 tall and weighs 125kg. Meanwhile, Nghien is only 1m58 tall and weighs 48kg when both are married. The two sides have a huge body difference, but with Nghien, because of love, everything seems normal.
She said: "When we were in love, he took me on a motorbike, I was sitting behind but I was invisible because no one saw me. Everyone was curious when the couple appeared, but I didn't find it strange at all. All. My tall husband is a national athlete. I'm just proud, not shy."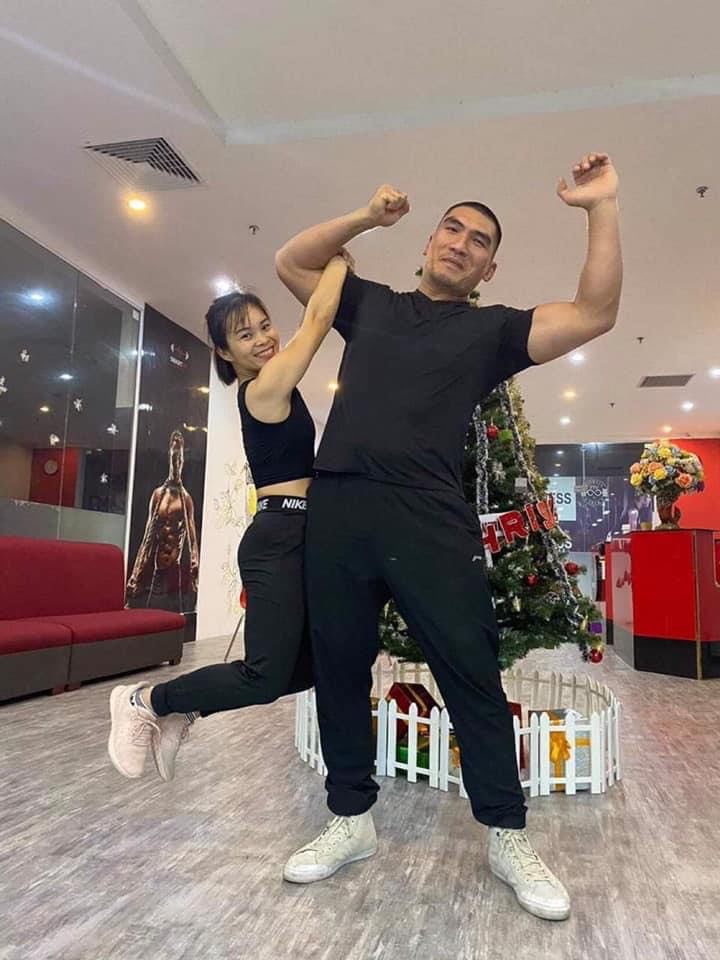 SEA Games 31, Ha Van Hieu has prepared very carefully for the tournament at home. The competition was only one day, but the training period was extremely hard. Since January 2020, he has focused on preparing for the SEA Games.
"Each time he finished practicing, he had to go to the ice bath or go to the medical room of the center to recover. Due to his age compared to sports, a lot of exercise, short rest time, he did not have time to recover. Yes. When he was too tired to eat, he lost a few pounds.
On January 5, 2022, he had Covid, so his health was greatly affected. Me and my two children can only encourage him. Moreover, this SEA Games is at home, so he also tries and strives a lot. I myself try to take care of all the family and children so that he can only focus on training and not be psychologically affected," Nghien shared.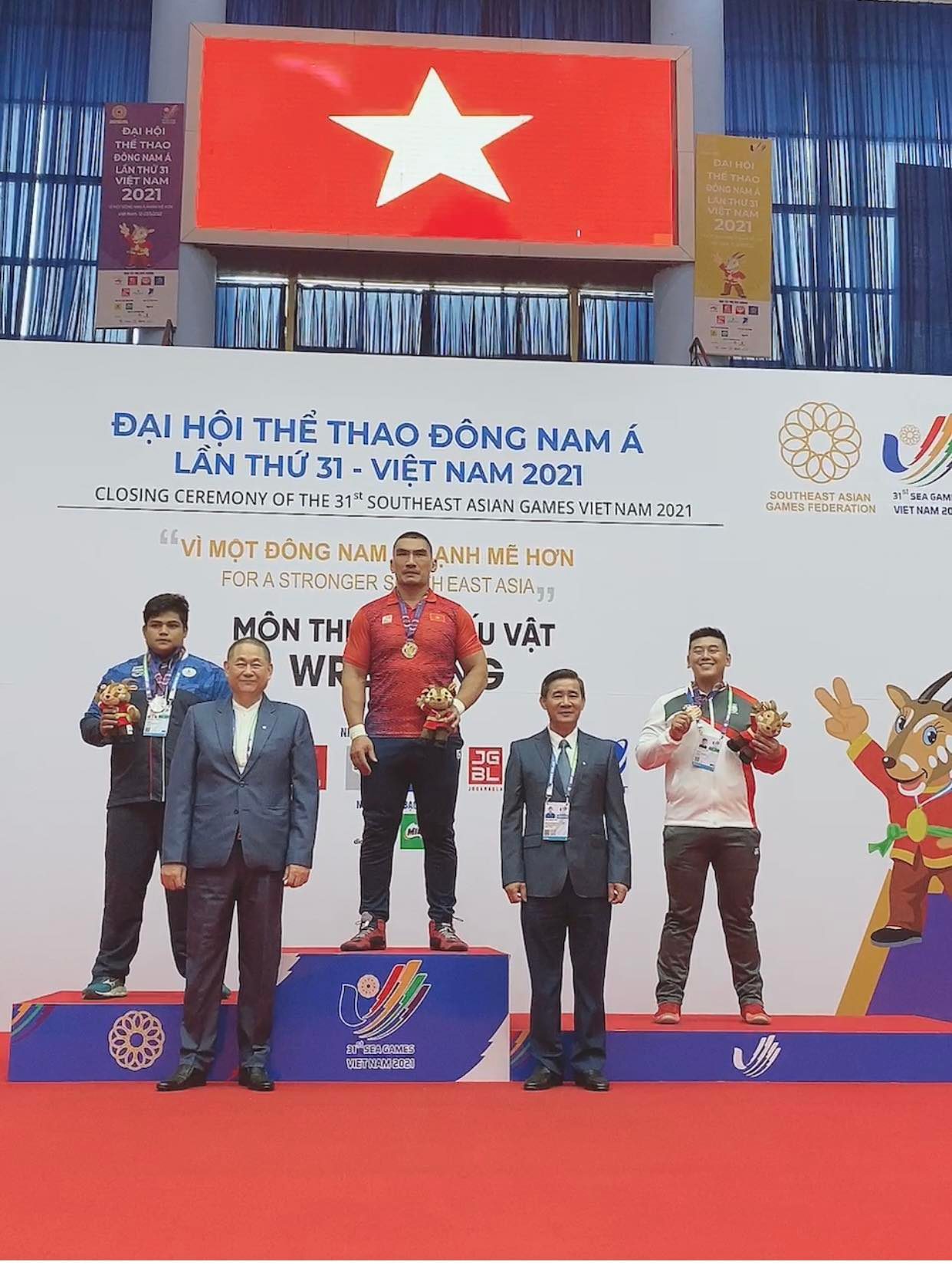 "Giant" but also have to respect "roof"
After knocking down the opponent to win the SEA Games gold medal, Ha Van Hieu had a CR7-style celebration and was widely shared. It is known that this is how he pleases his son. When at home, father and son often watch and talk about football. His son likes Cris Ronaldo and celebrates Ronaldo's famous "Siu" all day long. Normally, he and his wife also laugh because the boy's performance is so clumsy and funny that right on the ring, the father has done it again, giving it to his son.
Nghien shared: "The SEA Games were at home, so family and friends came to cheer. My mother-in-law, sisters and relatives came down from Lang Son. In Hanoi, there were also a lot of my family coming to the contest house. Gia Lam cheers. My feelings are hard to describe, people see different psychology, I have different emotions, nervous, suffocating. However, I still advise him to try to be psychologically comfortable. Stay calm, play your best, whatever the outcome is."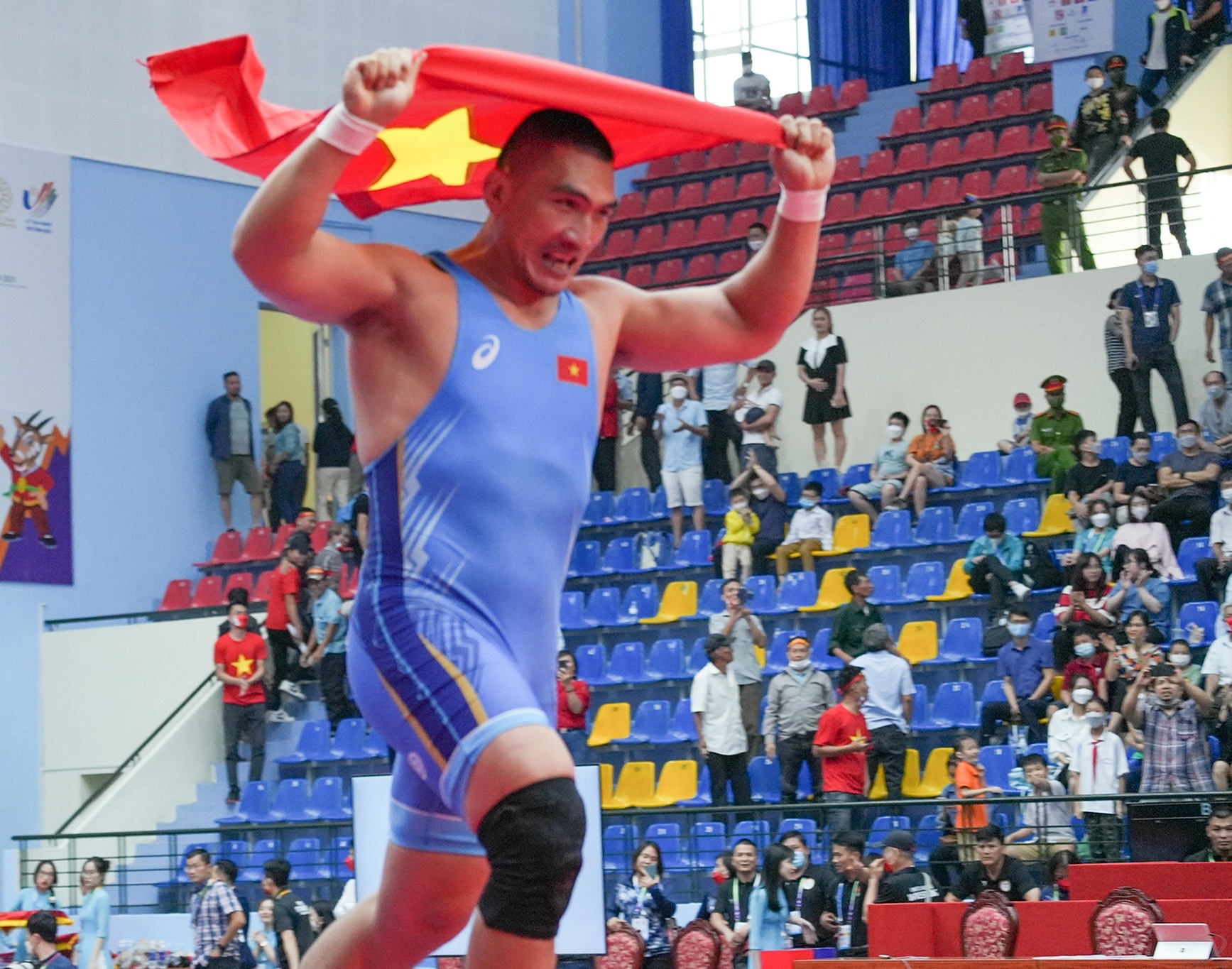 When dealing with this couple, many people think that Ha Van Hieu is tall, looks quite rough and fastidious. However, in Nghien's eyes, her husband is very affectionate, friendly and sociable.
Because of the task as well as due to practice, the couple often live far away from each other, only seeing each other on weekends. Therefore, he and his wife always cherish the time they spend together.
"On holidays, even though my husband is not at home, I still order flowers, send postcards or gifts to my wife. I also understand the difficulty of my wife when managing the housework alone. So if I go home, I usually do it all. housework, cook for his wife.
People keep saying that he's so tall that I don't dare to 'defle the wave', which is completely wrong. However, he is very emotional, restrained and always yielding. The two children saw their father always yielding to their mother and said that their mother was the 'roof of the house'", Nghien added.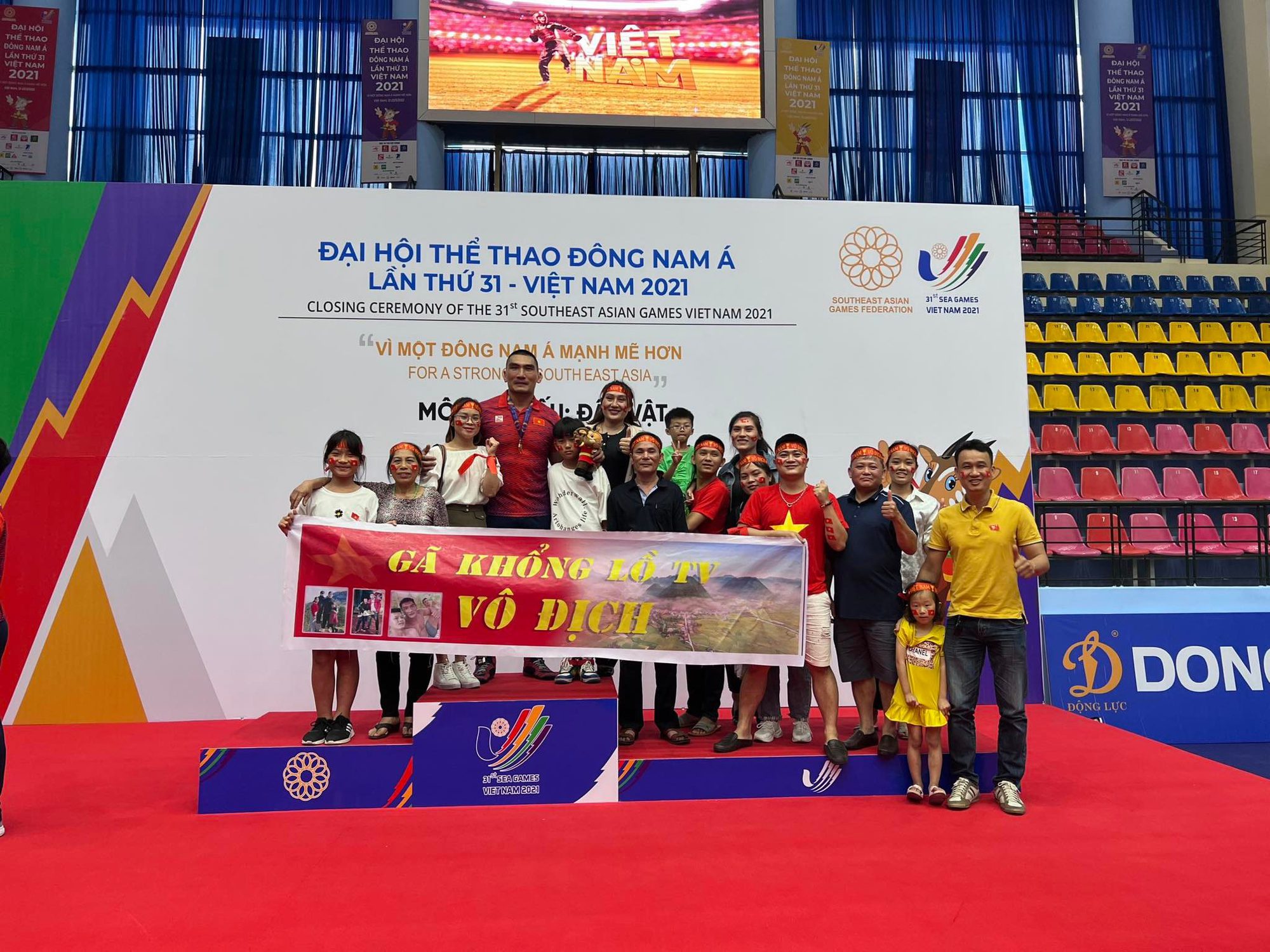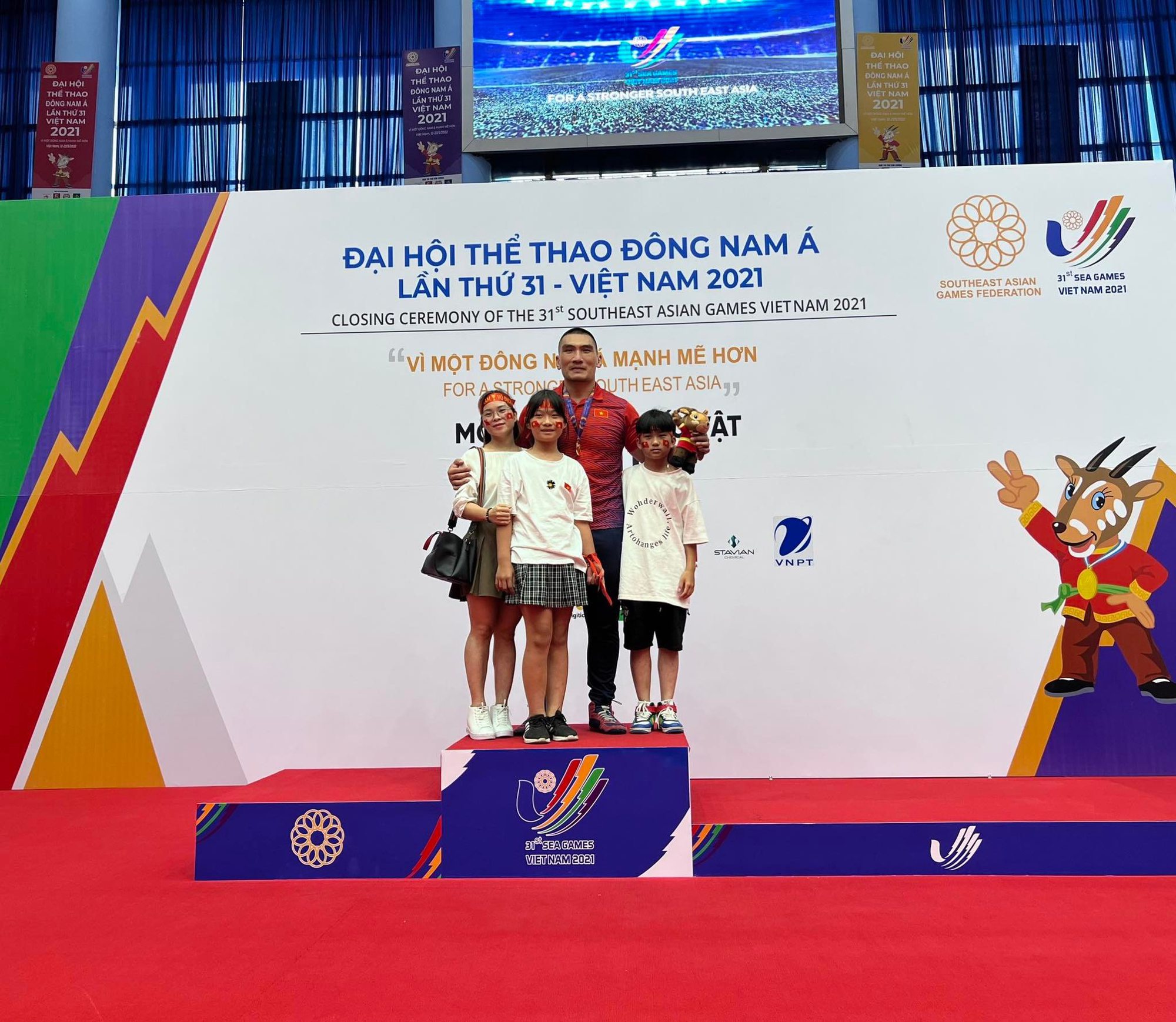 Married for 13 years, the marriage of "Giant" Ha Van Hieu and his teacher wife is always happy. According to Nghien, the biggest secret to a peaceful family is that the husband and wife need to discuss and share everything with each other. Your joys and hardships in both work and life should be exchanged for understanding. Only when they understand can the other person care, share, and feel happy.
Congratulations to Ha Van Hieu for his glorious victory and also to him for having a solid rear.
According to ttvn.toquoc.vn
You are reading the article
The "giant" is 1m92 tall and his wife is 77kg less: The day before he won the SEA Games gold, the next day he came back quickly to get married!

at
Blogtuan.info
– Source:
infonet.vietnamnet.vn
– Read the original article
here