Chestnut chestnut, also known as chestnut chestnut, buffalo chestnut tree, anonymous flower tree, binary tree, hairy fruit tree … has the scientific name is Anomianthus dulcis, belongs to the genus Anomianthus in the family Na (Annonaceae). In Vietnam, chestnut trees are distributed in the lowlands near the sea up to the mountains of Quang Tri, Khanh Hoa, Ninh Thuan, Gia Lai, Dak Lak, Lam Dong and Dong Nai.
As a tree that grows wild in the bush, but the fragrant fresh yellow chestnuts have a strong attraction to children living in rural areas, which are still lacking.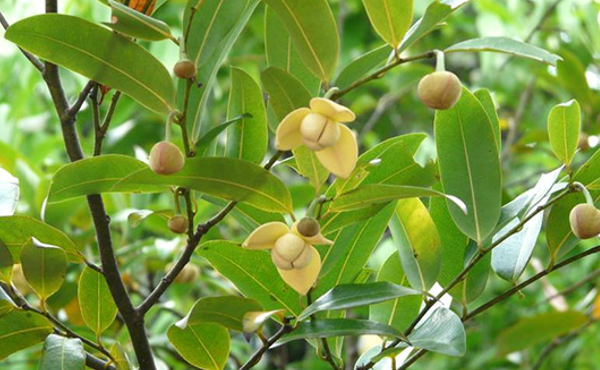 The chestnut tree is abundant in the countryside, is a childhood snack of children in Quang Tri, Khanh Hoa, Ninh Thuan, Gia Lai, and Dak Lak.
The chestnut tree has oval leaves or inverted spears, 11-15cm long, 4-6cm wide, round and almost heart-shaped at the base. Mature chestnut trees are usually 0.5-1.5 m tall. The flowers are pale yellow and very fragrant.
The chestnut fruit is only slightly larger than an adult's little finger, grows in clusters, with the number of 3-8 fruits/bundle, when young, it is light gray and when ripe it is yellow, the flesh is thin and sweet. bar. For children in the Central and South Central regions, this is a familiar snack every season. Chestnuts bear fruit almost all year round, but most often in the summer. Accordingly, at this time, children in the countryside often call each other to find and pick chestnuts to eat, and at the same time pick flowers to smell, or put them in the pocket of their clothes to smell good.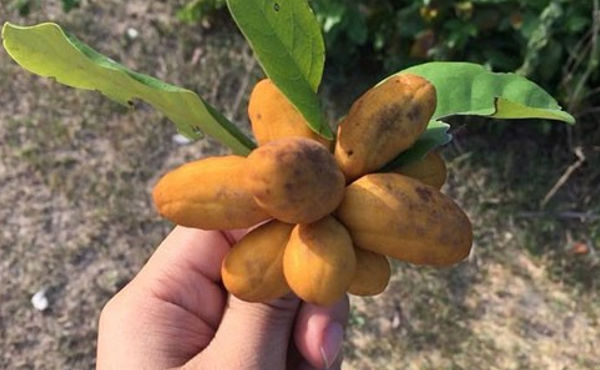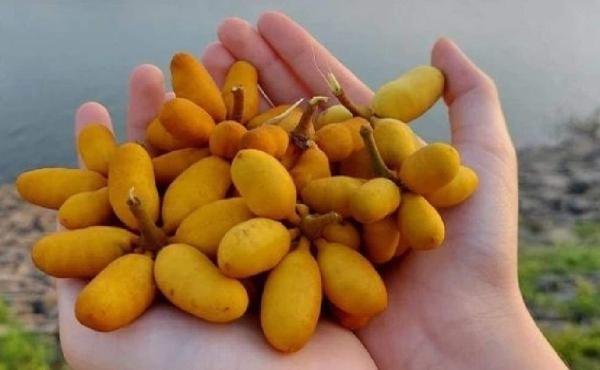 The fruit is thin and has a sweet taste
Because the fruit is scattered, the fruit is small, and the number of ripe fruits in each tree is not much, so in the past, this fruit was often picked only to bring back to the children to eat, but rarely found anyone looking to pick and sell. Only a few years ago, this fruit was picked and sold by people in Quang Ngai, Binh Dinh, and sold in cities and provincial capitals as a specialty fruit.
"When I was a child, during the summer, I could eat enough chestnuts every day, I think the children who couldn't go to the cows were a big disadvantage. Now that I go far away and come back to my hometown in the right season, I still have to eat a bunch, both to satisfy my addiction and also to review the intense childhood memories with my friends," said Anh Duong (33 years old). , from Quang Tri, now living in Da Nang) said.
Ms. Duong said that although chestnuts in her hometown are sold a lot at markets, she also took advantage of bringing chestnuts from her hometown to Da Nang to sell. "This year, although summer comes early, the fruit ripens later than usual by almost a month, the fruit is also less. At this time, people have only harvested about 1 month, the price of the first season is from 20,000-40,000 VND/kg depending on the type of fruit, large and small," Duong shared. Ms. Duong revealed that she sells on her personal page and apartment market, this is a strange fruit, so many people order to try it, on average, every day, he sells 5-7kg of fresh fruit, plus some products from chestnut fruit.
This wild fruit is now sometimes sold in apartment markets
According to some sources, chestnut flowers are very fragrant, like orchids. And they have a special use that is used as herbs to treat some diseases. The leaves are used to make water for good digestion. In Thailand, dried flowers are used as blood tonic, blood-forming, or extracting essential oils, perfumes…
You are reading the article
The old ripe fruit that no one picked is now popular, a specialty of the city's sisters looking to buy, 40,000 VND/kg

at
Blogtuan.info
– Source:
Eva.vn
– Read the original article
here