Business
3 ways to store meat in the refrigerator produce carcinogens, but many Vietnamese people still do it
Refrigerator is a safe place to store food, helps food stay fresher, prevents rancidity and infection. However, it seems that many people today are abusing the preservation function of the refrigerator, causing the body to load carcinogens without knowing it. Families that have one of the 3 types of meat preservation in the refrigerator below should be careful.
3 ways to store meat in the refrigerator produce carcinogens, but Vietnamese people always do it
1. Store leftovers with cling film from day to day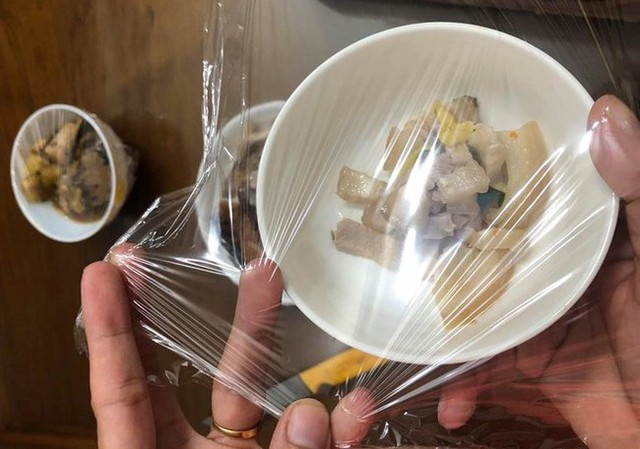 Most of us think that using food wrap is completely safe about food safety. Especially when kept in the fridge.
However, according to Assoc. Prof. Dr. Nguyen Duy Thinh (former lecturer at the Institute of Food and Biotechnology, Hanoi University of Science and Technology), food wrapping film – even the type of food wrap produced by PE plastic, has been evaluated. The price is of guaranteed quality – also should not be abused because there is still a risk of contaminating the food. The longer it stays, the more likely it is to produce carcinogens.
Especially families who have a habit of wrapping leftover cooked meat in the refrigerator, using it many times later, not just once.
Pulling out and then re-wrapping the meat with cling film also causes bacteria to multiply faster. At this time, besides the risk of infection, food is also more susceptible to bacteria attack.
2. Do not cover leftover meat before putting it in the fridge
After the meal is over, leftovers are stored in the refrigerator for later use. Meat is no exception. Many people because it's convenient, because they think it's okay to use it to eat for the next meal without needing to cover anything, just keep it in the refrigerator. This is not as good as you think.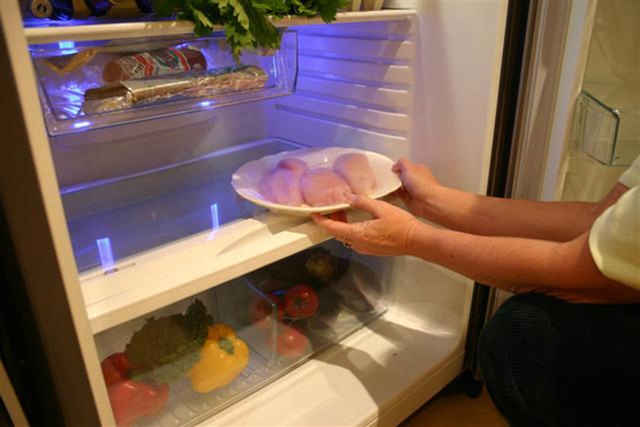 In fact, just storing meat in the refrigerator for a short time also creates an opportunity for bacteria to multiply, the risk of cross-contamination is extremely high. The refrigerator also contains many other foods. Even at cold temperatures, they can still breed bacteria.
When refrigerated meat is not properly covered, the risk of cross-contamination from other raw foods is unavoidable. Eating this type of meat at the next meal also increases the risk of food poisoning, which in the long run can cause chronic diseases such as cancer.
3. Store meat for too long in the refrigerator with a plastic bag
Many people have the idea of ​​buying clean meat and storing it in the refrigerator in the freezer. Just put it in a tightly tied plastic bag, we keep it in the coldest compartment in the refrigerator for peace of mind. In fact, storing raw meat this way is not as safe as you think. Especially when you have the thought of eating frozen meat from month to month.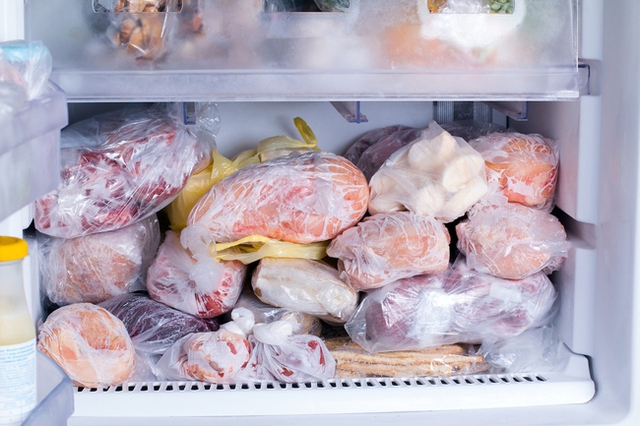 According to Assoc. Prof. Dr. Nguyen Duy Thinh, using plastic bags to pack and wrap food in general, not just meat, will lead to the possibility of contaminating food, harming health when we absorb it into the body.
It is strictly forbidden to store meat in plastic bags in the refrigerator for a long time. Because then, the plastic has a higher ability to dissolve, especially for products containing water, salt, acids, fats such as cooked, marinated meat…
Research from the University of Pennsylvania (USA) also shows that storing food in plastic bags or plastic bags in general can cause health hazards. In terms of the chemical composition of the plastic bag, the researchers found BPA and DEHP. In particular, BPA has been linked to obesity and larger waist circumference in children and adolescents.
According to the National Toxicology Program (NTP) and the International Agency for Research on Cancer (IARC), BPA also affects the brain, slowing growth, causing hepatitis, endocrine disorders and infertility. It is also a highly carcinogenic substance.
Storing meat in the refrigerator properly needs to remember 8 things
– Minimize the storage of cooked meat as well as leftovers in general in the refrigerator for too long to avoid the production of carcinogens, the risk of cancer as well as a series of chronic diseases in the long run.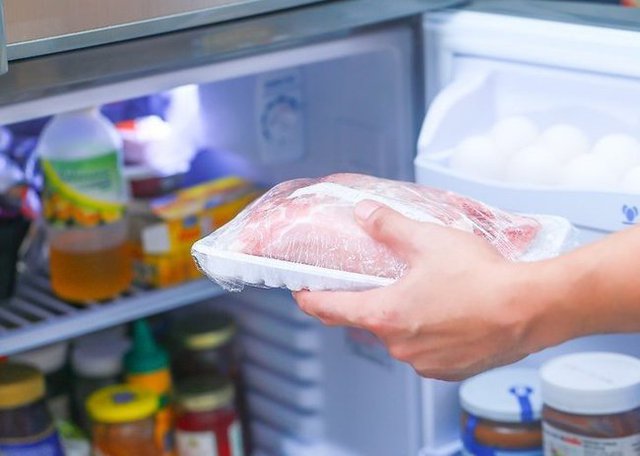 Whether storing raw meat in the refrigerator or freezer in the refrigerator, it is important to wrap the meat thoroughly to keep it fresh and protect the meat from being infected with disease-causing bacteria.
– When storing meat in the refrigerator, it is necessary to keep the temperature in the refrigerator about 2 degrees Celsius.
– For the freezer compartment, the temperature must be approximately -25 degrees Celsius.
– For cooked meat, if you want to store it, you should put it in small containers and close the lid.
– Do not place containers of cooked meat close to raw meat to prevent bacterial contamination.
– Even cooked or raw meat, to refrigerate or freeze, it should only be kept for a certain time. It is best to eat within 1 week to ensure fresh meat, nutrition and avoid disease.
– If you put the meat in the freezer, it is necessary to cover the meat in several layers to prevent it from freezing too much, losing water and changing color and flavor. When wrapping meat, pay attention to wrap it tightly to prevent air from entering, so that the meat does not have many layers of ice clinging to it.
https://afamily.vn/3-kieu-bao-quan-thit-trong-tu-anh-san-sinh-chat-gay-ung-thu-nhung-nhieu-nguoi-viet-van-lam-20220525153511092. chn
You are reading the article
3 ways to store meat in the refrigerator produce carcinogens, but many Vietnamese people still do it

at
Blogtuan.info
– Source:
cafebiz.vn
– Read the original article
here