Business
Maybe I will register to buy a large amount of KBC shares to increase my ownership in the near future
Talkshow "Select Category" organized by Investment Newspaper with the theme "Following the Giants" On May 26, there were two speakers, businessman Dang Thanh Tam, Chairman of the Board of Directors of Kinh Bac Urban Development Corporation (KBC) and Ms. Tran Khanh Hien, Analysis Director of VNDirect Securities.
Assessing the prospects of the industrial park real estate sector in the near future, Ms. Hien said: The industrial park real estate market in 2022 – 2023 will be shaped by 3 main trends:
The first is the wave of investment to expand production in Vietnam.
FDI investors in the world in the China +1 strategy want to find another destination outside of China and Vietnam can be considered an attractive destination thanks to low labor costs, low electricity and water costs. and more favorable tax policy than many countries in the region. In addition, the workforce is considered to be more skilled and the infrastructure is still in the process of development.
These factors attract new FDI inflows, in addition, there are FDI enterprises operating in Vietnam, they also make strong commitments to expand production such as GE, Samsung, LG, ..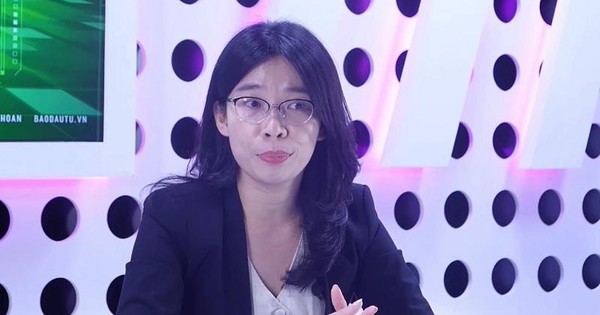 Ms. Tran Khanh Hien in Talkshow Choose the category "Following the footsteps of giants" organized by Investment Newspaper
The second trend is public investment.
Public investment will greatly support industrial park real estate. According to the orientation of the Ministry of Transport, by 2025, we will have about 3,000 km of highways. Currently, the Government's targets are focused on 13 components of the North-South Expressway.
When the traffic infrastructure is completed, industrial parks can be connected into a closed circle: roads, airways and seaports. Helping emerging areas of industrial real estate become "brighter" such as Ba Ria Vung Tau, Hai Phong, ..
In the past time, despite the difficulties brought about by Covid, the industrial zone real estate segment still recorded strong development, the occupancy rate as recorded in some areas reached nearly 90%. The average rental price in 2021 will increase by over 10%, especially in hotter areas such as Ba Ria Vung Tau up to 15%.
In 2022, when trade between countries returns, the wave of FDI disbursed into Vietnam is expected to grow strongly in the last months of the year.
3rd trend, ready-built warehouse and factory segment There will be strong growth due to logistics demand in the context of strong growth in e-commerce.
Ms. Hien also added that industrial park real estate businesses will benefit from those that have a convertible land fund, those that have a large customer base such as Samsung, LG, Foxconn, etc. land fund in locations with good connection in terms of transport infrastructure.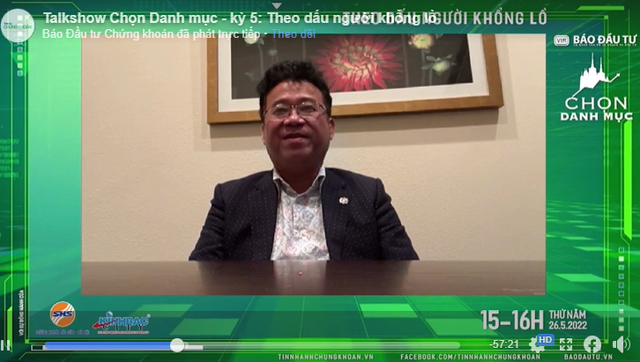 Mr. Dang Thanh Tam in Talkshow Selected the Category "Following the Footprints of Giants" organized by Investment Newspaper
From the US, Mr. Dang Thanh Tam shared very enthusiastically about the interest and ability of US businesses to develop economic cooperation with Vietnam.
When asked by MC about the results of attracting US FDI into Kinh Bac, Mr. Dang Thanh Tam answered confidently and excitedly.
"In the last trip, we signed 8 billion USD, nearly equal to the total investment of the US in Vietnam today. They all commit to invest for 2 years. We will have to apply for a license to invest in some areas such as industrial zones, high-tech fields about 2.2 billion USD will apply for permits from now until the end of the year. Real estate or other fields are more than 5 billion USD.
In the next 3 years, US investment in Vietnam will make a huge breakthrough. For the Vietnamese market, a few billion dollars is a lot of money, but for investment funds here, it is nothing because they have trillions of dollars. Why such extremely positive signals do not have the effect of the domestic market? Because of the volatility of investors.
"I'm thinking about taking this opportunity to buy in to increase my ownership. But I'm just afraid that when the stock goes up, people will say that I take advantage of the market down, so I haven't posted yet. I signed up even though I really wanted to. Maybe in 7-10 days, if the market doesn't see any positive changes, I will subscribe to a very large quantity, "Mr. Tam said.
According to this president, during the past time, US investment in Vietnam has only been 10 billion USD, but in the next 3 years, the US capital flow into Vietnam will be many times higher.
Kinh Bac boss said that American investors' confidence in the commitment of the Government as well as the investment environment in Vietnam is growing. He cited, in the past, if an American enterprise investing in Vietnam had to buy 10 dong of investment insurance, now it only buys 1 dong. Investment activities in Vietnam have now created higher confidence with a lower assessed risk factor.
Chairman of KBC also shared advice for investors to buy stocks at this time: "Because the market is fluctuating by negative factors and it does not reflect the current situation of Vietnam's economy. Through the trip to the United States, I saw that the United States is very interested in Vietnam and in the near future the US will invest a lot in Vietnam."
For a long time, KBC has been known as an enterprise whose Board of Directors is very "hardworking" to attend online and face-to-face conferences to attract FDI into Vietnam. This is a famous enterprise with industrial parks with big names such as Foxconn, Canon… and a network of industrial parks spreading from North to South.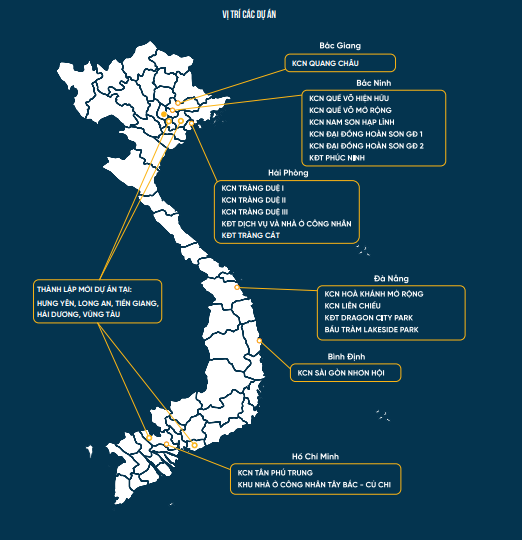 Excerpt from the annual report of enterprises in 2021
KBC also has the first 4 IPs since the company's establishment with a total area of ​​1,013 hectares, which was filled up to 100 hectares in 2019 which are Que Vo Industrial Park, Bac Ninh (existing and expanded), Industrial Park. Industrial Park Trang Due, Hai Phong (1 and 2).
For the first IP, KBC took about 12 years to fill over 90%, for the next IPs to fill over 90%, it only took about 6 years on average. Normally, 10% of the remaining area of ​​industrial zones can be filled in for 1 – 5 years, because the Company reserves the land fund to build factories for rent to meet small-scale investors. or for the need to expand factories of corporations that have invested in the industrial park.
KBC's chairman also shared that he has just been licensed to invest in 3 industrial zones with a total area of ​​more than 2000 hectares. "We have compensated for clearance and created a ready land fund", Mr. Tam said.
https://cafebiz.vn/chu-tich- Kinh-bac-dang-thanh-tam-co-the-toi-se-dang-ky-mua-vao-luong-lon-co-phieu-kbc-de- tang-so-huu-in-thoi-gian-toi-20220530102917448.chn
Following the Economic Lifestyle
You are reading the article
Maybe I will register to buy a large amount of KBC shares to increase my ownership in the near future

at
Blogtuan.info
– Source:
cafebiz.vn
– Read the original article
here