Life Style
Thế Giới
The weather and life are difficult but possessing a strange and enchanting beauty
Located in the Danakil Depression in Afar, northeastern Ethiopia, Erta Ale is one of the driest, lowest, hottest, and harshest places on Earth. Temperatures in the area range from 25 – 47 degrees Celsius. The area is subject to drought, aridity and very little traffic all year round.
However, what makes Erta Ale so famous is the volcano with the same name.
Called the "smoking" mountain or "door to hell" by the Afar people, Erta Ale is a continuously active basalt shield volcano at an altitude of 612m.
It is one of the few continuously active volcanoes in the world and is a "member" of an even more special group of volcanoes: lava lake volcanoes. On Earth, only 5 volcanoes have lava lakes. And Erta Ale often has up to 2 active lava lakes – making it a very unique place.
Danakil Caldera – Scary harsh land
Covering an area of ​​about 100,000 square kilometers, the Danakil Depression (also known as the Danakil Basin) is the most arid terrain in the world. National Geographic magazine (USA) described this land as "the harshest place on Earth".
British explorer Wilfred Thesiger also once described Danakil as "the land of the dead".
The Danakil Depression is located in the Danakil Desert in Ethiopia – a country in Africa, considered the hottest place in the world.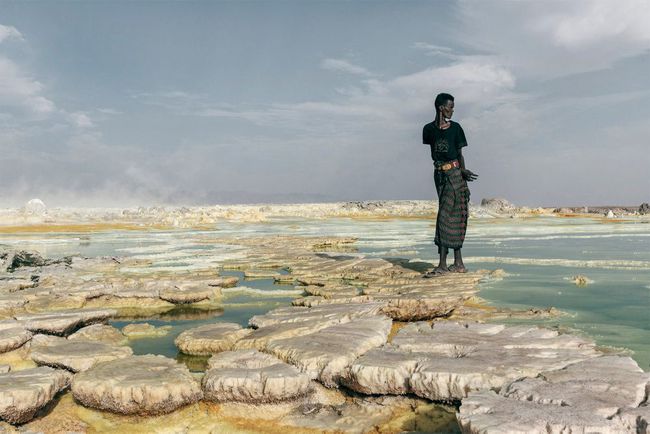 The Danakil Desert is part of the Afar Triangle, which includes northeastern Ethiopia, southern Eritrea, Djibouti and northwestern Somalia. This place is about 100 meters below sea level, containing many red rocks, sulfur ores and salts. Geologists believe that the salt deposits were created by floods near the Red Sea.
The Afar are the main inhabitants of the Danakil Depression. People use salt mining to earn a living. They use traditional methods and tools such as hoes and ropes to mine salt. Then they cut, packed, and transported the salt out of the desert by camel. This is considered dangerous work because high temperatures can be fatal. There are even earthquakes that cause landslides and swallow camels specialized in carrying salt.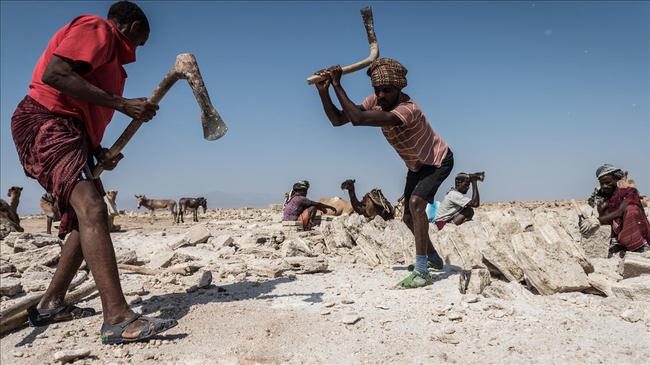 The weather is harsh, life is difficult, but this land possesses a strange and impressive beauty.
Gate to Hell
The lava lake on the Erta Ale crater, in the Danakil depression, always has a temperature in excess of 1,100 degrees Celsius. This lava lake was discovered in 1906 and it shows no sign of stopping. Every time the lava rises, the mouth of the lake shines, causing many people to call Erta Ale a "smoking" mountain.
This volcano erupted in 1873, 1903, 1940, 1960, 1967 and 2005, killing hundreds of livestock and forcing thousands of people to evacuate. In 2007, lava flows again forced locals to evacuate.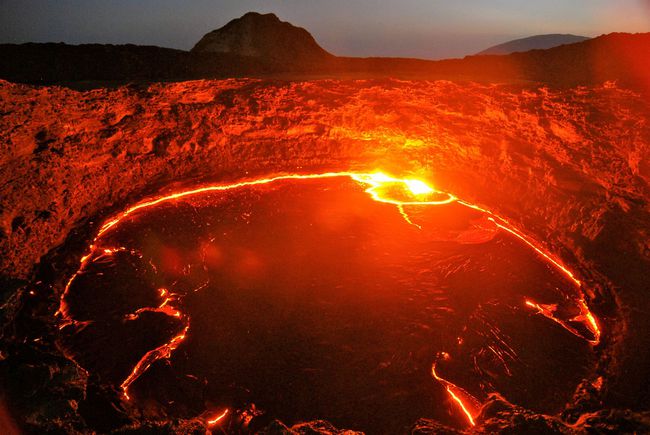 Despite the harsh conditions, the risk of volcanic eruptions and the extreme heat, Erta Ale has become a popular tourist destination. In 2002, the area was accessible only by helicopter, today adventure tour groups still make their way by car.
Photographer Santos, who used to photograph Erta Ale crater with a drone, said: "Erta Ale crater is always active, lava is always rising and falling and can overflow at any time. is the most dangerous thing. You think the ground you're standing on is very solid. No, lava is extremely hot and it can melt the ground at any moment."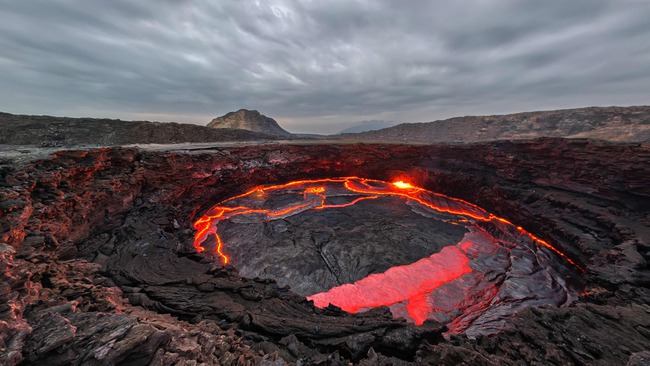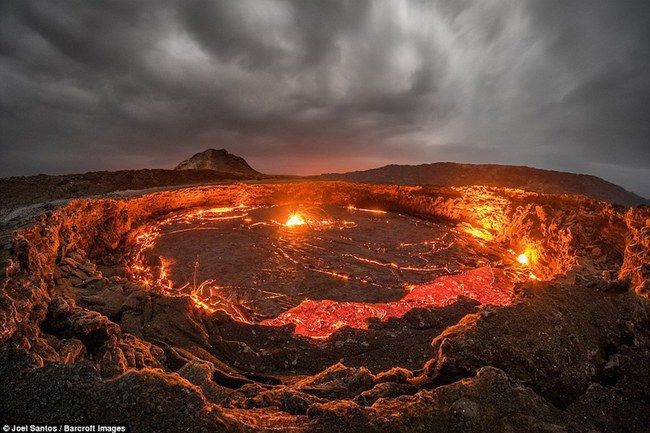 Source: Compilation
You are reading the article
The weather and life are difficult but possessing a strange and enchanting beauty

at
Blogtuan.info
– Source:
Kenh14.Vn
– Read the original article
here