Business
Should you show off your compliments on social media?
The end of the school year is also the time when social networks are flooded with pictures of parents and teachers posting certificates of merit and learning results of their children.
Easy to put pressure on children
On the group "We are teachers", the status "I sincerely hope that parents do not post their children's certificate of merit on Facebook. If you agree, click ok" has 9,400 likes and 1,700 different comments after not receiving one. day. Many conflicting opinions about whether to show off their children's academic achievements on social networks have been openly shared by the teacher community.
Dr. Nguyen Tung Lam, Chairman of the Hanoi Association of Educational Psychology, said that after a year of efforts, the child's good results should be recognized and rewarded. But parents need to consider and ask their children's opinions when posting on social networks. "Children who study well and practice well is very proud of anyone. Rewarding children is very necessary, but in my opinion, children should be considered in the private sphere of the family. Social media is a place where information can reach everyone. Sometimes bringing personal information on social networks has many unforeseen risks" – Dr. Nguyen Tung Lam said. .
According to Mr. Lam, in fact, posting certificates of merit on social networks has put great pressure on children. Not just showing off your children being obedient and good at studying will be the motivation for them to continue to study well and be obedient. Invisible, that creates pressure for the children. This expert shared, sometimes parents have high expectations that will unintentionally force children to follow the will of adults.
Ms. Nguyen Thu Trang – living in Cau Giay district, Hanoi – said that in the last 2 years, her children no longer like to return to their hometown as before. "It took me a long time to understand the reason why my son didn't want to go back to his hometown, that was, he didn't want to face the questions of how this year's results were, whether he was a good student or not? The questions seemed to bring. This very normal sense of concern turned out to be heavy pressure for the child.My son confided that he "escaped" and did not return to his hometown to avoid having to answer such questions," said Ms. Trang. This parent said that not only her child but many other children have the same mood. "My son told me that not only him, but many of his classmates were also pressured by similar questions when meeting relatives," said Ms. Trang.
Dr. Hoang Ngoc Vinh, former Director of the Department of Professional Education – Ministry of Education and Training, said that although no one said it out loud, in fact there is an implicit understanding that in addition to being proud of their children's good grades, parents also have a little proud of yourself. In addition to the praise for the child who scored 9, 10, there were also many comments praising the parents for raising their children well, making the parents satisfied.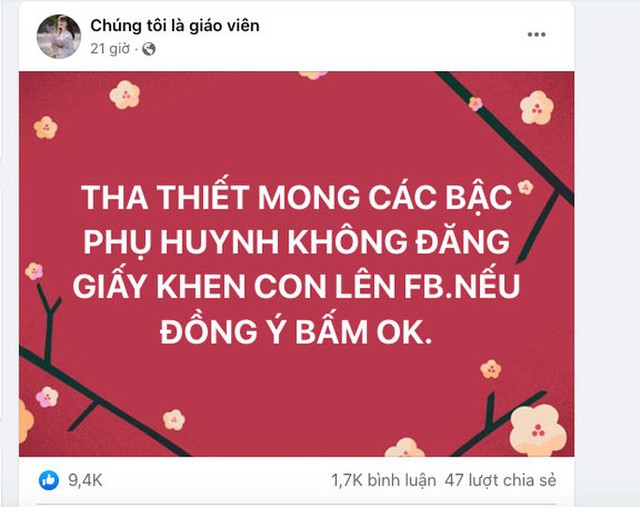 The call not to show off your child's certificate of merit on Facebook on a teacher forum is gaining attention. Photo: FACEBOOK
Praise properly?
Ms. Doan Dieu Anh – teacher of Giang Vo Secondary School (Hanoi City) – said that emotionally, showing off her children on Facebook has a positive meaning, showing the pride of parents. Motivational praise is good, but the way you give it is important.
According to an education expert, too much praise will make children arrogant, and if they do not praise their abilities, they will create more pressure. Improper praise will lead to pressure "must have a certificate for parents" rather than learning for themselves for many children. When the scores are not as expected, it will create another pressure, causing parents and children to be disappointed.
However, a lecturer of Hong Duc University (Thanh Hoa province) said that if the certificate of merit is a lie, then be ashamed to not post it, but it is the whole family's efforts, then nothing is wrong. hide. "Parents who like it, show it off, I support it. Those who don't like it don't post it, I respect each person's personality" – this lecturer shared. This view is supported by many teachers.
A lecturer at Hanoi University said that she did not post on Facebook her children's certificates of merit, even though her children still won prizes in specialized schools. "It's because of my personality, but I still respect and share the joy with parents who post on Facebook. Each person has a joy, happiness, if you want to share it, it's okay to share it with them. The children are still there. Children should encourage, encourage, not be too strict with them "- said this teacher.
Help your child realize the true value of learning
Dr. Hoang Ngoc Vinh said that the more they expect from their children, the more parents want their children to learn. This leads to the result that more and more children come to the clinic and receive psychological treatment due to pressure on academic achievement from the family. I know there are children, who were very obedient before, happy to study, but later, they became more and more disgusted with learning. The more pressure parents put on them, the more children resist, some are afraid to study, separate from their parents, fall into a state of depression and even lead to self-destructive actions. Please don't "steal" children's childhood for your own desires. Let your children realize the true value of learning.
You are reading the article
Should you show off your compliments on social media?

at
Blogtuan.info
– Source:
cafebiz.vn
– Read the original article
here