Life Style
The dish is "cheap" but is a specialty that few people know in Phu Yen
Phu Yen is a favorite destination of many tourists, especially those who like the fresh sea air, not too crowded, the locals are gentle and hospitable, and the food is both delicious and cheap. . Taking a look at the famous specialties in Phu Yen, surely many people can talk about it: ocean tuna eyes, seafood such as shrimp, king crab, lobster, blood cockles, … or other dishes. There is a very delicious specialty in Phu Yen that is not really known by many people because of its simple and cheap ingredients, which is anchovy porridge.
Anchovy porridge in many places is called "anchovy porridge", often sold in residential markets in Tuy Hoa city (Phu Yen). This dish is also loved by the locals and is often home-cooked for the whole family to enjoy.
Anchovies are soft-bodied fish, without scales, with soft white flesh. A special feature of Phu Yen anchovy porridge is that porridge and fish are cooked separately, not together. When dining, guests will be served a bowl of porridge and a cup of anchovies.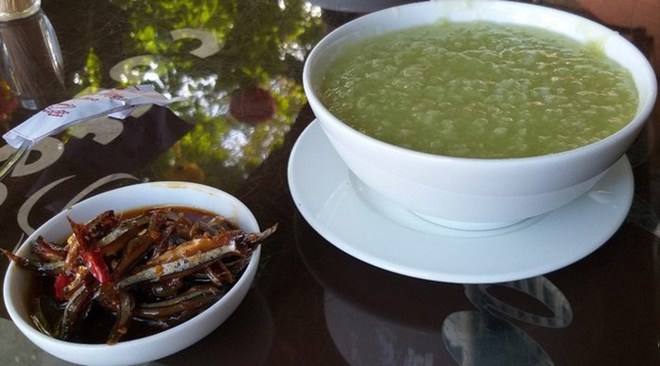 The porridge is served with a bowl of green bean porridge and a cup of fragrant braised anchovies
Anchovies are braised with fish sauce, sugar, pepper, and a little chili to create a pungent taste. The fish when braised is extremely sweet, fragrant but not crumbly, still hard and tough to eat. The taste is a blend of a little salty, sweet and spicy, which is extremely stimulating to the taste buds. Anchovies when stocked are not fishy. The fish stock is also extremely delicious. Just bring out the cup of braised anchovies to ensure the aroma that makes visitors want to enjoy immediately.
Porridge is cooked from white rice, green beans so that they are soft, but still have the whole grain of fragrant plastic. Cooked porridge does not add too much seasoning. When eating, diners pour the braised fish juice into the porridge and mix well, creating flavor for the porridge. Then put the anchovies into the puree. Each piece of porridge comes with a piece of braised anchovies, putting it in the mouth so that it blends and matches so well!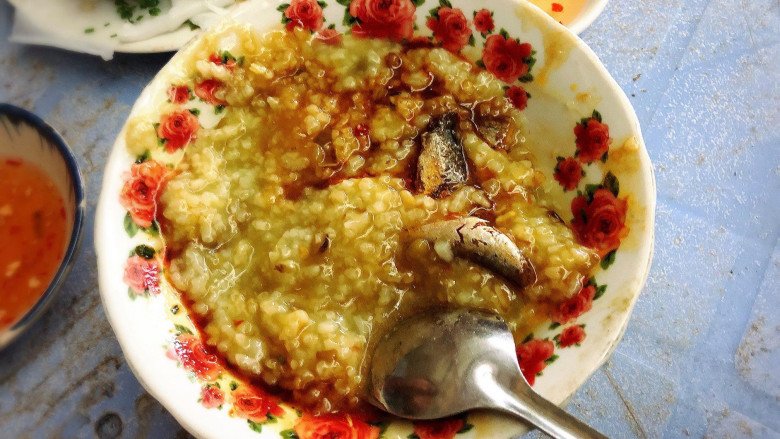 When eating, diners pour braised fish juice into a bowl of porridge, then shred the fish and enjoy
Anchovy porridge is a delicious rustic dish with "cheap" ingredients that makes diners drunk right from the first taste. Make sure to enjoy it once and it will make you remember it forever.
This specialty is often enjoyed by people as a delicious breakfast. Each bowl of anchovy porridge only costs from 7,000 VND – really a cheap price, right?
Not only delicious, this porridge is also rich in nutrients, has the effect of nourishing and oxygenating, especially for sick people. Or simply energizing healthy people to have an energetic day.
You are reading the article
The dish is "cheap" but is a specialty that few people know in Phu Yen

at
Blogtuan.info
– Source:
Kenh14.Vn
– Read the original article
here