Many Vietnamese are known for the unique name that their parents give them when they cry at birth. Those are usually names inspired by Korean movies, actors or world-famous soccer players that parents love.
And if in Quang Nam there is a mountainous commune named after a famous actor, in Hanoi there is a child with the most unique and strange name in the city. That is baby Ro Nan Do (SN 2012, living in Lai Thuong commune, Thach That district).
Ron Nan Do is the third son of Ro Man Chinh and his wife Vuong Thi Loan. Chinh said that his family is an ethnic minority in Gia Lai, in 1960, his father – Mr. Ro Man Le went to the North to study and then got married and settled here.
Ron Nan Do is the third son of Ro Man Chinh and his wife Vuong Thi Loan. (Photo: Hoang Dan)
In 1999, Chinh got married and his children were born. He said all the children's names were thought of and given by him before the child was born.
In 2001, Chinh's first daughter was born and was named Ro Lan Huong. After 2 years, he continued to give birth to a second son, named Roman Duc. In 2012, he discussed with his wife to give birth to another baby to make the family more crowded.
"My wife hasn't had an ultrasound yet, I already have in mind about two names for boys and girls. When the baby was born a boy, I decided to name it Ronan Do. But I like this name, there are many reasons of its own, "the man shared.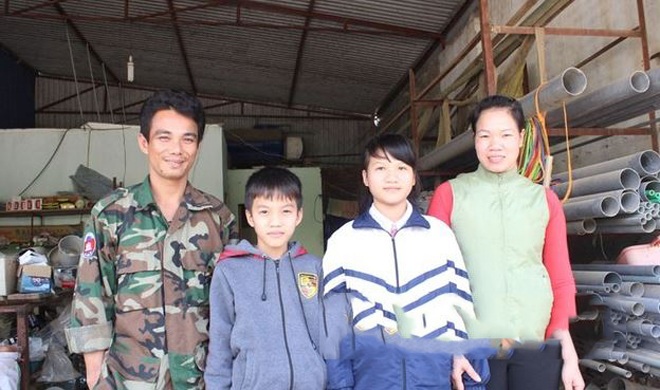 The family of Mr. Chinh and Ms. Loan. (Photo: Hoang Dan)
Chinh's family belongs to the Roman family, so it should have been called Roman Do, but it didn't rhyme or rhyme. So he "arbitrarily" changed his middle name to make it beautiful. Above all, he is a big fan of football and famous players in the world. Among them, the player Ronaldo is most admired by him.
And the most special reason is that Chinh's third son was born with amniotic fluid, weak health, so he often had to go to the hospital. So he named him Do with the hope that his son would be as physically fit as the players.
Many people in the area, after knowing the name of the third son of Chinh and his wife, expressed interest and strangeness. "When people first knew that my son's name was Ron Nando, they were curious and asked a lot of questions. They even asked us why we named our children like that? Until we know the reason, we encourage us to take care of our children to have a full life," said Loan.
Possessing a unique name, the boy Ro Nan Do is often mistaken for a foreigner. Loan said that due to illness, her son often had to go to the hospital for medical examination. At first, the doctors at the hospital mistook Do for a foreigner's child. Some doctors even asserted that Roman Chinh must be a foreigner to dare to name his son like such a famous player! It was only when Chinh spoke up and explained clearly about the Roman family that they believed.
With the desire to have a healthy child like a football player, Chinh and his wife were satisfied. When growing up, Ro Nan Do was much healthier and prettier than when he was young. Especially everyone in the commune is familiar with the boy's unique name.
You are reading the article
The boy has the most unique name in Hanoi, the father gives his son a rare name because he has a strange last name

at
Blogtuan.info
– Source:
Eva.vn
– Read the original article
here