World
Mr. Park receives bad news from his favorite student; The "giant" V.League has an incredible display of power
PHAN VAN DUC CHUCKED, SLNA DISTRIBUTION POINTS
In the 18th minute, SLNA suffered a heavy loss when Phan Van Duc suffered an injury after colliding with an opponent. The midfielder could not continue playing and coach Huy Hoang was forced to replace him.
Without Phan Van Duc, SLNA's attack ability was significantly affected. However, just before the end of the first half, the visitors had a goal to take the lead thanks to a bright moment from foreign international Oseni.
In the 45th minute, Saigon FC defender's header accidentally became a lucrative assist for Oseni. The ball just came out, the Nigerian striker immediately made a strong stretch in the pubic area from outside 16m50. The decisive finish sent the ball away, stabbed it into the far corner of the net, leaving goalkeeper Van Phong unable to react.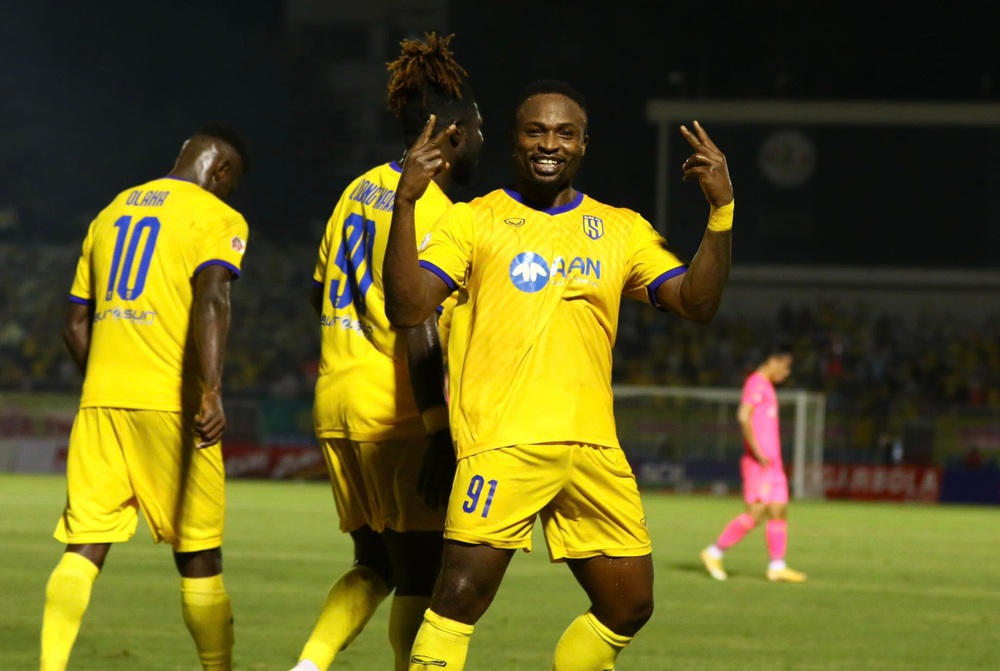 Oseni showed a pretty good performance in his SLNA uniform. (Photo: SLNA)
However, the visitors could not leave the field with all 3 points. In the 58th minute, Do Merlo proved why he is one of the best goalscorers in V.League history with a classy finish.
At this stage, the SLNA defender was embarrassed, not following Do Merlo closely, creating the conditions for the striker to make a one-touch lap with his right foot. The ball wasn't strong but dangerous enough for Van Hoang to beat.
In the remaining minutes, both teams created some dangerous chances but were unable to score a second goal. SLNA had reason to be sorry because Olaha had a valid goal in the 72nd minute but was caught offside by the line referee.
When Ojong Mark headed the ball, Olaha was still standing above the Saigon FC defender.
A 1-1 draw meant that SLNA missed the chance to climb to the top of the standings after the 4th round. This team currently has 7 points, 1 point behind Hai Phong club and third place.
Meanwhile, Saigon FC still can't win. After 3 matches played, this team drew 2 times, lost 1 time and is currently 10th in the rankings.
Starting lineup
Saigon FC: Van Phong (goalkeeper), Manh Cuong, Van Dat, Hoai An, Cong Hien, Huu Son, Minh Trung, Van Trien, Rocha Vieira, Gustavo Santos Costa, Do Merlo
SLNA: Van Hoang (goalkeeper); The Nhat, Ngoc Hai, Nkongho, Ba Sang, Sy Hoang, Dinh Hoang, Van Duc, Van Viet, Oseni, Olaha
score a goal: Do Merlo (58′) | Ocean (45′)
BINH DINH CLUB AWESOME
Also in the evening is a match between the two HL teams Ha Tinh and Binh Dinh. With a better squad, Binh Dinh Club played really well despite being a guest. Just in the first half, the home team's goal had to vibrate up to 3 times after goals from Rafaelson, Hedrio and Ly Cong Hoang Anh.
Leading 3-0 after the first 45 minutes, Binh Dinh Club actively reduced the tempo of the match in the second half. On the side of Ha Tinh HL, they returned 1 goal in the 49th minute through Paollo's attack. However, that was all the home team could do.
Until the end of the match, the Binh Dinh club only had to play with 10 men because midfielder Tien Duy had to receive a red card after making a cold attack on Van Cong. However, coach Duc Thang's men still know how to maintain a 2 goal difference.
In the end, Binh Dinh Club won with a score of 3-1 and moved up to fourth place with 6 points. Meanwhile, Ha Tinh HL only got 2 points and was ranked 11th.
Starting lineup
Ha Tinh HL: Quang Tuan (goalkeeper), Van Hanh, Duc Loi, Janclesio, Ngoc Hao, Van Duc, SMA, Nhat Minh, Van Cong, Van Hiep, Paollo
Calm: Minh Hoang (goalkeeper), Schmidt, Huu Quy, Thanh Hao, Thanh Thinh, Tan Tai, Van Thuan, Hoang Anh, Rafaelson, Lynch
score a goal: Paolo (49′) | Rafaelson (20′), Hedrio (31′), Ly Cong Hoang Anh (39′)
red card: Tien Duy (89′)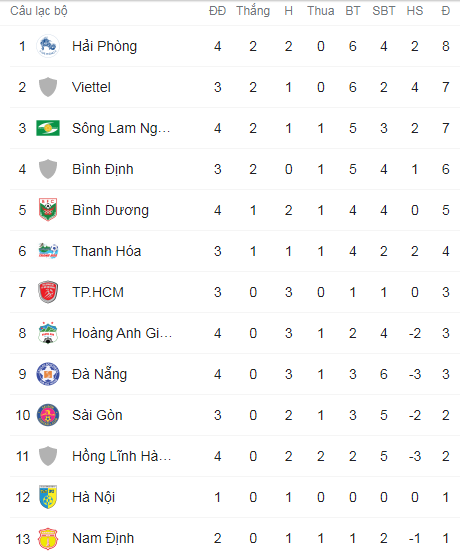 V.League 2022 situation after round 4.
https://soha.vn/thay-park-nhan-tin-xau-tu-tro-cung-dai-gia-vleague-co-man-thi-uy-suc-manh-dang-gom-20220313203646031.htm
You are reading the article
Mr. Park receives bad news from his favorite student; The "giant" V.League has an incredible display of power
at Blogtuan.info – Source: Soha.vn – Read the original article here