The fight between husband and wife is immoral
Until this moment, when the photo of Hien Ho and the giant U60 – Ho Nhan – traveled all over the social networking sites, the female singer still chose to be silent.
It's also true, the evidence is clear, the lies about relationships outside of marriage can't save any honor for the insiders.
Now, no matter what Hien Ho said, no one could hear it. No matter what he tried, he couldn't hold back the audience's affection like in the past. It is true that youth always have the right to make mistakes, but that wrong must be within the acceptable range of morality, law and human hearts.
If Hien Ho said it was for love, then in the name of love to break into a family protected by law is a wrong choice and lack of humanity. And if it is for something else, it is a very wrong trade-off.
It is true that 5 years of singing has only helped Hien Ho locate a place in the hearts of the audience, but her influence is undeniable. As an ordinary person, committing such illegal acts is condemned and insulted, let alone a celebrity.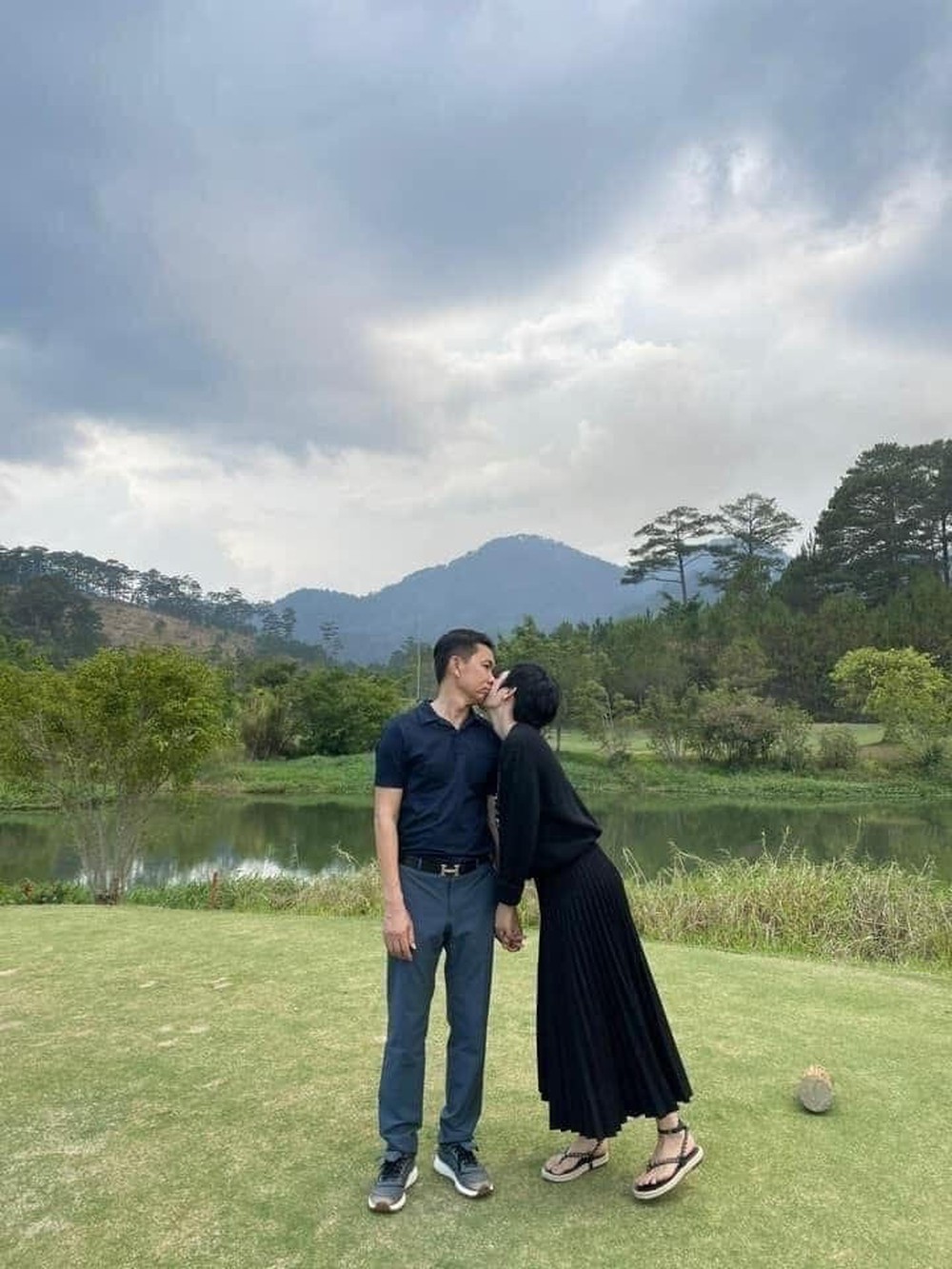 Cousins ​​"take refuge" by kissing?
If this incident continued to sink like many scandals in the entertainment industry, it would be too pitiful for the real artists who are working hard in the spotlight.
Not to mention that moral degradation will unintentionally foster the life-changing dreams of a part of young people at all costs.
The consequences will last if you don't act straight
A few people in the crowd said that in showbiz, a few billion workers have never known but a nod means "both people and cars". This misconception quickly confuses parents.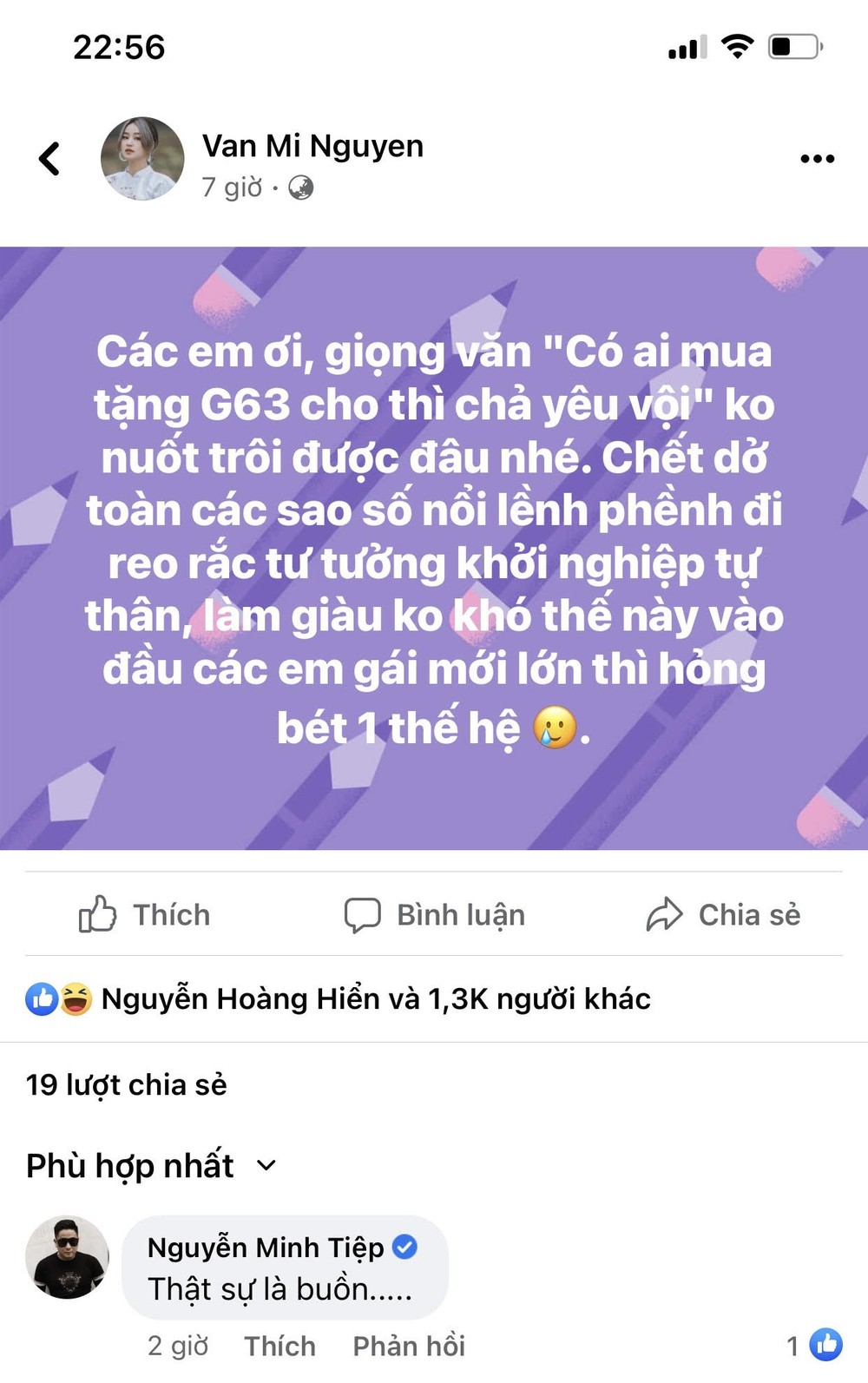 Mi Van exclaims on her personal page
The first hotgirl Mi Van wrote on her personal page: "Children, the voice of "If anyone buys a G63 for a gift, they will fall in love quickly" can't be swallowed. Half-dead are all floating digital stars spreading the idea of ​​starting their own business, getting rich isn't that difficult. Any girl's head when she's growing up will ruin a generation."
Mi Van's worries are completely grounded, because an idol singer has a great influence on young people. If they have deviant thoughts, it will lead to a misdirected crowd, thereby leading to seriously deviated culture and living ethics.
To say the least, golf has always been a healthy and aristocratic sport. However, after only three days with Hien Ho's green tea scandal, the golf course was mocked as a place to start a business, and the beauties who are passionate about this subject are also viewed with suspicious and unfriendly eyes.
That is not to mention the mental losses of those involved. A good wife who has always been admired by everyone is now being watched with pitiful eyes, children who are in peace do not dare to go to school for fear of people asking about their father.
Moreover, they also have to witness the husband and father, who in the past always made the newspaper because of their useful contributions to society, now give different explanations about the dependence in love. younger cousin. What does this salt face do to salvage now?
Just that much of the consequences is enough to see how this scandal of Hien Ho has had a great impact on the community. So, as the person who made this wrong choice, does Hien Ho deserve the appropriate punishment?
First, should the responsibility for this punishment belong to the authorities – which have the power to decide whether to sing Hien Ho in the near future?
Second, the responsibility should lie with the public, who have given Hien Ho where he is today. Choose right or moral decadence, it's all up to you.
https://soha.vn/hien-ho-phai-nhan-duoc-trung-phat-thich-dang-20220322002835406.htm
You are reading the article
Hien Ho must receive the appropriate punishment?

at
Blogtuan.info
– Source:
Soha.vn
– Read the original article
here