Kinh doanh
World
Land fever in this place "fizzled", investors "left the stake and ran for people"
From the end of 2020 to the beginning of 2021, Bac Ninh will become one of the most exciting real estate markets in the North. It can be said that this is a hot cycle of housing prices in Bac Ninh, in many areas land prices have increased many times. At that time, many investors made a lot of money from this area.
According to the Vietnam Association of Realtors (VaRS), in the third quarter of 2021, despite being affected by the Covid-19 epidemic, Bac Ninh is still one of the localities with the most positive signs of recovery. . Investor interest in this market increased by 7% quarter-on-quarter.
By the fourth quarter of 2021, despite the impact of the Covid-19 epidemic, the Bac Ninh market still had a good transaction speed and a price increase of 20-50%. Notably, the price of land plots in Bac Ninh increased by nearly 100% compared to 2020.
In the first 2 months of 2022, the level of interest and the amount of news posted in the Bac Ninh market also increased. Real estate prices are still in an uptrend. Notably, in Thuan Thanh district, land prices suddenly increased dramatically.
Specifically, at a project formed more than a decade ago, during the fever period of 2020-2021, the land price in this project increased 2-3 times. After that, land prices went flat. However, since the beginning of this year, land prices here have been steadily increasing. Especially in mid-March 2022, the project's land price has increased by 3-5 prices within a day.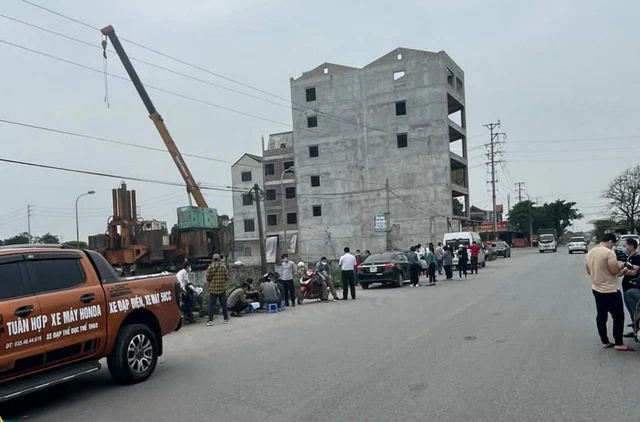 Currently, many investors accept to put down deposits when buying plots of land during "fever".
Ms. Vu Hong – a broker in Thuan Thanh district said: "Soil fever came back due to some "sharks" creating "chicken" waves. Land prices danced, the number of transactions spiked due to speculators "surfing" buying and selling through their hands continuously. They make a deposit of 150-200 million and have 15-20 days to prepare to pay and make a purchase and sale contract.
However, Ms. Hong said, during that time, they were looking for other people to buy to switch hands. Each time, this person has made a profit of 100-150 million VND/lot of land in just ten days with successful deals.
There are also plots of land that can't find investors to change hands, they let people know that the price of land is increasing, a plot of land with such a beautiful location will increase the price. The landowner saw this, broke the stake and as a result had to pay them.
"Notably, this "earth fever" quickly "fizzled out". After a few days of increasing heat, land prices leveled off, buyers did not have. At this time, new investors know that this is just a "virtual wave", land prices are "blown".
Many people accept to put down the deposit and pay the deposit rather than take the money to hold that hot "coal", maybe I will be the last person to hold it but can't give it to someone else, the "burning hand" is natural. Hong shared.
Talking more about the decision of many investors to drop the deposit, Ms. Hong said that the land price in this area has increased recently. Therefore, if buying, investors can easily get stuck and bury capital.
Giving advice to real estate investors during this time, Dr. Su Ngoc Khuong – Senior Director of Savills Vietnam said: "In today's complicated context, it is especially important to carefully consider when using financial leverage to invest in real estate, to avoid repeat the situation of "dead on the pile of assets" that has happened in the past.
In the next 9-12 months, it is possible for some investors to be forced to sell off assets because they cannot bear the pressure from financial support tools.
However, the speculative nature of this group is not large, making it difficult to manipulate the market, affecting the price level. Besides, the supply of housing in Vietnam in the near future is still very late, so a reduction in real estate prices is very unlikely."
Mr. Khuong recommended that investors, before deciding to put money down, should pay attention to the price and legality of real estate. For investors who intend to sell real estate at this time, it is necessary to carefully consider the purpose of the money after the sale of the property. It will be reasonable if this money is invested in more effective investment channels in the context of the epidemic and international political instability.
https://cafef.vn/sot-dat-noi-nay-xi-hoi-nha-dau-tu-bo-coc-chay-lay-nguoi-20220324164833383.chn
You are reading the article
Land fever in this place "fizzled", investors "left the stake and ran for people"

at
Blogtuan.info
– Source:
Soha.vn
– Read the original article
here