According to the Global Times, the downed plane had two black boxes, one in the cockpit and one in the tail for recording various data. Searching for the black box is an important task so that the authorities can quickly find the cause of the accident.
Rescue team at the scene. Photo: Xinhua News Agency
The plane's black box is usually bright orange. They are built to withstand explosions, high temperatures, immersion in water… The black box battery has a lifespan of about 30 days.
Earlier on the morning of March 23, search and rescue operations at the crash site (near Wuzhou city, Guangxi Zhuang Autonomous Region) had to be suspended due to heavy rains. Rainwater has filled holes in the ground formed after the accident, and also poses a risk of landslides, making rescue operations more difficult.
At least 30 sniffer dogs were dispatched to the scene to help with rescue work. Many plane debris and other personal belongings of passengers (such as ID cards, bank cards, wallets…) were found.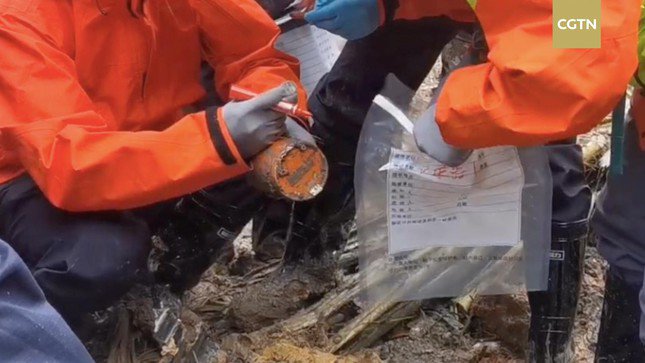 The black box was found at the scene. Photo: CGTN
In an interview with the CGTN news agency, Wang Yanan – a Chinese aviation expert said that "it is difficult to find survivors at the scene", because "the plane fell to the ground at a very high speed". had a very terrible effect."
Wang also said that the "pilot deliberately caused an accident" theory was absurd. In contrast, the "pilot lost control of the plane" hypothesis seems consistent with the final data from the flight.
According to Wang, under normal circumstances, if the engine is off, the plane can still glide a great distance, allowing pilots to handle emergency situations.
China Eastern Airlines Boeing 737-800 crashed on March 21 while en route from Kunming (Yunnan province) to Guangzhou (Guangdong province).
At the time of the accident, there were 132 people on board (including 123 passengers and 9 crew). As of now, the official death toll from the crash has not been determined.
You are reading the article
Black box of Boeing 737 that crashed in China found
at Blogtuan.info – Source: Eva.vn – Read the original article here