Khỏe - Đẹp
Boyfriend silently frozen the seed, dumbfounded when he knew the reason
April 13, 2022 10:22 GMT+7
Freezing 'breeding' is not a new concept anymore, but now many people consider it a trend. They don't want to have children yet, but want to save the best 'breed'.
Mr. Vu Minh H. (26 years old) working as a salesman of medical supplies in Hanoi has quietly deposited his sperm in a sperm bank. The reason why Mr. H. sent sperm was because he thought his family was anchored.
His parents got married and only gave birth to him. Every time he went on a business trip, he was worried that if he had any problems, the future of his family lineage would no longer exist, so he decided to send sperm at a bank for a fee of more than 4 million VND/year.
As for the case of her lover, Ms. Nguyen Hoang H. (23 years old, Long Bien, Hanoi) silently sent sperm that Ms. H. did not know. Ms. H. said that her boyfriend is 2 years older than her, both of them plan to wait for her to have a stable job and get married in 1-2 years.
Recently, the two of them rarely see each other, Ms. H, even thinking that her boyfriend has someone else. Once, going to her rented boyfriend's room, Ms. H. accidentally found her boyfriend's sperm deposit file at a private hospital in Hanoi. At this time, she learned that her boyfriend sent sperm because he had lymphoma.
Patients are advised by their doctor to send a sperm sample before entering the treatment process. He didn't want his girlfriend to worry, so he quietly filed a sperm application in the hope that he could have a healthy baby in the future.
When she learned the cause, Ms. H. was both panicked and confused. Ms. H herself did not know how to deal with this case.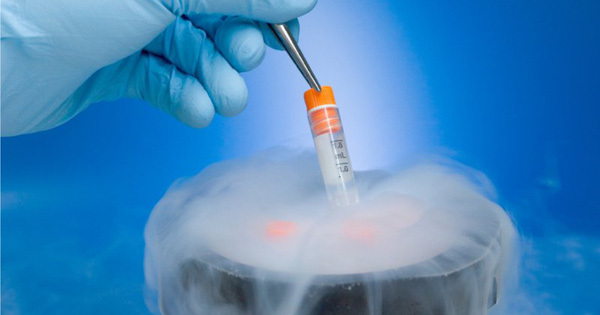 Sperm are put in a cold environment to hibernate. Illustrated photo.
The case of Mr. Do Duc C. (27 years old, Hanoi) has just been married without children, unfortunately contracted mumps. Mr. C. immediately went to the hospital to send sperm. The doctors gave him 6 tubes of sperm to freeze. Back home, Mr. C. and his wife still saw little, so they went to the hospital to ask for more to prevent uncertainty. However, complications of mumps after just over 1 month of sperm atrophy no longer to send back to the bank.
According to Dr. Ha Ngoc Manh – Head of the Department of Andrology, Vietnam Belgian Hospital of Andrology and Infertility, the tendency to store sperm is increasing.
Dr. Manh said sperm storage is a way to put sperm in a cold environment for cells to hibernate. If the temperature is cold and stable enough, sperm can be stored for many years and the quality of sperm is usually not affected. This is a technique that has been applied for a long time and is completely safe with the quality of frozen 'seeds'.
Because, research has shown that with other cells such as embryonic cells, they are stored from 1992 to 2021 to develop and give birth to a girl. The same goes for sperm, after thawing, it is not affected. Up to now, the child born from frozen sperm has not recorded any factors affecting the child.
Normally, sperm storage is usually stored when healthy, when a patient has an illness that needs treatment or needs something to go on a long business trip, if he cannot support his wife to get pregnant, he can send sperm to the bank. .
Currently, the facilities are doing popular, patients' needs are being met. The person storing sperm must be 18 years or older.
With a patient diagnosed with cancer, Dr. Manh said that the patient needs to think about storing sperm as soon as possible. Because many cancer treatments, chemotherapy and radiation, affect spermatogenesis, early sperm storage can help them save the best sperm.
For patients with traffic accidents or fatal occupational accidents, the best time to store sperm is in the first 6 hours after circulatory arrest. In some cases it can take up to 24 hours.
'Sperm storage is a trend many young people worry about for the future. However, when storing sperm you need to consider because it has to be stored for a long time and there is an annual fee. If you have money and why you have to send sperm, you should consider it carefully. As for men who have enough children, it is not necessary, "- Dr. Manh noted.
Khanh Chi
You are reading the article
Boyfriend silently frozen the seed, dumbfounded when he knew the reason

at
Blogtuan.info
– Source:
infonet.vietnamnet.vn
– Read the original article
here