Life Style
Sức Khỏe
Beautiful Chinese girl lost 20kg in less than 3 months sharing a 7-day lunch menu for those who are lazy to diet
Successfully losing 20kg in less than 3 months, the owner of the @是minno account on the Chinese social networking site Xiaohongshu regularly shares notes about her weight loss diet with everyone. She advocates a healthy and scientific diet to remove excess fat from the body without a strict diet to force weight. According to her, eating is the best way to lose weight and you can use it for life.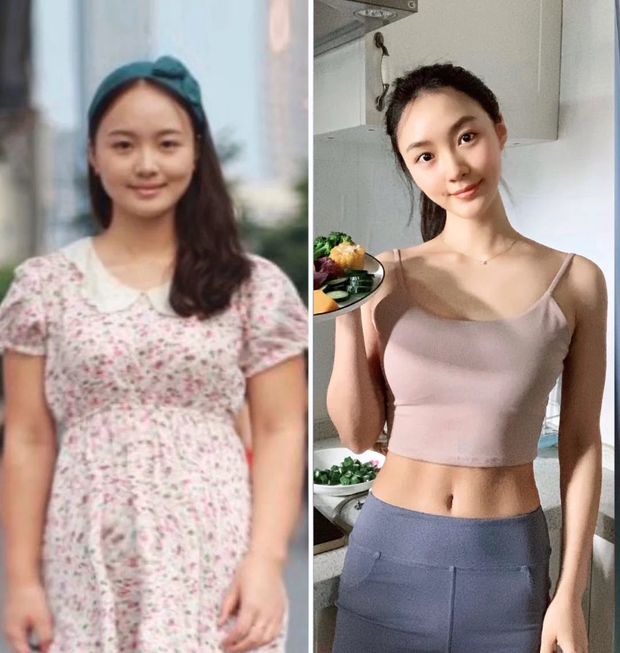 She owns @是minno account before (left) and after losing 20kg (right).
Recently, she shared her 7-day lunch menu, which is both simple and easy for lazy people, healthy and good for weight loss and health.
Let's explore this girl's menu right now!
#Lunch at the beginning of the week
– Chicken breast: After slicing the chicken breast, use some black pepper, flour and soy sauce, marinate for 10-15 minutes, then sauté.
– Okra egg rolls: Okra bring boiled just cooked to not be greasy, then drained. Beat eggs, beat finely, season to taste, then fry thinly (thinly fried like a pancake shell), let it cool. Finally, take the okra egg roll and cut it into bite-sized pieces.
– Side dishes: Some brown rice, boiled broccoli and some fruit.
#Lunch for Tuesday
– Stir-fried shrimp with asparagus: Smash a small garlic clove and sauté it in a pan with a little oil, fry the fragrant garlic, then add the shrimp and stir-fry with a little cooking wine to remove the odor. Finally add asparagus with a little salt and pepper to taste.
– Side dishes: Boiled eggs, boiled okra, boiled corn. Since there is no rice, you can eat 1 more banana.
#Lunch for Wednesday
– Stir-fried salmon with asparagus: Salmon cut into bite-sized pieces, season with a little salt and pepper, asparagus cut into pieces, blanch for 1 minute. Pour a little oil into the pan (just a little, the salmon itself is oily), add the asparagus and fish and saute with a little salt and black pepper to taste.
– Side dishes: Boiled eggs, boiled corn, boiled broccoli. You are free to choose your favorite fruit, here is hawthorn.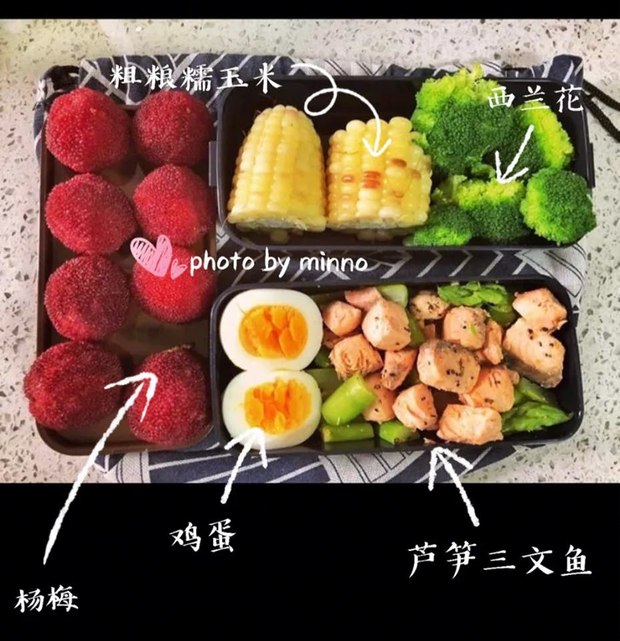 #Lunch for Thursday
– Stir-fried spaghetti with shrimp and asparagus: Marinate the peeled shrimp with pepper, salt and a small amount of cooking wine for 15-20 minutes. After boiling water, add a pinch of salt, put a pinch of spaghetti in it and cook for 10 minutes, remove and rinse with cold water to drain. Crush a small clove of garlic, add a little oil to the pan, add the shrimp and saute. Finally, add spaghetti and asparagus and stir-fry with salt and pepper to taste.
– Omelette: Beat the eggs, stir well, then pour into the preheated pan and fry in thin layers.
– Side dishes: Boiled broccoli, sautéed chicken breast, banana and blueberries.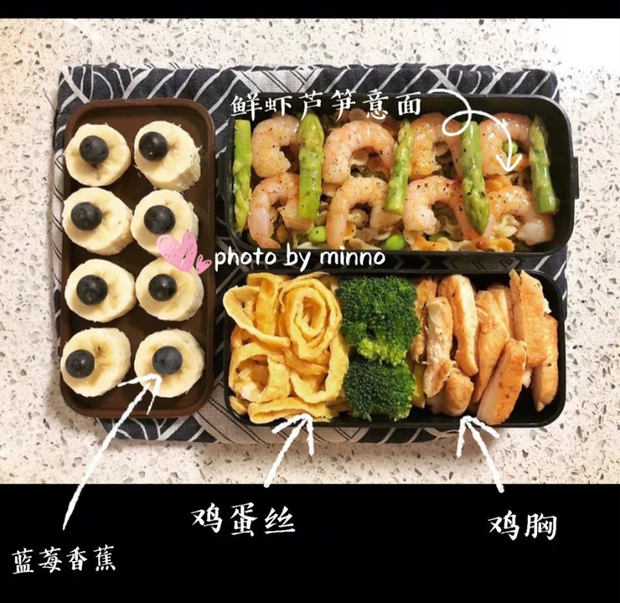 #Lunch for Friday
– Sandwich: Carrots, chopped lettuce, sliced ​​tomatoes, 2 boiled eggs (boiled without shell). All are clamped to the cake, wrapped in food film and cut into bite-sized pieces.
– Side dishes: Steamed or fried shrimp with little oil, sauteed asparagus and fruit.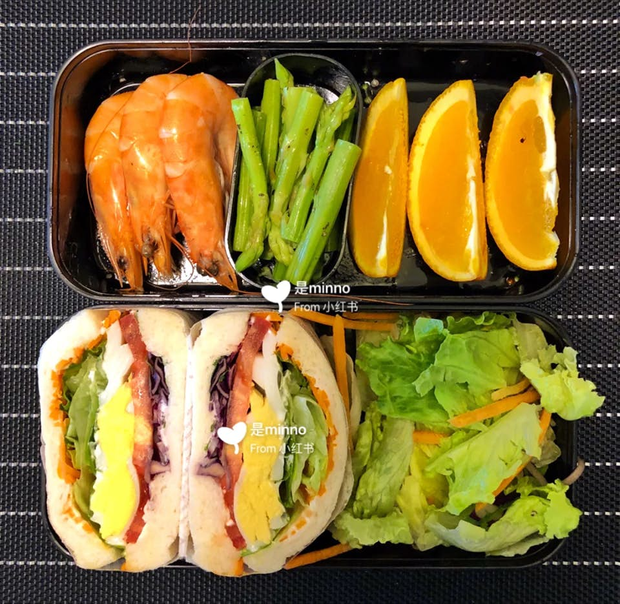 #Lunch for Saturday
– Boiled purple sweet potato: 2 small purple sweet potatoes (or 1 big one is enough) boiled.
– Spinach: Cook or saute with little oil and crushed garlic.
– Side dishes: Pan-fried chicken breast and fruit.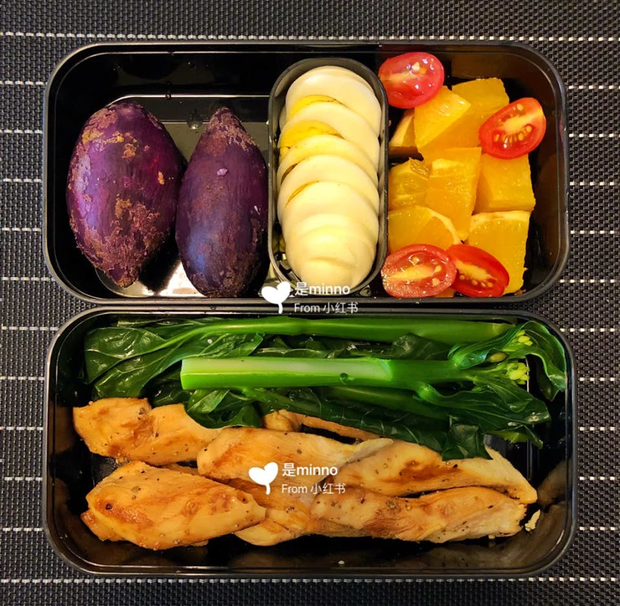 #Lunch for Sunday
– Egg rolls with tomato sauce: 1-2 eggs, 1-2 tomatoes, smash the garlic into the saute pan, then pour the tomatoes and beaten eggs into it.
– Baked potato: Peel the potatoes, remove the eyes, brush the potatoes with olive oil, sprinkle with black pepper and salt, and bake in the oven.
– Side dishes: Cereals or brown rice and fruit.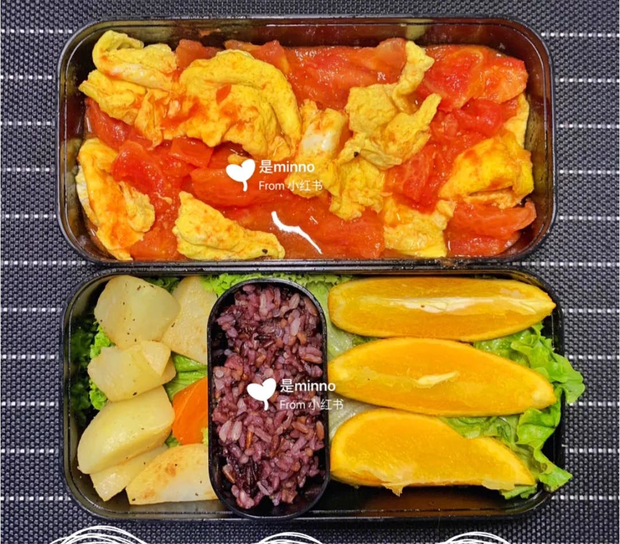 Source: Girlstyle, @是minno
You are reading the article
Beautiful Chinese girl lost 20kg in less than 3 months sharing a 7-day lunch menu for those who are lazy to diet

at
Blogtuan.info
– Source:
Kenh14.Vn
– Read the original article
here