The vaccines used for children from 5 to under 12 years old are Pfizer and Moderna, with basic doses of the same vaccine. For the second dose, it is expected to be given to children within 14 days, the interval between the two injections according to the manufacturer's instructions. To ensure the safety of children 5- under 12 years old during vaccination, parents need to pay special attention to, care for and monitor children before, during and after the vaccination process. Timely detection of abnormal symptoms that are dangerous to children.
Taking care of children before and after vaccination against COVID-19
Parents should give children enough food and drink before and after the injection. Absolutely do not let the child receive the vaccine in a state of hunger or fullness. Along with that, children should not drink carbonated drinks, alcohol, stimulants, caffeine such as soft drinks, energy drinks … before and after the day of vaccination because these substances can cause heart palpitations, affect the baby's health.
Adding water is an important step that cannot be skipped. MSc Nguyen Hien Minh – Deputy Head of Immunization Unit, Ho Chi Minh City University of Medicine and Pharmacy Hospital shared, "Let children drink enough water, especially in the current hot weather that makes children sweat easily and quickly. If you are tired while waiting for your turn to be vaccinated, you can give your child an effervescent tablet or syrup containing the vitamins that the child is currently taking on the morning of the day of the vaccination; do not arbitrarily stop taking oral medications for chronic diseases. that the child is taking according to the doctor's prescription."
Currently, there are no studies to prove that there are any foods that are resistant to drugs or reduce the pharmacokinetics of vaccines. Therefore, parents should provide adequate nutrition for children before and after vaccination against COVID-19. Children do not need to abstain from any foods except those that cause them to have allergies in the past. However, parents should give children soft, easy-to-digest foods, should eat a lot of fruits and vegetables, ensuring adequate supply of 4 main nutrients, which are protein, fat, and carbohydrates. , vitamins and minerals.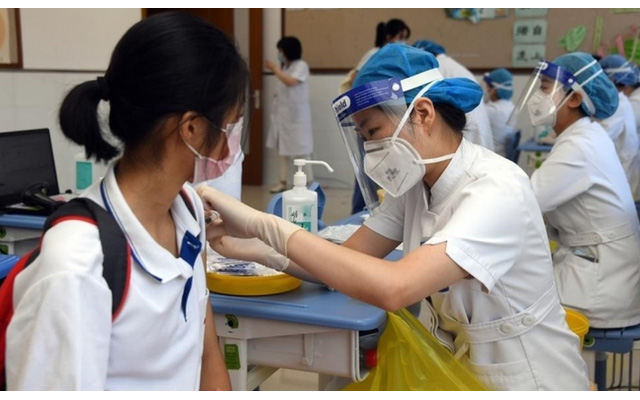 Children must be monitored for the first 3 days after vaccination, avoid vigorous exercise and need to be provided with enough water and nutrients.
After vaccination, parents should let their children drink plenty of water, get enough sleep, eat according to the child's needs, wear loose and airy clothes, avoid letting the child catch a cold, and limit excessive running and jumping within 3 days. first day after vaccination. Conduct temperature checks for children every 3-4 hours.
Treatment when the child has a fever, swelling and pain at the injection site
Immediately after the injection is the most important time because this is the time when bad reactions often appear. However, the child will be monitored at the injection site for at least 30 minutes after the injection with the supervision of a qualified medical team. So, dangerous times are guaranteed. Parents need to closely monitor their children for 3 days after the injection. Attention should be paid to the smallest abnormalities and manifestations of the child so that timely care and treatment can be given.
Fever and pain at the injection site are the most common reactions a child may experience after receiving the COVID-19 vaccine. Parents do not need to worry too much about these symptoms. According to Dr. Truong Huu Khanh – Head of Neuro-Infection Department, Children's Hospital 1, Ho Chi Minh City, "Parents do not need to worry because of reactions at the injection site such as hardening, lumps, rash, etc. pain, .. will disappear after a period of time without affecting health.
If the child has symptoms such as fever, cough, chest tightness, and fatigue, this condition will also subside and gradually improve."
Doctor Hien Minh recommends, "absolutely do not apply leaves or other strange drugs to the injection site. If the child is very painful or has a fever, parents should give the child a common antipyretic pain reliever such as Paracetamol with a dose of 10 -15 mg/kg body weight of the child.
When children appear symptoms such as struggling, lethargy, skipping meals, persistent fussiness, chest pain, palpitations, fatigue, sweating, difficulty breathing during normal activities and lying down, high fever difficult to lower temperature, or lasts more than 24 hours, purple veins and rash on the skin, parents need to quickly take the child to the nearest medical facility for support.
You are reading the article
Experts advise on how to handle reactions after vaccination against COVID-19 for children 5

at
Blogtuan.info
– Source:
Soha.vn
– Read the original article
here