Thế Giới
Russia expels 40 German diplomats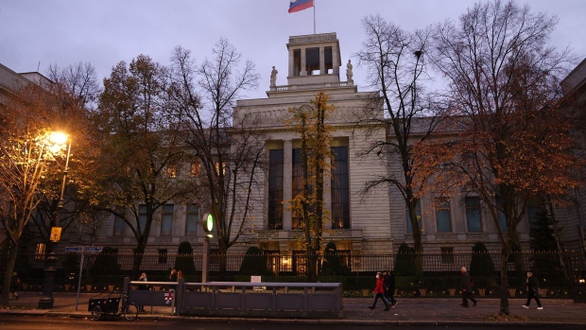 Russian Embassy in Berlin, Germany – Photo: GETTY IMAGES
According to AFP news agency, in a statement on April 25, the Russian Foreign Ministry said that it had summoned the German ambassador to Moscow and handed the German ambassador a note "declaring not to welcome 40 employees of the diplomatic missions Germany in Russia".
The term "persona non grata" refers to a state that does not want the presence of one or more persons sent by another state. Individuals who are declared "persona non grata" usually have to leave their home country, which means an order of deportation.
The Russian Foreign Ministry said it had "strongly reacted to the head of the German diplomatic mission in Moscow, because of the unfriendly decision of the German Government".
In response, Berlin said Russia's decision to expel 40 German diplomats was "unjustified".
On April 4, Germany declared 40 Russian diplomats "unwelcome", saying they must leave Germany for Russia within five days.
The Russian Foreign Ministry explained that the expulsion of diplomats was a reciprocal act because these countries had previously expelled Russian diplomats.
More than 300 Russian diplomats have been expelled by European countries so far since Russia launched a special military operation in Ukraine on February 24, according to Reuters news agency.
Kremlin spokesman Dmitry Peskov has said that the recent wave of expulsions of diplomats by Western countries threatens the maintenance of diplomatic relations between these countries with Russia.
EU member states expel Russian diplomats and embassy staff on charges of espionage, or "national security reasons", according to AFP.
In a related development, according to the RIA news agency, the Russian Defense Ministry said that Moscow may confiscate assets in Russia in response to "unfriendly actions" towards the country.
Also on April 25, according to the Russian Foreign Ministry, Russian Deputy Foreign Minister Sergei Ryabkov had a meeting with US Ambassador to the country John Sullivan to discuss issues in bilateral relations.