The Natalia Underwire Bra is a product that normally sells for $68 (equivalent to 1.5 million) in department stores and specialty stores since its launch in 2016. But, the company. The manufacturer is Journelle, this year raised the price of this product to $ 98 (equivalent to 2.2 million), causing some retail stores to temporarily stop selling.
Inflation crisis spreads to women's bras
"They know they won't be able to sell it for a higher price", said Guido Campello – who owns and operates Journelle. He shared that the selling price was forced to increase to compensate for the increased costs, a figure that is now thought to have doubled since 2019.
This is an inevitable decision from companies when they are facing a series of complex problems, namely high inflationary pressure. In particular, the Natalia bra product is a hard-hit case when the manufacturer is under extreme stress with rising costs spreading to the global supply chain.
Inflation crisis reached a four-decade high in the US in March, some economists say there are signs that the gains will peak. However, once the price increase affects the economy deeply, it will be difficult to reverse. Mr. Campello said: "We think many rallies will stay the same for a long time".
Some lingerie brands have profited from the transition to more comfortable bras during the pandemic.
Sharon Leighton, president of PVH Corp. – lingerie group including many famous brands such as Calvin Klein, Warner's and True & Co., said:
"Every day, millions of sailors, truckers, fishermen, warehouse workers and stacked cargo drivers move into stores and private homes to meet growing consumer demand for groceries. convenience. But the complex shifts that are occurring are affecting the global economy more than imagined".
Bra manufacturers say that as more and more women leave the house to go to work and participate in social events, they are also starting to pay attention to shirts with richer styles.
That's one reason Lively raised the price of its bras from $35 to $45 in the fall of 2021, its first price hike since its founding in 2016.
The company is owned by Wacoal International Corp. In contrast, all bra products are sold at the same price. That makes "cost management even more difficult in the current climate," said Michelle Cordeiro Grant, the company's founder and chief executive officer.
Victoria's Secret & Co. The company said that the $110 million in supply chain costs had a significant impact on the company's profits during the holiday period. This store chain has increased the price of some items like Wear Everywhere bras from $52 to $54 for 2 pieces (equivalent to 1.2 million VND).
Martin Waters, chief executive officer of Victoria's Secret, told analysts in March: "The reality is that the whole world is facing the same pressures when it comes to inflation from raw materials, people to freight.".
All ingredients that make bras have increased in price
The skyrocketing cost is also partly because the bra market is gradually recovering from the heavy impact of the pandemic as many women no longer need to wear bras at home. Bra sales totaled $10.2 billion in 2021, up 36% from 2020 and 24% higher than in 2019 (according to market research firm NPD Group).
The average price for an underwire bra is now $17 (about VND 390,000), up 13% from 2020. This increase is generally similar to that of other women's clothing categories. However, compared to regular consumer goods such as food or gasoline, the increase in bra prices will attract less attention from shoppers.
Marcia Hunt, a 52-year-old marketing consultant, recently bought three bras for about $45 each.I will pay any price for comfort".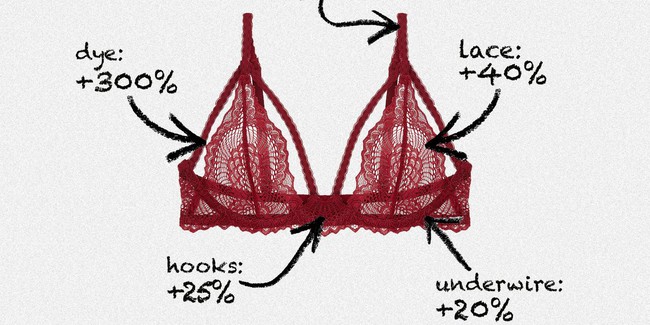 Because of that mentality, Journelle is not afraid of a huge drop in Natalia's sales on its website. Even 4 stores in Manhattan, Chicago and other retailers will continue to sell this product when the price increase takes effect on June 1.
Mr. Campello, whose parents founded the lingerie brand Cosabella, says he doesn't want to sacrifice the quality of Natalia products. Although it consists of only 16 materials and does not have a cup, it is made almost entirely of lace. That way, he dealt with the added costs.
In addition, rising energy prices also play a large role in causing this situation. The problem has become more serious since the crisis between Russia and Ukraine is causing European countries (who supply raw materials and production for Journelle) to try to reduce their dependence on oil from the United States. Russia.
Mr. Campello said energy costs for Journelle's Italian lace supplier have quadrupled since 2019. This has led to some increases in Journelle's payments as the company is paying 40% more for it. lace fabric compared to three years ago. The stretch edging is also 40% more expensive over the same period.
In addition, the cost of dyeing fabrics has also quadrupled since January 2020, largely because this is a process that relies heavily on energy when it comes to heating water at a stable temperature to create color. . The fact that some dye manufacturers in Italy are having to close because of the high cost also hinders the production process.
Underwires for support in bras are also 20% more expensive now than they were at the start of 2020. Other hardware including hooks, back clips and straps have all increased by 25% in that time period. Paper goods such as containers and shopping bags are another challenge.
Inflation crisis makes people… live with floods
"No final price for this item until the date of shipment", said Mr. Campello, adding that every three months, prices go up by about 30% to the point where Journelle's Peruvian sources have had to ship cotton in burlap sacks because of a severe shortage of boxes. That cost often fluctuates during the production process and is also a factor leading to the price increase of Natalia.
To compensate for the problems that arise, Journelle decided to change the way it did business. In January, the company no longer sources materials from Asia, but mainly focuses on supply from Europe. The factories in Tunisia supply the trophy, while the bracelets, frames and straps are sourced from Italy.
Although it is more expensive to make in Europe than in Asia, Journelle is saving money by reducing shipping costs, which are skyrocketing every day. Mr. Campello said that the cost of air freight for a pair of cup molds to Europe from Asia has increased 7 to 8 times compared to 2019.
"The ability to control energy costs is much more than transportation costs. We think transportation costs will be the hardest thing to control going forward.", said Campello.
Source: Elite News
https://afamily.vn/khung-hoang-lam-phat-lan-sang-ca-ao-nguc-phu-nu-chi-em-chi-biet-khoc-rong-mua-loai-co-gong- hay-not-gong-gong-phai-dan-do-suy-chn-20220426191457031.chn
You are reading the article
Inflation crisis spread to women's bras, prices skyrocketed

at
Blogtuan.info
– Source:
Afamily.vn
– Read the original article
here