Young but has erectile dysfunction, does not ejaculate after sex
Mr. LVT (Hanoi) is 27 years old, has just been married for 6 months, is still in the honeymoon period, but more than a month ago, he has fallen into a state of confusion because the boy recently disobeyed orders many times. , "above tells, below doesn't listen" every time the couple is in battle. More bewildered, T also found that there were some times when the amount of sperm ejaculated was unusually low.
T said that his feelings for his wife are not at all the cause of the small boy's condition when he is close. T loves his wife very much and it takes a lot of time and effort to conquer his wife. T's wife is a pretty girl, 25 years old, studying in the same university as T. The couple have known and loved each other since the 3rd year of university, the student relationship has many beautiful memories.
Now, both husband and wife are working and have a stable income. T's family is also able to buy a small apartment for the couple. Mentally comfortable, material enough, but recently, T has been unable to get an erection every time he has sex. As for T's wife, every time she saw her husband so weak, she was frustrated and annoyed. T's wife said to her husband: "You seem to be full of sticky rice and tired of tea at work, right?".
Just because the boy was constantly "on top of telling him not to listen" like that, the relationship of the couple T began to have cracks and doubts.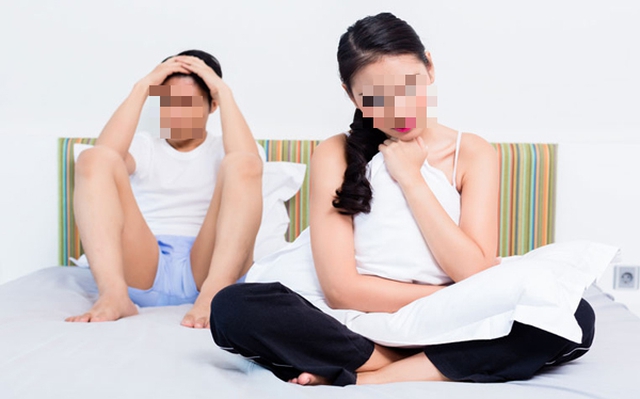 Another story is that of Mr. NHC (Lang Son, 32 years old). Mr. C. has a 4-year-old son, the couple is planning to have a second child, but in recent times, every time they orgasm, they have not seen sperm coming out. This made him extremely worried. People still say: "30-year-old boys are rotten", could it be that his health has serious problems?
His wife and parents on both sides of the family also urged the birth of a second baby so that the grandparents could take care of the young child while they were still healthy. But every time he is close to his wife, the emotions are still sublimated but the sperm disappears or sometimes comes out too little, making him worry about having a baby.
Seeing her husband like this every time he went to war, his wife C also increased to make nutritious foods to increase zinc for her husband such as: seafood dishes (crabs, crabs, oysters…) even, wife C also made a few bottles of wine. Add soaked herbs for C to drink to increase sperm count for her husband.
Unexpected causes of erectile dysfunction and how to fix it
MSc Nguyen Van Duc – Saint Paul General Hospital in Hanoi said that many patients had come to the hospital for examination and had symptoms like Mr. LVT and NHC The cause of the decline in sexual health of two patients. This is because the patient has diabetes and sometimes the patient encounters psychological pressures in life.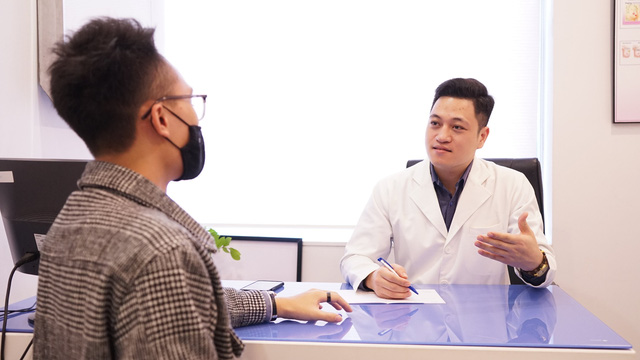 MSc Nguyen Van Duc – Department of Urological Surgery – Andrology at Saint Paul General Hospital advises patients
According to MSc.BS. Nguyen Van Duc, checking his blood sugar is a very simple measure, but many Vietnamese people nowadays do not have the habit of doing it. You just need to go to any pharmacy, with a cost of about 10 or 15 thousand, you can quickly test your blood sugar. Many men with erectile dysfunction do not know that diabetes is the cause, making men 3.5 times more likely to have erectile dysfunction than men without the disease. The case of Mr. LVT is very young, even though he is only 27 years old, he loves his wife but cannot get an erection every time he has sex because his blood sugar is high, causing damage to the nerves, narrowing the blood vessels in the penis. Therefore, the amount of blood is not pumped enough to make an erection every time you have sex.

Diabetes is one of the leading causes of retrograde ejaculation
MSc Nguyen Van Duc said that in the case of Mr. NHC, every time he had sex with his wife, he still had an orgasm, but he did not see ejaculation or the amount of sperm ejaculated was very low because Mr. C had diabetes. Mr. C.'s condition is that every time he finishes sex, he doesn't see ejaculation as retrograde ejaculation. Semen after sex does not ejaculate out of the penis but will ejaculate into the bladder. Retrograde ejaculation is one of the causes of male infertility.
"The cause of this retrograde ejaculation is due to high sugar levels leading to nerve damage in the sphincter, causing the patient to have retrograde ejaculation. Normally, when ejaculating, the bladder neck muscle closes to prevent sperm from entering. When the sphincter does not work properly, sperm will be ejected back into the bladder" – MSc. Dr. Nguyen Van Duc said.
BS. Germany also gives advice: for men with erectile dysfunction due to diabetes, it is necessary to change lifestyle such as: reduce fat and cholesterol intake, exercise, lose weight, quit smoking, alcohol and drugs. Regularly self-check blood sugar to monitor health. If the condition does not improve, you need to see an endocrinologist, orrologist for treatment.
For diabetic men with low testosterone levels, a doctor may prescribe testosterone replacement therapy to treat erectile dysfunction. However, testosterone therapy can cause testicular failure and should always be carefully considered by a doctor and monitored closely.
You are reading the article
The unexpected cause of the young man's 'missing' sperm and erectile dysfunction

at
Blogtuan.info
– Source:
Soha.vn
– Read the original article
here