Johnny Depp's team confirmed Amber Heard was acting in court. Many people also agree with this view.
Legal battle between Johnny Depp and Amber Heard is coming to a climax. CBS News calls trials "circuses" when there are many episodes of violence that appear to be staged or appear only on film, provided.
After the amateur days Pirates of the Caribbean presented evidence to support the charges against his ex-wife, Amber Heard in turn went to court for testimony, defending herself before the jury.
Amber Heard accused of acting
According to TMZ, Johnny Depp's legal team considers Amber Heard's testimony on May 5 as "play lines". They said they correctly predicted what the actress would say to the jury, calling it "Amber's life drama".
"Her abuse story has evolved with 'new and more favorable details' over time. But conversely, Johnny's recollection has remained the same during the six harrowing years, since the allegations were made. first forced by Amber", The actor's representative said.
When cross-checking the previous and current testimony of Heard, Johnny, the legal team believed that there was a contradiction in the sharing from the actress. This proved star Aquaman lying.
"Cross-checking of testimony will highlight Amber Heard's fallacies. She tried to turn lies into truth in her complex testimony."Depp's statement concluded.
Amber Heard ended her second day in Fairfax court (Virginia, USA). The remarkable point in the two trials was that the actress could not calm down, she constantly cried. The words came out in a broken, sobbing voice.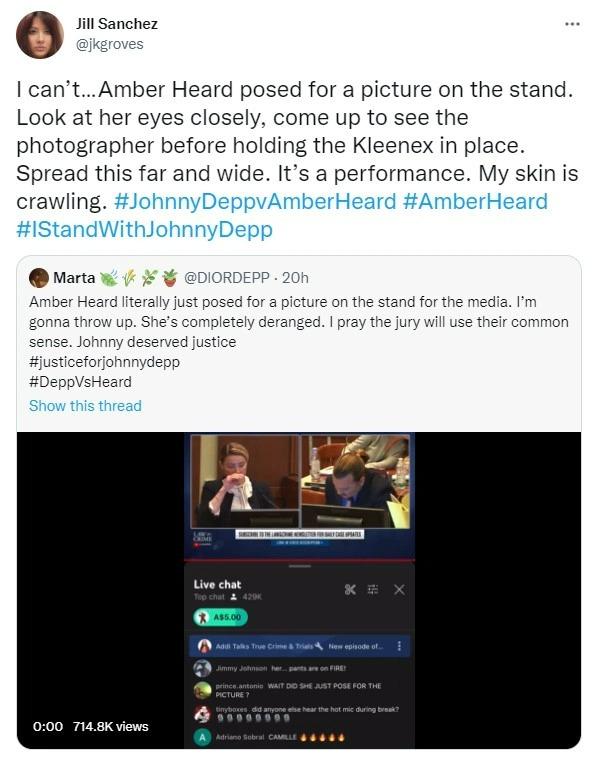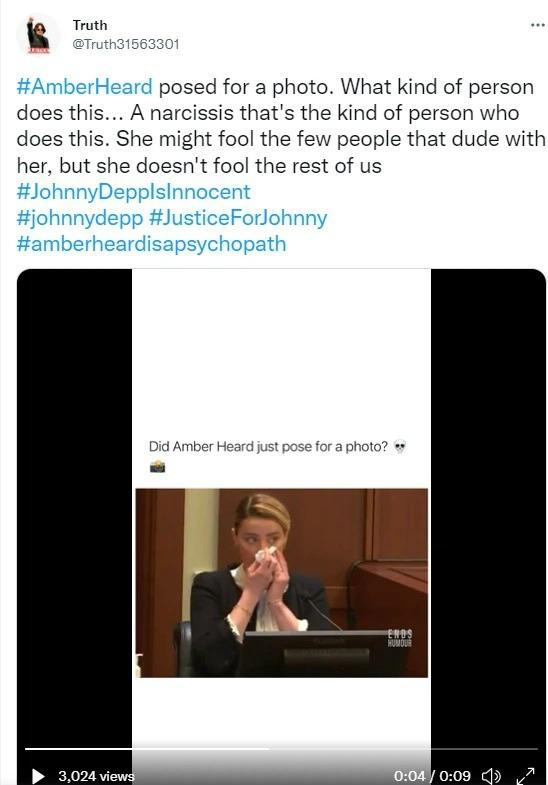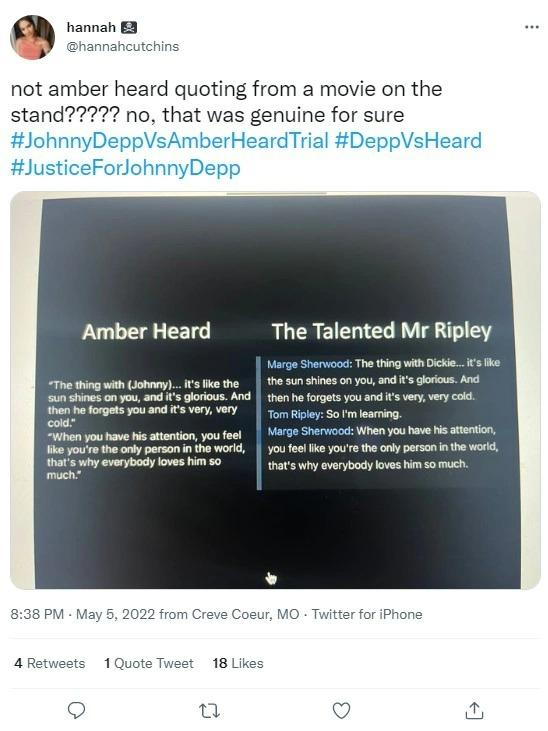 Many people think that Amber Heard is acting in court. Photo: Twitter.
According to CBS News, millions of people watched the new developments and called the lawsuit like "a drama more intense than a wrestling match". When it was Heard's turn to provide testimony, the online community assumed that the actress was posing while crying.
One comment on Twitter wrote: "Amber was wiping her tears with a tissue, but for a few seconds she paused, looking into the camera for the reporter to catch the moment."
Similar tweets appeared on social media with the hashtags #amberheardisapsychopath (Amber Heard is a psychopath), #AmberHeardIsAnAbuser (Amber Heard is an abuser).
And yet, some believe that in his opening remarks, Heard "borrowed" a famous line from Gwyneth Paltrow's character in the movie. The Talented Mr. Ripley to reminisce about love with Depp.
The dialogue is as follows: "When you get his attention, you feel like you're the only one in the world, that's why everyone loves him so much."
Amber Heard's rebuttal
Before the team's statement Johnny Deppa representative for Amber Heard replied to the sheet People: "With Heard's statements, Depp's testimony is being disrupted so quickly that his attorney from prosecutor is eager to become convict."
The actress' reps are sure Depp's legal team is bragging that Depp's story hasn't changed because it's true. But if so, the fact that Depp loses the case in the UK and is called a wife beater needs to be considered.
"He should consider a new strategy rather than continuing to attack victims, refusing to take responsibility for his actions."this person added.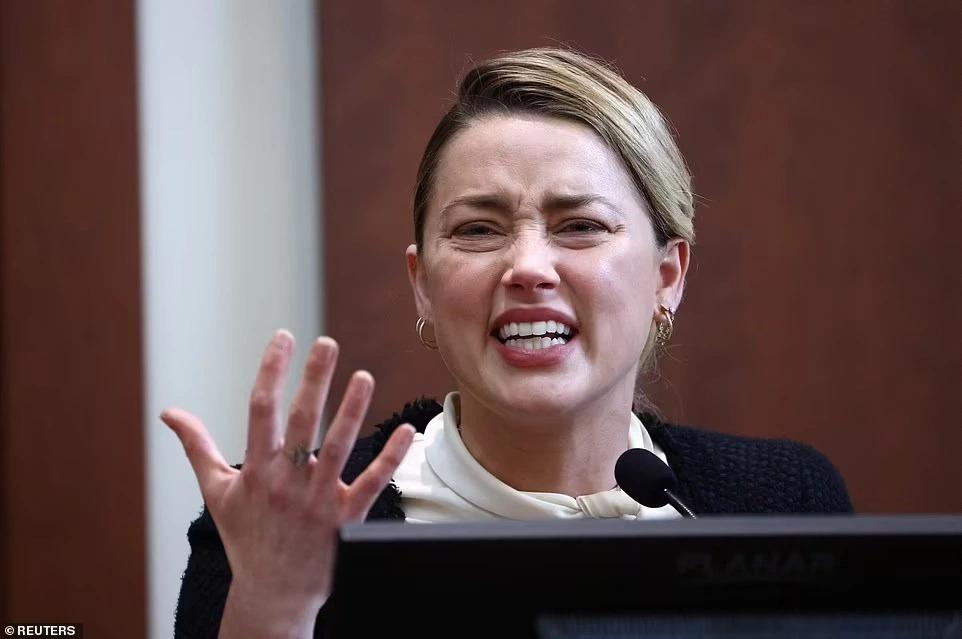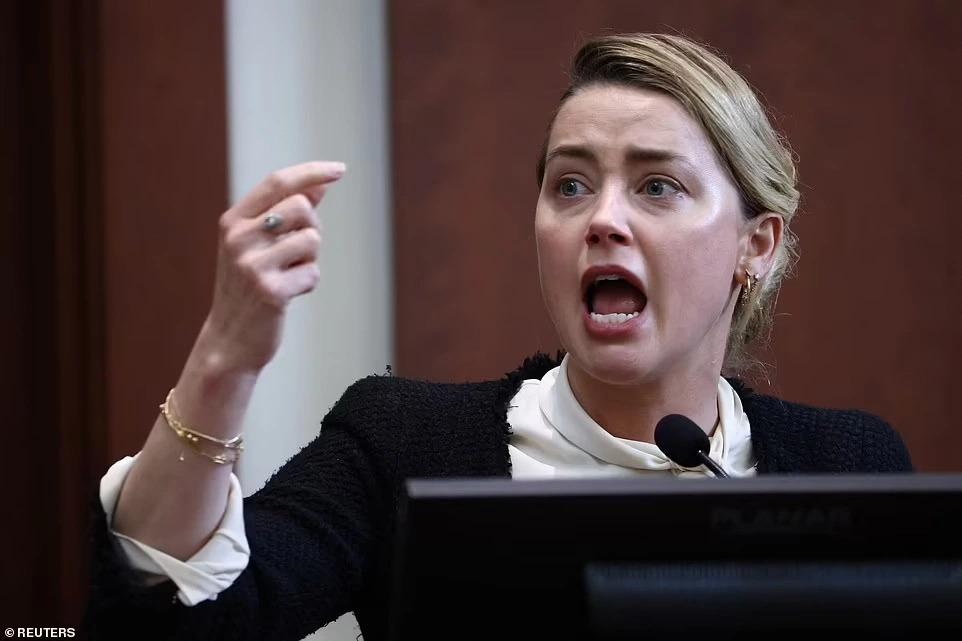 Amber Heard changed her emotional tone during the trial on May 5. Photo: Reuters.
Previously, at the trial on May 5, Amber Heard provided two main contents: denying adultery and detailing abusive actions and statements from Johnny Depp.
Heard insists not to go to bed with Eddie Redmayne (co-star in the movie The Danish Girl) and never fell in love with Billy Bob Thornton – the actor who co-starred in the movie London Fields with her.
According to Heard, despite trying to explain it, her ex-husband still doesn't believe her. "He even got upset about Billy Bob Thornton."she said.
The mood in court suddenly changed when Heard told the jury that Depp had called her "a nagging bitch", "a fat whore", and accused him of abusing a glass bottle.
Report from the trial, reporter TMZ write: "Heard said he was threatened with death several times by Depp, the most horrific time around Christmas on an island in the Bahamas. Heard alleges that the actor said 'I will end your life if I continue to embarrass me in front of you. children'".
Heard then recalled the incident between the two in March 2015 in Australia, when Depp was filming Pirates of the Caribbean 5. According to her, Depp lost sleep for a long time and became grumpy. She tried to advise her husband to calm down and rest, but he continued to drink and started screaming and smashing things.
"He was on top of me, screaming 'I hate you, you ruined my life'", she paraphrased Depp's profanity in a fit of rage. In that situation, Heard began to push her husband to find a way to escape. However, Depp shoved her to the floor, strangled her, tore her clothes and inserted a glass bottle into her ex-wife's sensitive area.
According to Zing
You are reading the article
Attorney Johnny Depp: Amber Heard is acting in court

at
Blogtuan.info
– Source:
2sao.vn
– Read the original article
here