Tin
Hanoi: 2 children were abused by their stepfather, grandparents made a petition for help
At the family meeting, both parties admitted that Mr. T. beat 2 children HA and TN was too cruel and unacceptable.
Recently, Mr and Mrs. Doan Trong Sang (SN 1959) and Mrs. Nguyen Thi Hong (SN 1965, in Huu Hoa commune, Thanh Tri district, Hanoi) have submitted an application to the authorities about the fact that the two grandchildren of the grandparents. stepfather violence Savage.
Specifically, in 2011, her son married NA and gave birth to 2 children, HA (Sn 2012) and TN (Sn 2014). However, due to bad luck, in 2018, their son passed away due to a serious illness.
Nearly 1 year later, Ms. NA has a romantic relationship with Mr. T. (Hai Ba Trung district, Hanoi). After that, Ms. NA and Mr. T. lived together and got married before the first anniversary of her husband's death.
At that time, Ms. NA brought her two young children to live with her. Although she didn't want to, she and her husband could not stop her.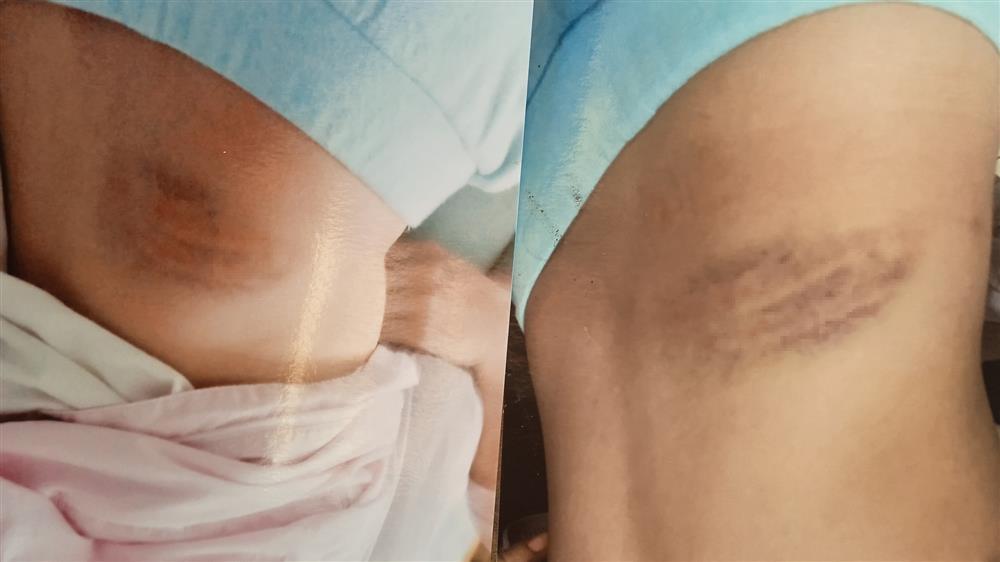 Wounds on 2 children suspected of being beaten by stepfather
In August 2020, because I missed my grandchild, my grandparents came to visit. It was also at this time that the grandparents discovered that the two children had a lot of bruises on their bodies from being beaten, and they kept asking until they said they were beaten by their stepfather.
Both angry and sorry for her grandchild, Mrs. Hong and her husband immediately held a family meeting.
At the meeting, both sides of the family admitted that Mr. T. beat 2 children, HA and TN, too cruelly and unacceptable.
During this meeting, Mr. T.'s parents also committed to re-educate Mr. T. to not repeat the violent behavior again. Mr. T.'s parents and NA also promised to protect them. However, the abuse of the two children continued.
"On December 28, 2020, my wife and I visited our two children and discovered that HA had many bruises on her side from being beaten. When my wife and I asked, she said that she didn't hold the bowl while eating. went up to eat but left the bowl on the table and used a spoon to eat, so he was beaten by Mr. T.
On April 9, 2021, my wife and I took the children to our house to play, when TN said that on the night of April 8, he was strangled by his mother's lover, slapped on the cheek, hit his head on the floor and locked him in a dark room to work. I was injured and scared. At that time, my mother was also present but could not stop it", Law & Readers quoted Ms. Hong.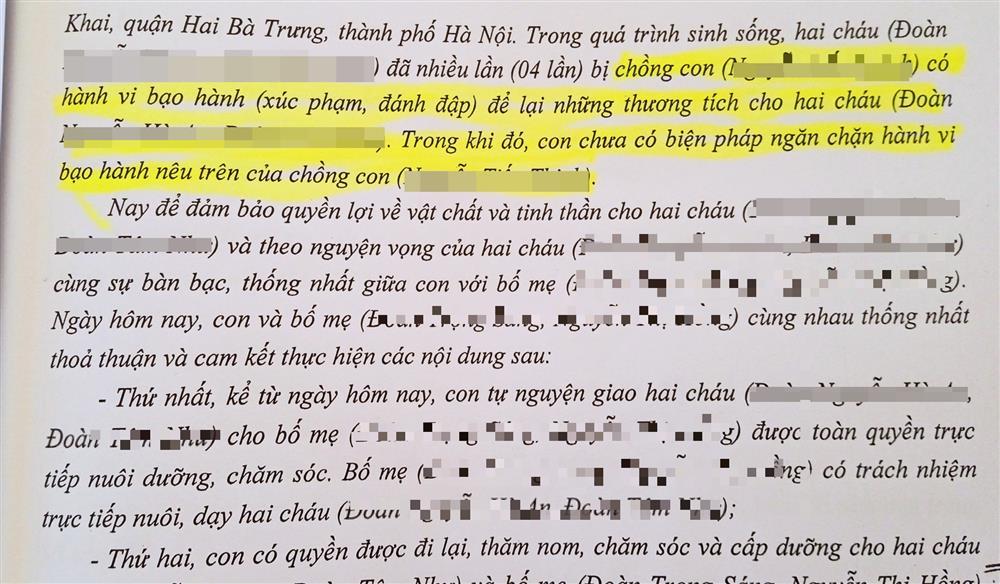 The baby's mother voluntarily handed over 2 children to her grandparents
After the family meeting, Mrs. Hong and her husband brought TN to report the whole incident to the Minh Khai ward police. At the same time, I took N. to Thanh Nhan Hospital for examination. As a result of the examination, the child was diagnosed with "monitoring for traumatic brain injury".
In order to ensure the safety of life and health for her 2 children, Ms. NA voluntarily handed over 2 children to Mrs. Hong and her husband to take care of, from June 15, 2021 until adulthood, with a full admission record. enough.
However, by the end of December 2021, due to a family member suffering from Covid-19 so NA took 2 children to stay at her grandparents' house temporarily. After the epidemic ended, Mrs. Hong and her husband came to pick up their grandchild, but NA refused, and even acted insolently and threatened.
Currently, both children have not been able to go to school, because their mother recently resigned from school, not transferring schools.
Receiving information, Minh Khai ward police invited relevant people to work.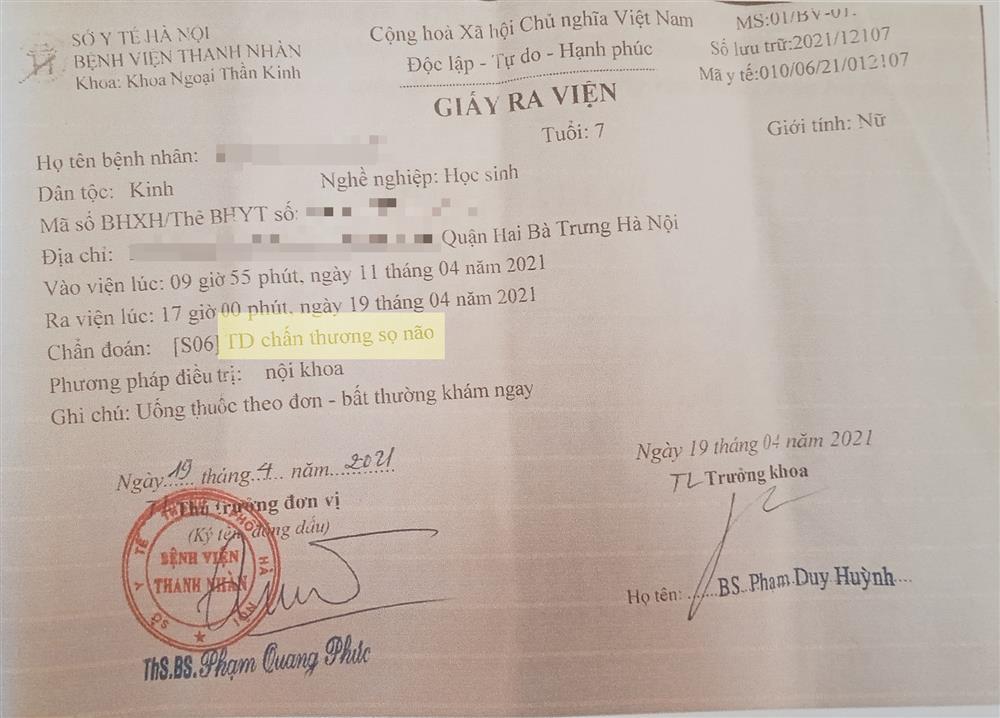 Hospital discharge certificate of 1 of 2 grandsons of Mrs. Hong
Notes of Law & Readersthe leader of Hai Ba Trung District Police said, the process of getting involved, the authorities solved, a lot of procedures were completed, then the couple asked to withdraw the application, exempt from criminal prosecution.
Explaining the withdrawal of the application, Ms. Hong said that because she thought that her daughter-in-law and her new husband would change and not abuse the two grandchildren after the authorities got involved. However, she did not expect that, after withdrawing the application, NA and her husband had completely banned them from allowing their grandparents to see their grandchildren.
Even when Mrs. Hong and her husband came to give her birthday gifts, they were also prevented, their stepfather was "forced" to say "didn't want to live with grandparents" and had her mother stand in the video to testify.
Afraid that her grandchildren live with their stepfather and continue to be beaten and beaten, her husband asked a lawyer, collected evidence, and hoped that the authorities would restore the investigation, so that the children could return to their families. to live with grandparents.
HT (t/h)
According to Vietnamnet
You are reading the article
Hanoi: 2 children were abused by their stepfather, grandparents made a petition for help

at
Blogtuan.info
– Source:
2sao.vn
– Read the original article
here