During this time, when the whole society "lives" with Covid, children also return to school to study, so it is inevitable that the rate of sick children will increase. Meanwhile, it can be seen that during the epidemic, children have to face many different post-F0 sequelae, both physically and mentally. Anorexia, taste disturbance is also a worrisome sequelae because it can cause children to have micronutrient deficiencies, growth retardation, and underdevelopment. According to research by authors working at McGill University Medical Center, Canada, after the epidemic, the rate of children with anorexia increased from 24.5% to 40.6%, the severity of this problem also increased. higher than before the pandemic.
The author Martha K. Swartz, Editor-in-Chief of the Journal of Pediatric Health Care, Yale University, USA also points out that there are babies who have recovered from illness but still have not regained their sense of taste, and do not feel anything. want to eat. So why is it that after getting sick, especially when infected with Corona virus, children are more anorexic and what should mothers do to limit and overcome this situation?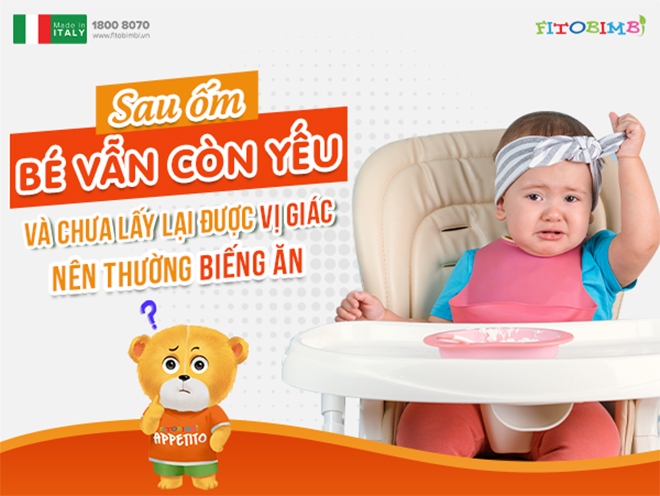 Causes and consequences of anorexia children after illness and disease
As Dr Jill Seladi-Schulman explained in the US Medical Journal Healthline Media, when Covid entered the respiratory tract, it may have damaged the olfactory nerves in the nose, causing the patient to lose taste. prolonged, even until negative. Because of the close relationship between olfactory and taste functions, olfactory dysfunction will adversely affect taste perception in children who are positive for SARS-CoV-2. At the same time, this virus also affects the secretion of digestive enzymes from the salivary glands and causes anorexia.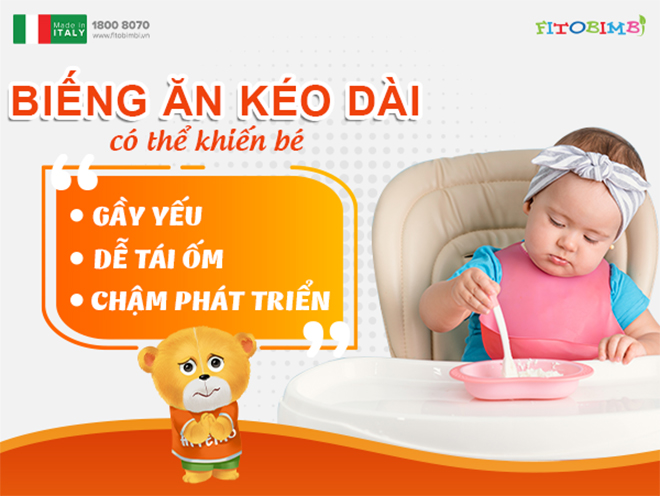 Children with anorexia for a long time after the illness can cause the body to be deficient and imbalanced in nutrients, the child will become thin, lose weight, slow to grow, very easy to get sick again, even malnourished, stunted. affect future physical and intellectual development. Therefore, mothers need to have appropriate methods to improve their children's health right from the time they are sick and recovering from illness.
Changing eating habits to help improve your child's taste
Right from the time the child is still being treated for an illness, the mother needs to adjust the appropriate diet to support the baby's energy and health, help heal faster, and recover faster. During this period, mothers need to pay attention to divide children's meals and increase easy-to-digest liquid foods such as porridge, soup, stewed soup, etc. Besides, the baby also needs to be supplemented with adequate water, supplemented with electrolytes when the child has fever or diarrhea, along with that, the mother should supplement with foods rich in micronutrients to improve taste quickly, limit child anorexia.
With the post-illness period, children need 1-2 weeks to recover their body and taste, so mothers need to give them the right meals, limit snacking, increase healthy snacks, but avoid forcing them to eat and change. Regular dishes, avoiding monotony will help meals more attractive, children feel more appetizing.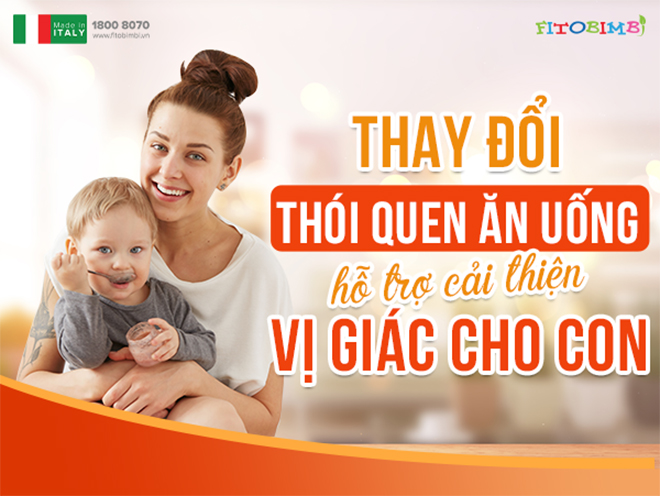 In addition, space also affects children's eating psychology, after a period of isolation, mothers should let their children eat and drink with their families, while chatting and enjoying a happy meal together. people, children will probably eat more, more delicious.
In particular, it is necessary to take supportive measures after the illness for at least 1-2 months so that the child can regain his appetite, better digestion and absorption, and help supplement energy and micronutrients to restore the body.
Fitobimbi Appetito – Helps children eat well, enhances digestion, absorption, and restores the child's body after illness
In addition to supplementing all the essential groups of substances to quickly recover from illness, mothers should also supplement with TPBVSK Fitobimbi Appetito, a product that offers a comprehensive 3-effects solution to help improve the condition of the mother. anorexia, enhance digestion and absorption, and supplement micronutrients for children. Fitobimbi Appetito delicious syrup is extracted from 100% European standardized herbs such as fenugreek seeds, Centaury tops, golden papaya root, pollen and wheat germ.
Fenugreek seeds stimulate the taste buds, creating a natural appetite for babies, thereby supporting children to eat more appetizingly.
Centaury tops and golden papaya roots: help increase secretion of digestive juices, reduce flatulence, bloating for the digestive system. At the same time, these ingredients also help reduce gastrointestinal inflammation and increase absorption for children to help restore the digestive system of children damaged after the disease effectively.
Pollen and wheat germ: supplement 22 amino acids, 18 vitamins, 11 natural yeasts, 27 trace elements and a large amount of minerals and active ingredients beneficial to children's health to help create energy and immediately compensate the child's nutritional deficiency to help replenish and enhance health, thereby helping to better restore the child's body.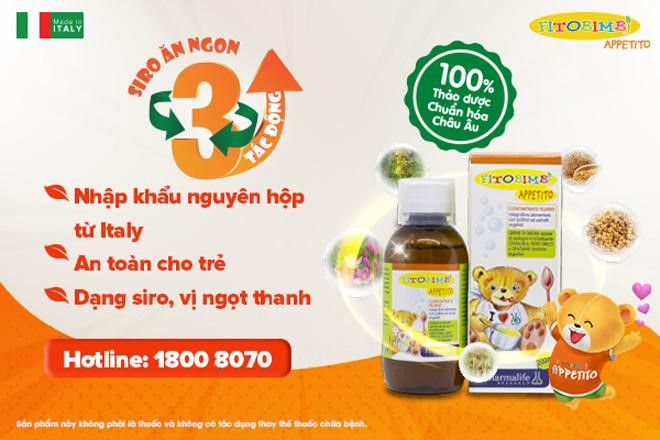 The product is certified for safety and quality such as: cGMP, ISO, Ivegan, Non-Gmo… At the same time, the product does not contain gluten, does not contain lactose (sugar) so it is hypoallergenic and does not cause side effects. for children when using. The product is prepared in the form of syrup, the natural sweetness of the fruit, easy to drink. Mothers can use it directly or mix it with other foods and drinks of the child.
Fitobimbi Appetito was born more than 20 years ago at Pharmalife Research – a prestigious pharmaceutical company in Italy and was imported in full bottles by Delap Pharmaceutical Joint Stock Company to Vietnam. Fitobimbi Appetito is trusted by many mothers in 60 countries around the world and Vietnam for their children.
You are reading the article
Children are lazy to eat, tired after illness, what should mothers do to recover quickly?

at
Blogtuan.info
– Source:
Eva.vn
– Read the original article
here