Business
Special milk tea shops in the streets of India make thousands of dollars every month
As someone who lives in Saigon and often flies to Hanoi, what I see the most in this place is the roadside tea shops. There people of all classes, social status, rich or poor, gather and chat about stories in heaven and on earth. Each small cup of hot tea costs 10,000-15,000 VND, even the ones in the old town are more expensive.
Tiny shops like that contain a fortune behind. I once heard a tea shop owner in the center say she earns from half to a million dong a day. The number seems impossible, but it is certainly possible because everyone has a few drinks each time, especially in the summer.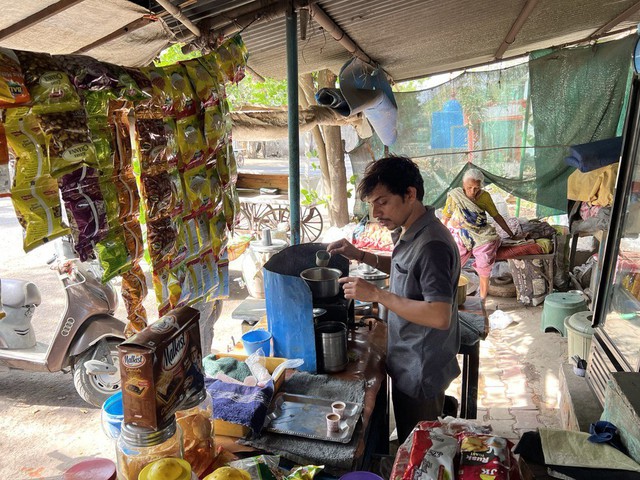 A kitli shop in western India. Photo: Dy Khoa.
Similarly, in India, there are also small stalls selling kitli scattered throughout the country of 1.5 billion people. If you want to hear about Hanoi, go to a green tea shop. If you want to hear the locals talk, go to kitli. Kitli became the gathering point, even dating of Indians. I remember that instead of Vietnamese people often meeting friends to coffee shops to talk, local friends choose the familiar kitli shop as a place to chat.
Kitli in India has many forms, there are big shops, small shops, there are shops on the big roadside, some shops are just nestled in a small alley with few passersby. It gradually became an indispensable public culture of this country.
Many kitli shop owners become confidants of a part of customers. Most of these restaurants do not have signs, customers remember the name of the owner and the place to go. Everyone talked to each other like family.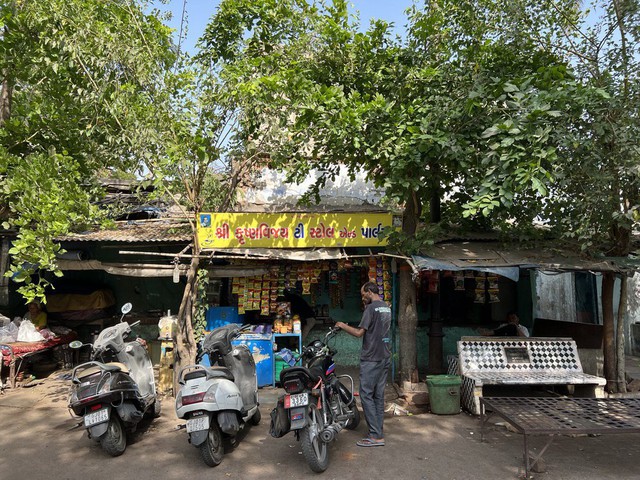 The space of a typical kitli shop, this is where many locals gather. Photo: Dy Khoa.
Kitli's shape is like a small grocery store, selling all kinds of small things, easy to buy and take away or use on the spot such as snacks, nuggets, candies… The main drink served at kitli's is the bottle. . A typical Indian drink with milk, black tea with flavors of cinnamon, anise…
All are heated in a medium pot, placed on the oil stove. This dish is only sold hot, even though the weather outside is more than 50 degrees Celsius, people still drink it hot. Each bottle is sold for about 10,000 VND in Vietnamese currency. Some places sell larger cups at higher prices, sometimes up to 30,000 VND.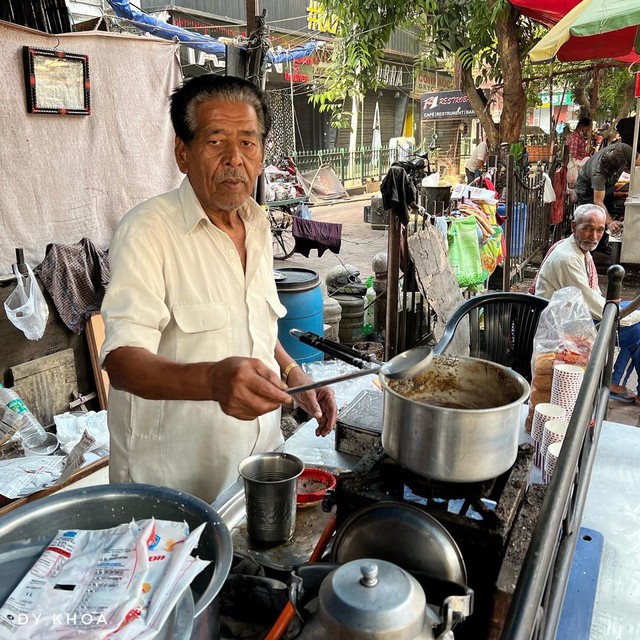 Kitli consists of a pot, an oil or gas stove and a stirrer for milk, tea and spices. Photo: Dy Khoa.
Every day earn 800,000 VND from selling milk tea
Uncle Dal (Delhi) has had a kitli shop selling bottles since he was a young man, and now has been with this job for more than 30 years. "I spend more time with him than with my wife. Every day from early morning I opened the shop until late at night. It happens like that every day. There are many customers who drink my bottle since childhood, now have children. Their children still drink at my bar", confided.
Uncle Dal's goods are sold only in bottles, located in a large market in the heart of the National Capital Territory of Delhi. Around there, no one sells the same thing as him, he almost became a monopoly on a 2km long road.
He told me to pay a little fee for the market manager every day, and I would enjoy the rest. Every day he earns 700,000-800,000 VND (converted into Vietnamese currency). However, there are also days that are more or less than this number.
"Almost people who go to the market come here every day to drink bottles. The couple has four glasses. I think we sell well," he said with a smile. Each cup of uncle costs nearly 10,000 VND.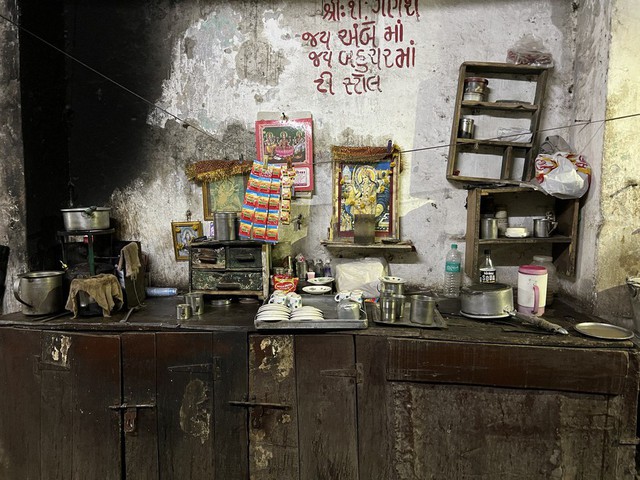 A kitli booth located inside an apartment building. Photo: Dy Khoa.
However, because the number of shops selling bottles in India is very large, not all goods are doing as well as Uncle Dal's.
A few kilometers from Hoa Sen temple (Dehli), where there are a large number of tourists, the 30-year-old owner said:Before the translation, my shop sold quite well. Now I only earn a little." In fact, her few are about 300,000-500,000 VND/day; That's equivalent to selling 1,000 cups per day. Receiving 500 guests a day, each with two glasses, can only achieve the above number.
In the city of Ahmedabad (Gujarat state, western India), kitli is as popular as the capital Delhi. The profit and loss of the restaurant depends greatly on the number of customers per day. "I've been selling here for almost 20 years. I also estimate the number of customers every day so I don't worry too much", Mr. Kin, the owner of the kitli shop near the local newspaper building, said through my local friend.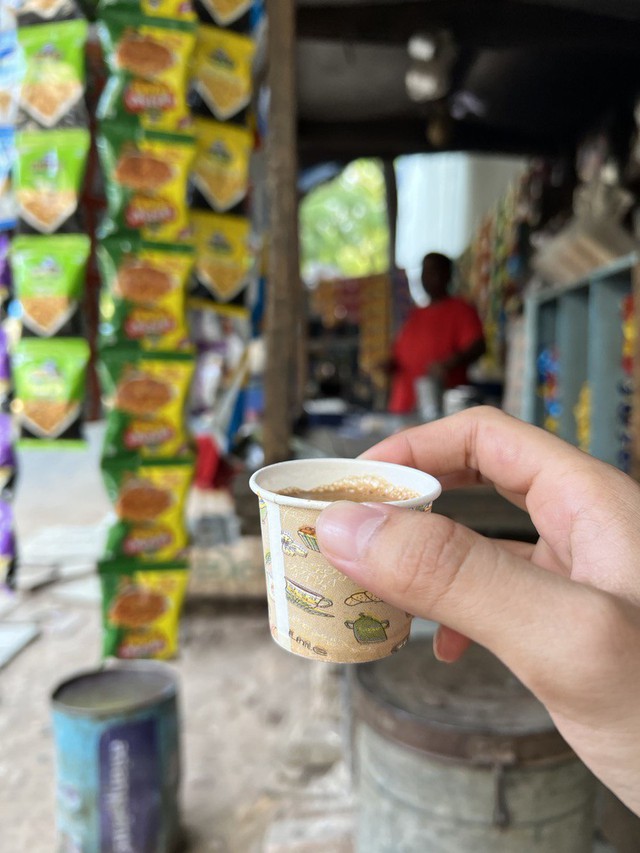 Finished bottles and cups are priced depending on the region, with a fairly wide price range: 10,000-50,000 VND. Photo: Dy Khoa.
Kin's customers are mostly office workers and visitors. Each cup he sells for about 15,000 VND. This is quite a high price compared to the general level of this country. Every day he wishes to welcome 50-100 guests.
Bottled drinks are made up of separate ingredients and are only cooked when guests arrive, so the owners are not too worried about inventory. Many people also want to open a kitli for business, a livelihood that is not too hard but has a pretty good income compared to the common ground.
Previously, according to information in the local newspaper, a bodybuilder after not following his profession opened a shop selling bottles. Each month he earns 15-20 million dong.
You are reading the article
Special milk tea shops in the streets of India make thousands of dollars every month

at
Blogtuan.info
– Source:
cafebiz.vn
– Read the original article
here