1. Choose the right style
It is not only the living room that needs interior design, but the bedroom also needs it. Sometimes it is more important than other spaces. Before you want to redesign your bedroom, determine the right style. It will be based on the overall architecture of the existing house to choose accordingly. Or you can also design according to your preferences but must ensure that it is suitable and not too different from the whole house.
Currently, there are some popular bedroom interior design styles such as:
– Neoclassical style: It is a harmonious combination of modern and classic to bring its own lines and imprints to the room. You will feel like you are in the middle of European-style rooms full of sophistication, luxury and class. With this design style, yellow, cream, and white colors are the main choices. And the interior often has a sophisticated design, many textures and patterns to highlight the space.
– Simple modern style: This is probably a trend that never goes out of fashion and is loved by many people. It is the simplicity that brings beauty, sophistication and elegance to the room. Furniture used in this style bedroom does not have cumbersome and sophisticated details but simple but delicate lines. It focuses on materials, shiny looks to create serenity for the room.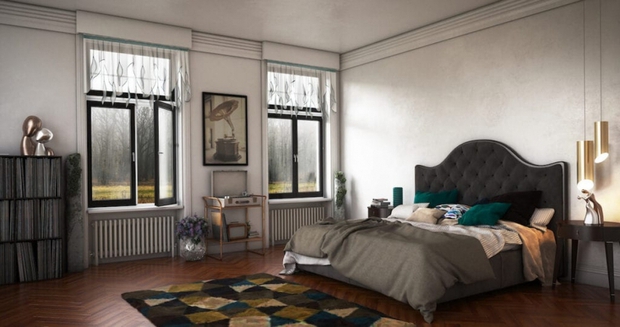 2. Use and arrange furniture in harmony
Once you have chosen the interior design style, what you need to do is choose the furniture that corresponds to the style. Next is to arrange them in the room so that it is harmonious and suitable for the bedroom space. For example, you choose to design a simple bedroom, so the furniture you choose must also aim for this. A basic bed, a set of elegant color bedding, plus a small beautiful dressing table. With a suitable, neat and functional layout, the bedroom will be more beautiful and sophisticated.
3. Choose the best bed
A bedroom cannot be comfortable without a good bed! So, invest in the best bed with the design and size that best suits your family's needs. Don't forget a really soft mattress and pillows! Most manufacturers recommend replacing your mattress and bedding every 5-10 years or as soon as you wake up with a spine-tingling sensation.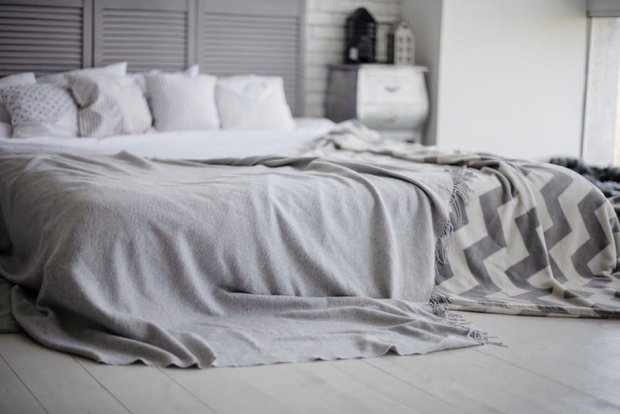 4. Color
In interior design, color plays an important role and cannot be underestimated. Different colors create different levels of human emotions. A bedroom with too bright colors makes you feel tired, affecting vision and sleep. But a room that is too dark brings gloom, gloom and mystery. Therefore, with the bedroom, everyone should choose neutral, elegant colors and harmonize the interior, paint color, and floor to bring the most comfortable comfort.
5. Sound Control
Some people need a completely quiet space to sleep. Others find it easy to get lost in the sound of white noise. Others really like the sound of the TV lulling them to sleep. Which group do you belong to? If you have never thought about the ideal sound landscape for your sleep, now is the time to start. Knowing what types of auditory inputs help you sleep – and which prevent you from falling asleep – can make a big difference in both your ability to fall asleep quickly and your ability to stay asleep.
If you think white noise, crashing waves, rain, or another constant sound will help you sleep, try an app on your phone. There are quite a few pieces of equipment that can help you arrange your best sound and create an optimal bedroom for sleep. Then, when you know what's right for you, consider investing in a sound machine. Studies have shown that phone use can reduce sleep quality, especially right before bed. Using a reliable sound machine makes it easy to store your phone early to prepare for sleep.
6. Pleasant light
Light plays an important role in creating sensations. The bedroom should have enough light during the day and soft yellow lights when it gets dark. To create a cozy, peaceful space for the space. You can also use dimmable lights for convenience in living. Note to choose the capacity compatible with the room area. To avoid annoying glare.
Photo: Collectibles
You are reading the article
Bedroom design for better and deeper sleep

at
Blogtuan.info
– Source:
Kenh14.Vn
– Read the original article
here