Thế Giới
New 'war': keep food prices down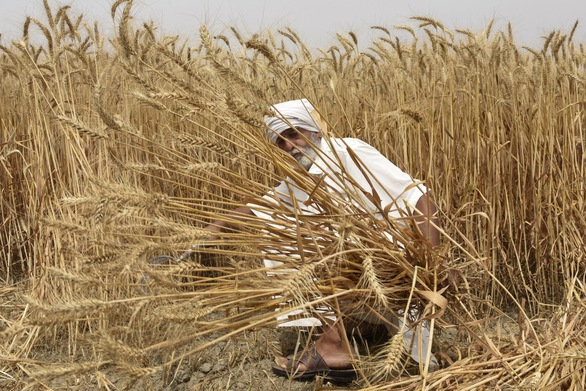 Farmers harvest wheat in a field on the outskirts of Amritsar city, Punjab state, northern India in April 2022.
On May 18, at a food security conference at the United Nations headquarters, UN Secretary-General Antonio Guterres warned that the war in Ukraine contributed to a global food crisis and this crisis would last for many years if not controlled. Meanwhile, US Secretary of State Antony Blinken said the world was facing "the greatest global food security crisis of all time".
Many countries banned food export
India – the world's second largest wheat producer after China – has just announced a ban on wheat exports. Local media said the reason was to ensure food security in the country. This is a remarkable development, because just a month ago, Indian Prime Minister Narendra Modi also offered to help countries with food shortages.
According to CNBC, not only India, on the list of countries that are banning wheat exports updated by the International Food Policy Research Institute (IFPRI) also includes Russia, Ukraine, Egypt, Kazakhstan, Kosovo and Serbia.
Also according to this list, many countries such as Argentina, Indonesia, Turkey … also banned the export of potatoes, palm oil, beef, sugar … Serbia banned the export of wheat, corn, flour and cooking oil at least until December 31, 2022.
The reaction of countries took place in the context of rapidly increasing prices of many commodities, causing global inflation to rise. The UN Food and Agricultural Product Price Index hit an all-time high (nearly 160) in March of this year before falling 1.2 points, or 0.8%, in April.
The Grain and Meat Price Index also hit a record high in March. A year ago, the price of wheat on the Chicago Mercantile Exchange (CBOT) was $6.74/bushel (1 bushel of wheat = 27.2kg) ) but now costs 12.42 USD/bushel, almost double.
In the trading session on May 18, Wall Street stocks (US) had one of the worst sessions since 2020. The S&P 500 index fell as much as 4.04% after the retail group reported problems. Supply chain issues and inflation (currently 8% in the US) are taking a toll on profits.
Commenting in the Financial Times, writer Megan Greene of the Harvard Kennedy School said that food insecurity is a bigger problem than energy. Global food shortages are driving prices to record highs, have huge economic and political impacts, and threaten to fuel hunger and debt in many countries, the economist said.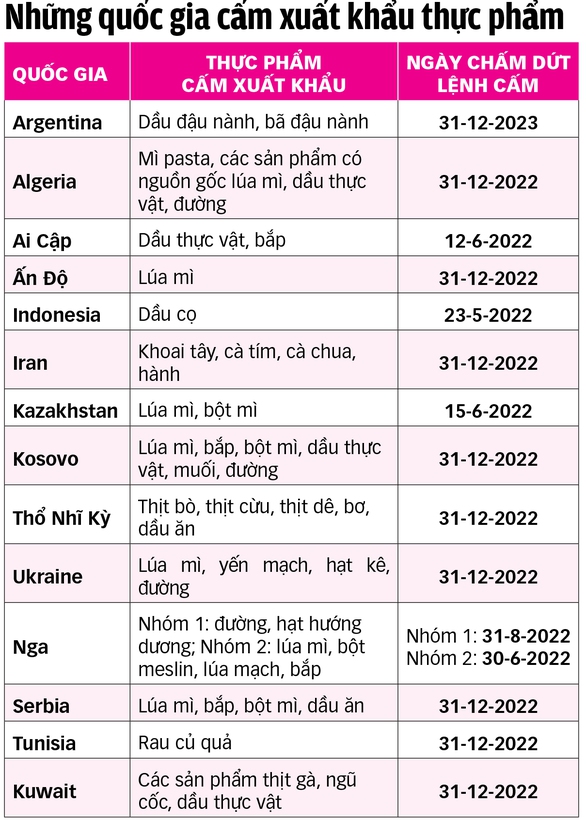 Solution: hard to rely on goodwill
Mr. Antonio Guterres said food shortages due to war, climate change and supply disruptions were threatening to "push tens of millions of people into food insecurity".
Mr. Guterres contacted Russia and many other parties such as Ukraine, Turkey, the US, the European Union (EU)… to try to find a solution. "The complex security, economic and financial implications require the goodwill of all parties to reach an agreement," he said.
The Russia-Ukraine conflict and international economic sanctions against Russia have disrupted supplies of fertilizer, wheat and other commodities from both countries, driving up food and fuel prices, especially in developing country. Russia and Ukraine account for 30% of the world's wheat production.
As for Ukraine, with the ports of Odessa, Chornomorsk and others cut off from the rest of the world, the current food supply can only be transported on the often congested and far less efficient overland routes.
"It should be made clear that there is no effective solution to the food crisis without restoring food production in Ukraine. Russia must allow food stored in Ukrainian ports to be exported safely," he said. Guterres said.
As for Russia, Mr. Guterres said that Russian food and fertilizers "must have full and unrestricted access to the markets of the world".
World Bank President David Malpass urged: "Countries should coordinate efforts to increase energy and fertilizer supplies, help farmers increase crops and improve crop yields, remove policies impeding import and export…".
Crisis response plans
On May 18, the US Treasury Department said it had joined a number of global development banks and other groups to create a multi-billion dollar plan to tackle the world's food crisis, which is worsening. than. For example, the African Development Bank will spend $1.5 billion to support 20 million farmers.
The same day, the World Bank (WB) announced an additional $12 billion in funding for projects over the next 15 months to tackle the global food crisis, bringing its total funding to $30 billion. They will encourage food and fertilizer production, enhance food system, more facilitation of trade, support for vulnerable households….