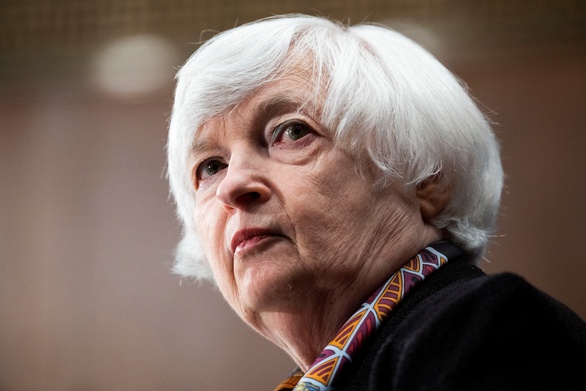 US Treasury Secretary Janet Yellen – Photo: AFP
On May 24, the US Treasury Department announced that it would end the waiver that allows Moscow to pay foreign debt to US investors with funds in the US. Russia. This move could push Russia closer to default.
According to AFP news agency, the US has granted the waiver after imposing a series of sanctions on Russia in late February because of the war in Ukraine. This provision allows American banks to receive and process payments from Russia to creditors.
The US ended the waiver two days before the next Russian debt service payment is due.
On May 27, Russia will have to pay 100 million euros in interest on two types of bonds: one requires payment in dollars, euros, pounds or Swiss francs; The remaining bonds can be paid in rubles.
According to the Associated Press, investors are almost certain of the prospect of Russia defaulting in the coming months.
Insurance policies for Russian debt have valued at 80% default in the past several weeks.
Jay Auslander, a US attorney specializing in public debt, said that Russia's default (if any) would not have much impact on the global economy, as the country has been excluded from world financial markets for many months now. . Investors also anticipated this situation.
If Russia defaults on its debt, the likely next step is to seek litigation in US, UK or European courts arguing that it was forced to default due to force majeure.
However, Mr. Auslander said that Russia could hardly win if it filed a lawsuit, because the West initially pushed it out of the financial markets because of the war in Ukraine.
According to AFP, Russia's Finance Ministry moved money abroad early to make payments and avoid default.
This country has nearly 400 million USD in interest due at the end of June 2022. If you miss the extension 15 to 30 days after not paying on time, Russia could be declared insolvent.
This will negatively affect Russia's financial situation and allow creditors to take legal actions to recover funds.
Yet Moscow is still raking in large amounts of cash from energy exports. Russia also obliges countries in Europe to pay in rubles to avoid sanctions.
Russia's Finance Ministry says the country's external debt is between 4,500 and 4.7 trillion rubles (about $60 billion), or 20 percent of the total public debt.