Chuyên đề
The needle abutment remained in the patient's neck for 10 years
At the Workshop on "How to deal with medical incidents?" held in Ho Chi Minh City, experts shared about medical problems.
Missing needles, gauze, scissors… normal thing?
According to Dr. Tran Chi Cuong – Director of Can Tho International General Hospital, medical incidents affect both patients and the medical industry. Medical incidents are caused by many factors such as operating management and hospital procedures. Human resource expertise. If the process is good but the human resources are poor, it is also easy to have medical problems.
The ethics of the doctor is also involved. Dr. Cuong said that doctors when facing patients must face their ethical responsibilities. The doctor wondered when prescribing you were correcting the patient's needs and disease.
Dr. Cuong said he had seen patients who came to the doctor because of difficulty swallowing. The results found that the needle was left in the patient's body for 10 years, even though it was a very simple operation to remove tonsils. When this case was discovered, the doctor handled it well, but the problem of the patient suffering for 10 years because the needle was left by the doctor is difficult to accept.
Pieces of gauze, pliers, scissors, even patients in ambulances also fell, this is an incident that everyone encounters on the street.
In fact, many hospitals only care about the incident in the operating room and forget about other medical problems right in the examination area. For example, there is a patient who was informed by the doctor to be discharged from the hospital, the patient was so happy that he jumped up and the floor of the ward was slippery, and the patient fell and suffered a traumatic brain injury.
There was a patient who went to an ultrasound examination because the liver tumor was too big, but the poor quality equipment could not be seen by the doctor, and when the patient went to another facility, it was terminal liver cancer.
TS.BS Nguyen Phan Tu Dung, Director of a Cosmetic Hospital in Ho Chi Minh City also said that the most medical accidents in the field were mainly caused by working undercover. In fact, many cases are not doctors, or people with medical qualifications, but they voluntarily open spas and beauty salons to inject fillers (fillers), arbitrarily organize rhinoplasty, breast augmentation surgery. … and cause complications, unfortunate medical incidents for patients.
Dr. Tu Dung cited pictures of a case of severe eyelid flipping after 10 failed surgeries, eyelid flaps that could not be closed, performed at a spa in Ben Tre; In the case of a rhinoplasty patient with a perforated septum at a non-spa facility, not a beauty salon in Lam Dong; Facial necrosis due to cheek Filler injection at a spa in District 4 and the case of Spa in District 6 self-injecting Filler at home causing buttock necrosis.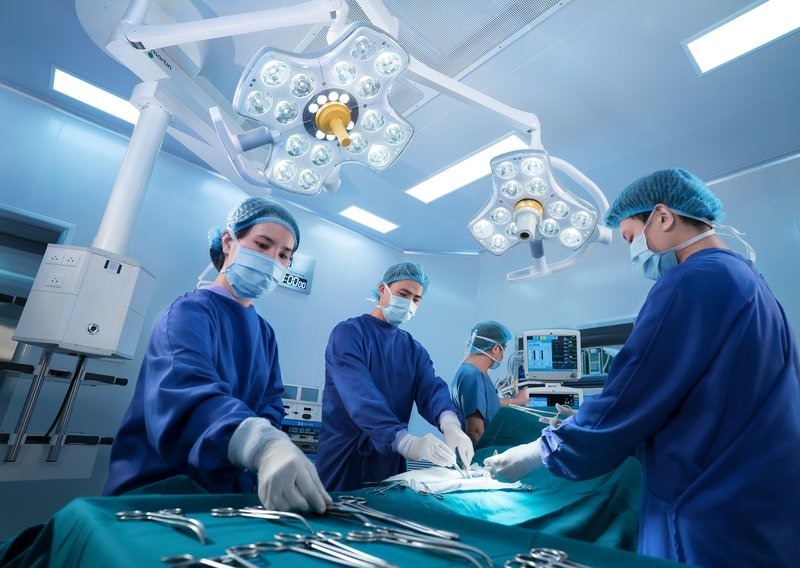 Illustration.
According to Dr. Dung, the current legal sanctions are too light for cosmetic cases "underground", arbitrarily using cutlery to interfere in the human body without expertise.
How to behave?
Dr. Cuong said that when there is a medical problem from mild to severe, the patient and family can attack the doctor, which makes it difficult for the doctor to know if his surgery has happened or not. ?
After a medical incident, doctors are also under great pressure because they cannot restore patients as before, medical staff is a very high-risk profession. 92% of doctors say they have witnessed a medical incident or caused a medical incident in their professional life. Healthcare workers and medical incidents can both happen throughout their professional life.
When causing medical problems, most medical staff are afraid, avoid and no longer want to dedicate themselves to the medical profession. A doctor can be very good, but when a medical problem occurs they can leave the profession causing a loss of medical resources. Sometimes, because of a medical and social accident, we lose an expert that we can take decades to get back.
Dr. Cuong said that it is very necessary to reduce medical incidents to a minimum. Dealing with a medical incident requires a professional consultation to minimize it. When a medical incident occurs, 24% of patients want to sue because the doctor's explanation is not satisfactory. 39% of patients said that they would not sue if the doctor explained it satisfactorily. If the medical incident is not explained by the doctor or hospital, it will make them angry.
In the future, Dr. Cuong believes that it is necessary to have professional seminars to evaluate medical incidents so that it can be minimized.
When going to surgery, the doctor needs to locate the surgical site, call the patient's name correctly to avoid mistaken surgery. For doctors, there is a need for ethics to reduce unwanted medical incidents. Physicians must be able to predict patients to avoid medical problems.
Management agency, Dr. Cuong said that there should be a legal corridor to protect both sides because the incident may not be caused by the doctor but by many other factors. When there is an incident, it must be balanced for both the doctor and the patient. If every medical incident lost a doctor, it would be very difficult for doctors to practice.
Khanh Chi
You are reading the article
The needle abutment remained in the patient's neck for 10 years

at
Blogtuan.info
– Source:
infonet.vietnamnet.vn
– Read the original article
here