Business
37 years old, 2 copyrights, more than 50 scientific articles
Hello Assoc. Prof. Dr. Pham Vu Hong Son, as one of 28 candidates from Vietnam National University Ho Chi Minh City to receive the decision to appoint Professor (GS) and Associate Professor (PGS), how do you feel?
Assoc. Prof. Dr. Pham Vu Hong Son (Construction industry): Before and after being promoted, I am still me, still studying and working as usual. Above all, I feel very honored when my dedication and contributions are recognized. It is also a spiritual encouragement for me to be more motivated in the process of research and teaching.
Of your more than 50 scientific works, which research topic are you most proud of? Can you briefly introduce the practicality of that topic?
To talk about a research work that is most memorable and emotional for me, it is probably the study "A Hybrid Bayesian Fuzzy-Game Model for Improving the Negotiation Effectiveness of Construction Material Procurement". improving the negotiation efficiency of building materials procurement) published in ASCE, one of my first studies on "Artificial Intelligence (AI) and Game Theory (GT)".
Of all the guesswork, predicting the intentions of others is one of the biggest challenges. And this study has built a decision support system from a lot of information collected in the past and present to predict the strategy and bidding method of many competitors at the same time. , thereby offering the most suitable price with a high winning rate.
Some areas have begun to change the way it operates and online bidding is increasingly widely adopted. There are some products whose prices change very quickly because they are highly dependent on user demand and input supply sources such as electricity prices, oil prices or metal prices. Therefore, a decision to choose the right purchase price greatly affects the profit of the business.
The decision support model in the above study can synthesize and analyze a lot of information at the same time to get an optimal pricing strategy, then negotiate or bid with many suppliers at the same time. around the world to find the best purchase price. My research team and I are still trying to perfect this model and hope to be able to commercialize it in the near future.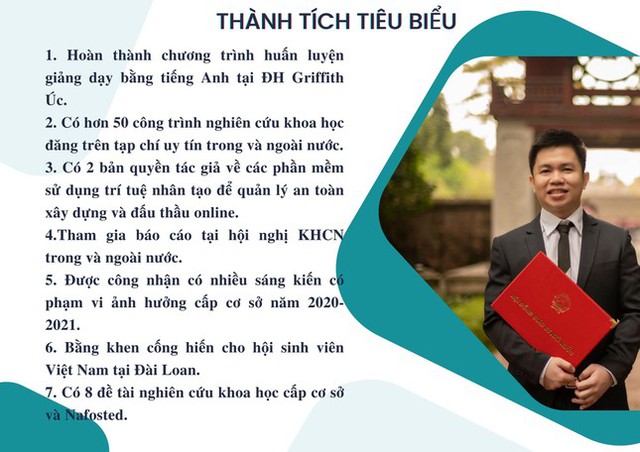 Portrait of Assoc. Prof. Dr. Pham Vu Hong Son with typical achievements in scientific research and teaching activities.
Faced with the expectation in scientific research to find something new, better than what others have done, do you feel pressured by this?
I often fall into a state of ideas because when determining how to approach new topics, it is necessary to have a data warehouse and the bravery of "trial and error, try and fail". Moreover, the Construction industry has a long history and a lot of research, so if you find something new that is not better than what others have done, you will not get results.
Often when people fall into a deadlock, it will create psychological inertia, being stuck in a rut in thinking, pressure to find new things. But for me, when I feel stuck, I will boldly give up the results of the first direction even though I have put a lot of effort into it to find a new direction.
I think that, even if it takes a year or more of research, have the courage to let go of old results when it comes to a dead end to step back and turn to a new path. Because scientific research is not about stabbing, following through, but daring to try and correct mistakes, so there must always be spirit and creativity in it.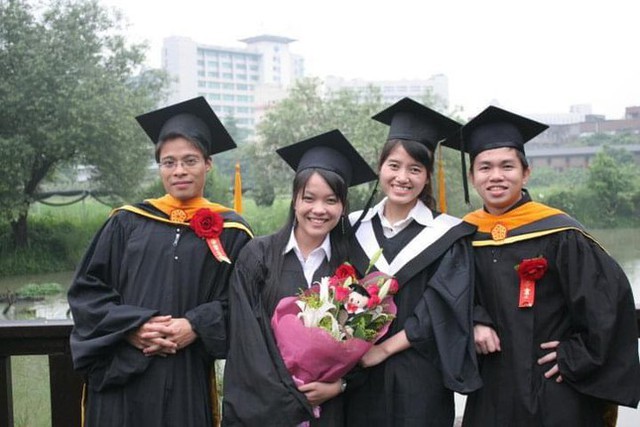 Assoc. Prof. Dr. Pham Vu Hong Son (far right) took a commemorative photo with friends and colleagues.
So according to Assoc. Prof. Dr. Hong Son, how is the value of time in scientific research expressed?
For me, scientific research does not have a fixed time, research time will be unlimited and can be studied at any time of the day. Even when I'm driving, feeding, teaching, going to bed… I'm thinking about the problem I'm researching. One day when I was giving a lecture, I suddenly had a good idea that I would write it down on paper or many days and nights to implement the research idea because if I didn't do it right away, I wouldn't feel secure. Therefore, it can be affirmed, time to me is… priceless.
By extension, I think the value of time in scientific research is also reflected in the perseverance of each researcher. Because, there are studies that are applied immediately and have high contributions to society, but there are also studies that take 20 to 50 years to be applied.
Having 2 copyrights on software that uses artificial intelligence to manage construction safety and online bidding is your greatest achievement in your scientific research career?
Having done research, everyone wants their work not to stay on paper but to be applied in practice. I'm glad I did a part of that. Me and my research team have successfully developed Manaworker software that can be used on the web and also as mobile apps running on Android and IOS operating systems, connected to GPS to monitor and warn safety for workers at the workplace. construction school. After the trial application in a few actual construction sites, the workers' safety violations have been significantly reduced. This result prompted me to continue researching and integrating more new features in the future.
In your opinion, to become a good scientific researcher, what is the first condition young people need to pay attention to?
I often tell students, practice getting used to scientific research like learning to fall in love for the first time, but keep a "cold head" and be alert enough not to stumble many times.
The high expectations of society will also give you certain pressures, but if you want to become a genuine and good professional scientist, you must first be responsible for your own choices. Set goals for yourself, and create pressure to achieve them.
Sincere thanks to Profs. Dr. Pham Vu Hong Son! Wishing you more success in your scientific research career.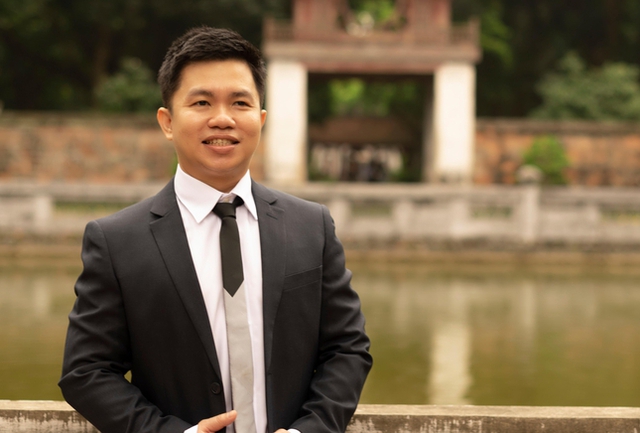 Assoc. Pham Vu Hong Son is an Alumnus of the National Taiwan University of Science and Technology (NTUST or Taiwan Tech). After completing the master's program, he continued his PhD program at Taiwan Tech and returned home to work since 2015.
You are reading the article
37 years old, 2 copyrights, more than 50 scientific articles

at
Blogtuan.info
– Source:
cafebiz.vn
– Read the original article
here