After the first marriage breakdown, singer Vu Duy Khanh found his true happiness with his wife Phuong Anh, born in 1999, 10 years younger than him. On May 17, the beautiful wife of the male singer "The most wonderful wife" gave birth to a son weighing 3 kg at a private hospital in Hanoi.
He and his wife named their child Vu Quang Duc, affectionately called Ma Bu, which he named from the character in the series "Seven Dragon Balls" that he loved when he was a child.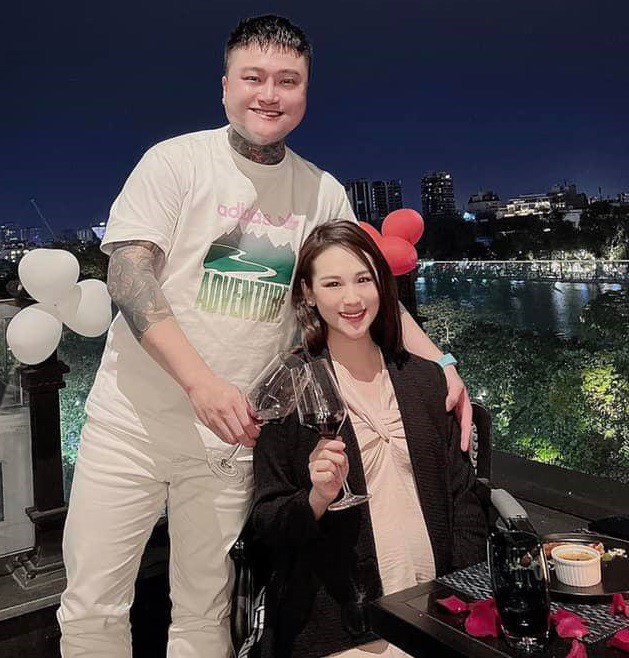 The small nest of male singer Vu Duy Khanh and his wife 9X welcomed a new member on May 16.
Let's listen to Phuong Anh's sharing about her first birth and her difficulties as a mother!
How is Phuong Anh's postpartum health now? As a mother for the first time, how do you feel?
My health is better now. If I say I'm surprised, it's not really because I used to take care of small children when my sister gave birth to a baby. However, I also have my own feelings when I am a mother for the first time.
How do you see yourself changing as a mother? Is your current mother's image of a mother with milk?
The past few days as a mother, I feel that I am much older. It is true that when you become a father and mother, you will understand the hearts of your parents.
Stealing your body after giving birth is also fast. I'm breastfeeding, so my body is shrinking quickly, after a few days after giving birth, I have lost nearly 10kg, so it's not too bad.
During the pregnancy period, Phuong Anh can't see much change except for the growing belly, don't know how your first pregnancy passed?
My pregnancy is also easier than others. I didn't have any morning sickness, only in the last days of preparing to give birth did I feel a little heavy.
Near the end of my pregnancy, I also had pain but I used home pregnancy massage so it helped a bit, only the days near the birth did I have more pain and it was harder to sleep.
During pregnancy, I also consulted the diet in books, online, I ate less starch, ate a lot of fruit, protein, nutritious food, cereals and fresh milk without sugar, so I mainly focused on the baby. much but not on the mother. As for skin care, through the first 3 months of pregnancy, I use safe cosmetics and care for my skin as usual.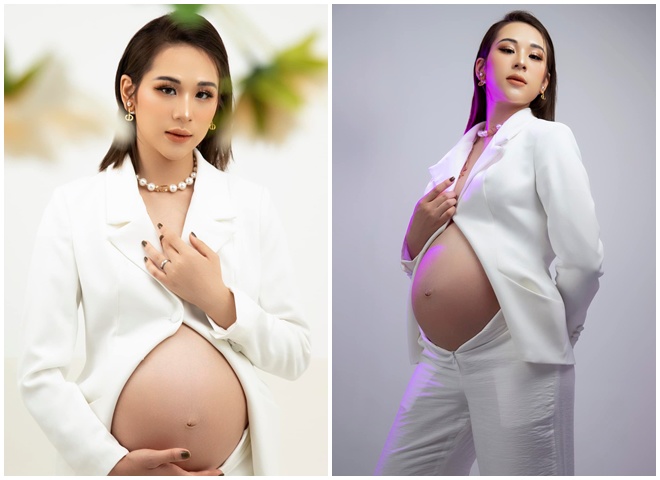 Phuong Anh is pregnant and has gained 15kg.
Do you have a lot of stretch marks?
During my pregnancy, I gained 15 kg. I'm a stretch mark type, so I still have a few stretch marks on my stomach. But fortunately, it was not until the last month of pregnancy that I had stretch marks because my belly was growing too fast.
My husband always spends time with his wife, in addition, when he goes to acting, he calls his wife facetime to constantly ask questions, care… creating a certain trust, so even if her husband is away, I will be comforted. any. As for his wife's stretch marks, he always encourages his wife to be still very beautiful and more loving as a mother. I also don't care much and am happy because of those stretch marks that I have a little angel.
How was your birth date?
I had signs of labor, so I always went to the hospital, so I waited for the birth for 2 days in the hospital. On the morning of the 3rd day at the hospital, I had a more active labor, and from morning until 6pm, I was able to go to the delivery table. Then I was inspired to give birth and at 11pm I started giving birth, trying my best, after only 15 minutes I was able to meet my baby. The feeling at that time was extremely happy mixed with emotion, perhaps anyone who has experienced it understands best.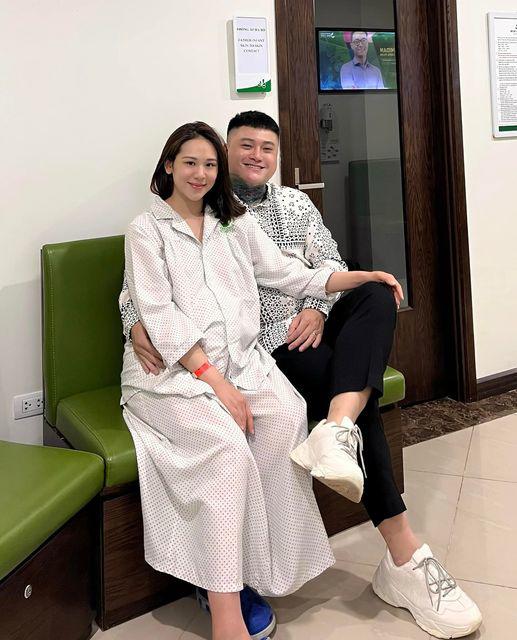 She waited for delivery for 2 days in the hospital.
Do you think your son is more like his father or more like his mother?
My baby was born 3kg. I'm almost like my father, if I say it too much, it's exactly the same as the original. (Laugh)
Do you feel the pain of giving birth is like breaking 20 ribs at once as rumored?
I'm a very good pain bearer, so maybe for me, I can overcome any pain… although it was painful, I was still very calm and gave birth with the most cheerful and optimistic mood.
First time giving birth, do you abstain according to traditional standards?
I also abstain like many other mothers, the only thing is that I still wash and wash my personal hygiene regularly. I think this summer, the more you don't clean it, the more bacteria will harm your baby.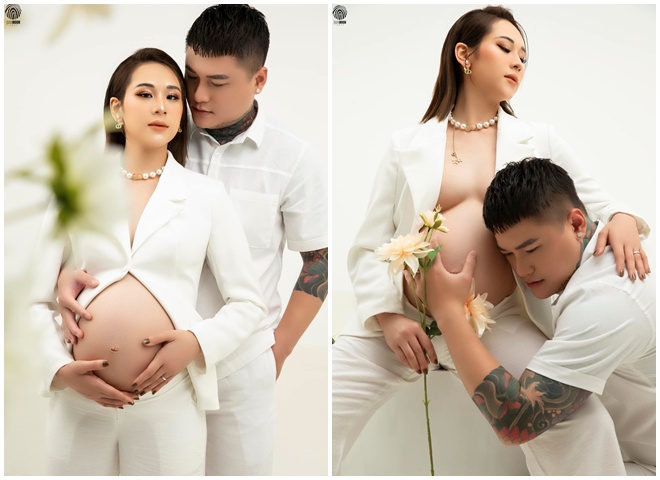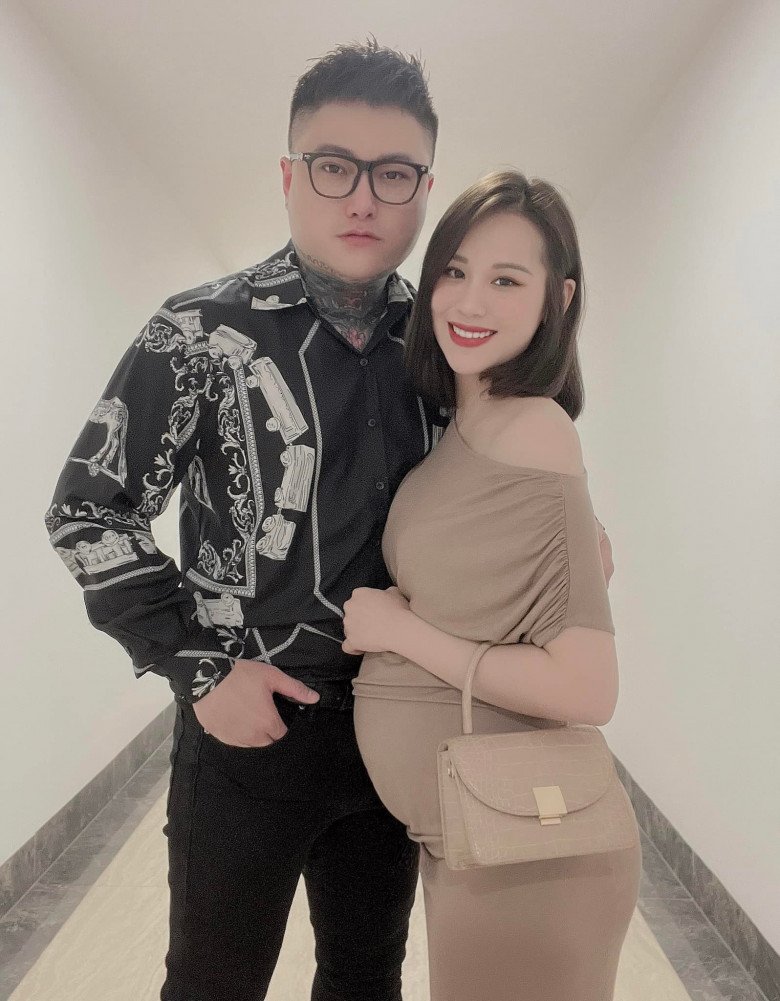 The baby was born a copy of the original, very similar to his father.
After giving birth, a woman's mood changes, how does her husband encourage and comfort you?
After giving birth, my mood is still the same because maybe my husband always accompanies me, shares the care of children, the house and takes care of my wife every meal.
I don't feel pressured about how to get enough milk for my baby because of the thought that I'm always comfortable, so I also have enough milk to feed my baby and store it. Now it's definitely hard for me to have a good night's sleep, I have to change diapers and it's time to feed my baby, I keep coming back and forth until morning, but I fall asleep easily, so when I sleep, my mother also takes advantage of it.
Thank you for sharing Phuong Anh!
You are reading the article
Vu Duy Khanh's beautiful wife, 10 years younger than her age, gave birth to a son, the baby was a copy of the original

at
Blogtuan.info
– Source:
Eva.vn
– Read the original article
here