Giải trí
9 northern Thai dishes to try when visiting Chiang Mai
While many visitors are familiar with Pad Thai and mango sticky rice, the northern region of Thailand has unique dishes that you should try when visiting.
Northern Thai cuisine usually has a milder flavor when compared to Southern food. Most Thai dishes from the north are a bit salty but rarely sweet or sour. The subtle sweetness in most dishes comes from ingredients like fish and vegetables instead of sugar.
Since the Northern region has the perfect climate for growing vegetables and herbs, the dishes include a wide variety of vegetables and herbs. Also, northern Thailand borders Myanmar and Laos, so these particular countries influence most of their food.
9. Miang Kham spring rolls
Miang Kham is a snack commonly found in Laos and Northern Thailand. Basically, it means the form of salad rolls that use guise leaves instead of Vietnamese rice paper to wrap the ingredients.
The special feature of this dish is the completeness of the Five flavors: sour, spicy, salty, bitter, sweet mixed with the fatty taste of coconut and peanut that can wake you up. Ingredients inside guise leaves include lemon, chili, peanuts, dried shrimp and coconut.
8. Khanom Jeen Nam Nngay noodle dish
Nam Ngio is a typical local dish of Northern Thailand, Yunnan – China and the Tai Yai people of Myanmar. In Thai, Khanom Jeen means "fresh vermicelli" and Nam Ngiao means "traditional spicy tomato juice". These two ingredients combine to create a delicious and unique noodle dish of Chiang Mai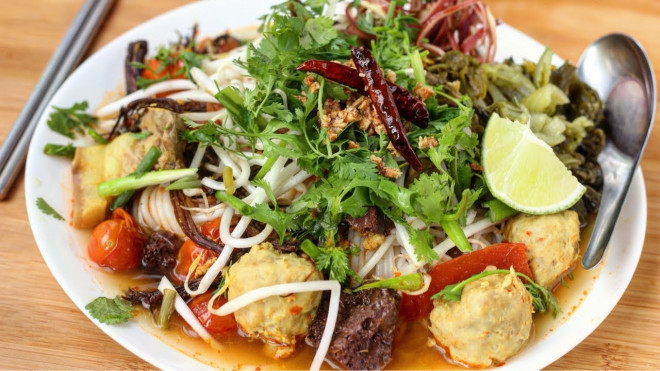 Diners will choose the kind of broth they like, then serve with fresh vermicelli. The special thing about this dish is that you can use it with a variety of vegetables placed on the table such as basil, cabbage, beans, raw vegetables and deep-fried pork skin… Some restaurants also serve skewers and eggs. go with fermented noodles.
7. Krabong
Krabong is a street food appetizer or snack. This local dish of Northern Thailand is deep-fried pumpkin with dipping sauce.
However, depending on the chef's preference, in addition to pumpkin, this fried breaded vegetable dish can use other foods such as squash, banana flowers, green papaya. Other ingredients include red curry powder, coconut (grated), roasted peanuts, vinegar, and rice flour.
6. Gaeng Hor
Gaeng Hor is a Northern style mixed curry (Hor means combination). Although the name contains curry, Gaeng Hor is actually a stir-fry made from leftovers.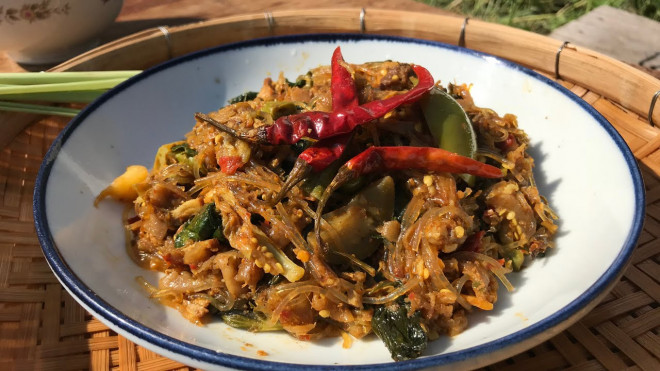 Traditionally, meals are made from leftovers during religious ceremonies, but there are versions of the recipe that don't use leftovers. The beauty of Gaeng Hor is that you can make a meal by mixing up some leftovers you have in the fridge. This traditional dish usually has vermicelli, lime leaves, lemongrass, lemon leaves and eggplant.
5. Kaeng Haeng Le
In Thai cuisine, the curry is called Kaeng, and usually consists of meat, fish, and vegetables in a sauce made with chili powder, onion or chives, garlic, and fish sauce.
Kaeng Haeng Le (sometimes spelled Lay or Lai) is a curry dish from Northern Thailand and Myanmar. The curry here features pork and various spices commonly used in dishes in this region.
Besides the spicy dishes, Kaeng Hang Lei is the hottest curry in Chiang Mai. Pork curry has the mild sweetness of tomatoes, the spicy and aromatic taste of: chili, ginger, turmeric, tamarind, garlic are simmered with pork until tender. This dish will surely make those who like spicy food almost rub it.
4. Yum Jin Gai
Yum Jin Gai is a delicious lemongrass soup typical of Northern Thailand. Most visitors are familiar with Tom Yum soup, a signature dish in Thailand. But when traveling to Chiang Mai or other northern cities in the country, come and enjoy Yum Jin Gai!
This spicy soup is served with toasted dried chili peppers, coriander, star anise, cinnamon, black pepper, long pepper, and cloves. It is like a hot chicken soup with a variety of Thai dishes with the signature spice of lemongrass.
3. Larb Muang Moo
Larb is a type of meat salad from Northern Thailand and Laos. The salad is seasoned with herbs, fish sauce and chili sauce.
Larb Muang Moo has a rich flavor thanks to a combination of dry spices, including cardamom and cloves. The spices are grilled in a pan then added to the stir-fried meat to create a delicious blend that will make your taste buds jump.
2. Wrong
Sai Ua can be described as a type of northern Thai sausage. This sausage offers a burst of flavor as the pork is mixed with the curry sauce.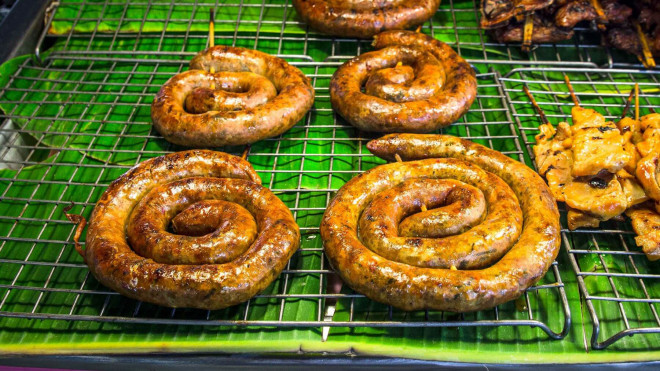 It is then grilled and served with vegetables and sticky rice. Other ingredients that contribute to the incredible aroma of Sai Ua include soy sauce, fresh turmeric, finely chopped lime leaves, minced lemongrass, dried chili, shrimp paste, coriander and green onions.
1. Khao Soi
Perhaps the most famous and famous dish of Northern Thailand is Khao Soi, or Khao Soi Gai.
This is a rich coconut curry soup with noodles and chicken or beef. Khao Soi is topped with crispy egg noodles for a deliciously crunchy feel that accentuates the rich broth and soft noodles.
Traditionally, the vermicelli dough is stretched on a piece of cloth stretched over a pot of boiling water. The large sheet of noodles after steaming is rolled up and cut with scissors.
You are reading the article
9 northern Thai dishes to try when visiting Chiang Mai

at
Blogtuan.info
– Source:
24h.com.vn
– Read the original article
here