Giải trí
The meal is full of familiar but rich dishes, looking at it makes you want to eat it
Braised carp with galangal floating rice, easy-to-eat sour clam soup… guaranteed to be an attractive suggestion for dinner.
Suggested dinner this afternoon will have the following dishes:
– Braised carp with galangal: 75,000 VND
– Boiled peanuts: 8,000 VND
– Sour clam soup: 25,000 VND
– Stir-fried sour bamboo shoots with shrimp: VND 45,000
Total: 153,000 VND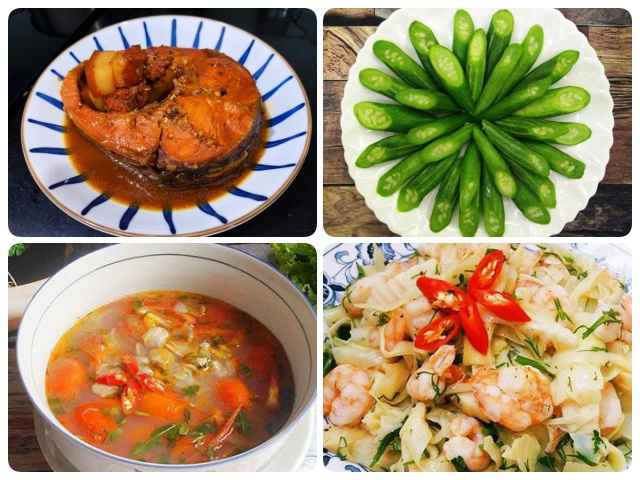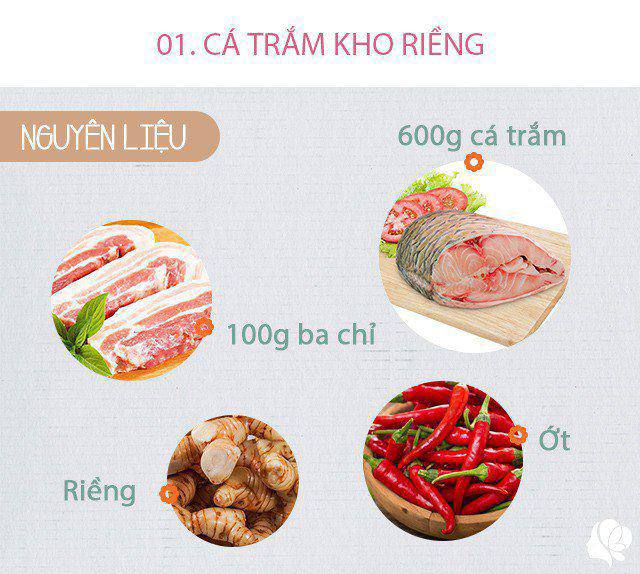 Prepare: – Carp: 600g – Bacon: 200g – Galangal tubers – Onions, laksa leaves, dill – Spices.
Clean fish, drain and then marinate with a bit of soup powder, monosodium glutamate, pepper, soy sauce. Sliced ​​areca tomatoes, sliced ​​peppers, thinly sliced ​​galangal, onions, laksa leaves, dill. Bacon just washed, cut into squares.
In turn, arrange galangal and tomatoes on the bottom of the fish stock pot, followed by bacon and fish. Add 2 tablespoons of fish sauce, 1 teaspoon of soy sauce, and sliced ​​chili to the fish stock pot, then put on the stove and cook for about 30 minutes. During the fish stocking process, when the pot begins to boil, add 1.5 bowls of rice and filtered water. When the pot of fish stock runs out of water, add a little onion, laksa leaves, dill, and then turn off the stove. Let the fish cool down, then transfer to a plate and serve with hot rice. Braised fish, when eaten cold, the meat will be firmer and more delicious.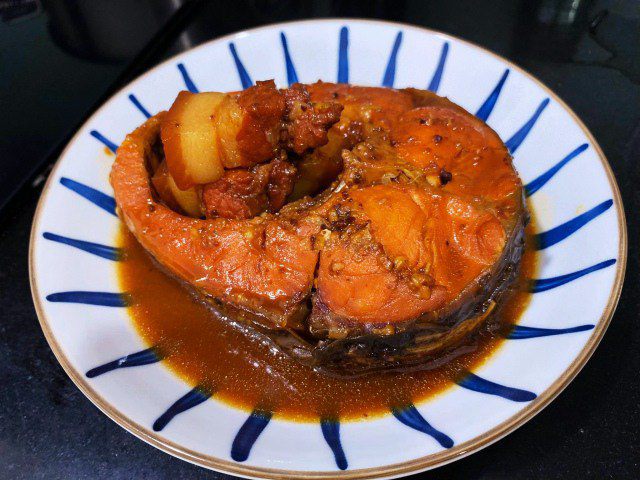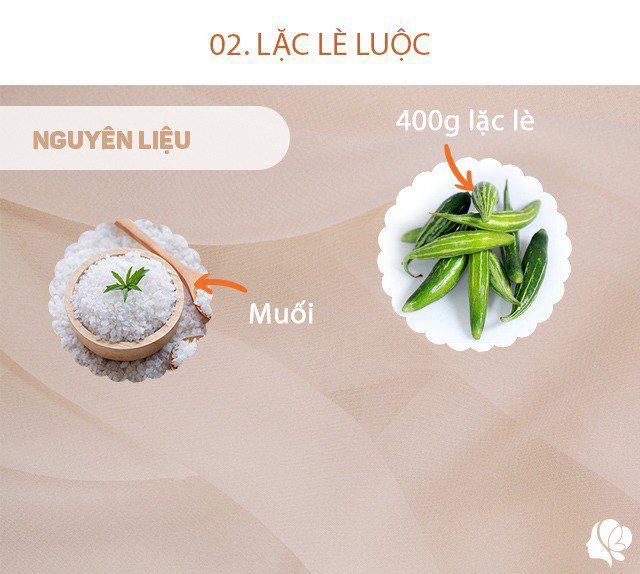 Prepare: 400g peanuts, a little salt.
Watermelon washed, left whole. Bring a pot of water to a boil, add a little salt, and then add the peanuts and boil until cooked. Remove, cut the fruit in half and place on a plate. Boiled water for soup.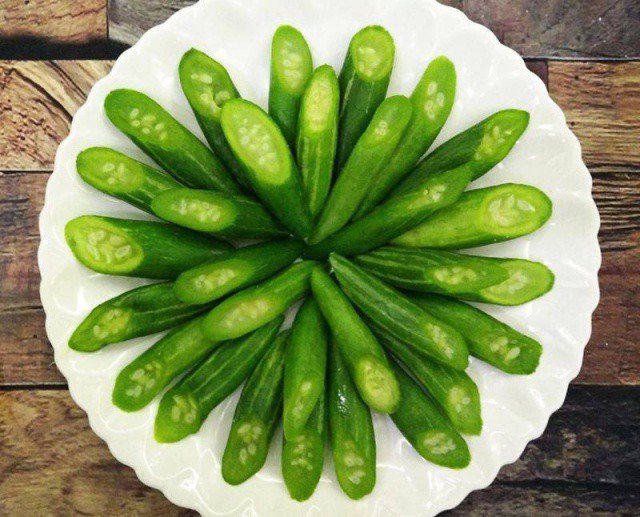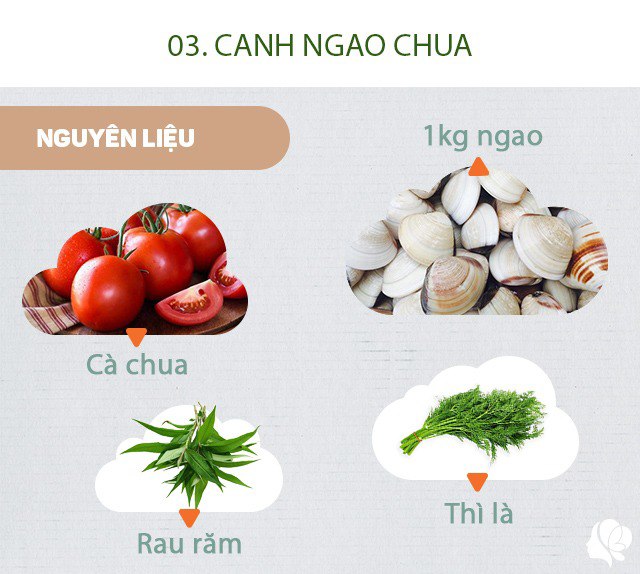 Prepare: 1kg clams, 2-3 tomatoes, green onions, laksa leaves, dill, salt and spices, chili (optional).
Clams are washed, put in a pot of water and put on the stove to boil so that the clams open their mouths. Pick up the clam intestines into a plate, drain the water to cook later. Onions, dill, laksa leaves washed and finely chopped. Sliced ​​tomatoes into areca pieces, put in a pot with sliced ​​onions and a little cooking oil, then put on the stove to cook, add a little soup powder to make the tomatoes soft. When the tomatoes are soft, add the clam intestines and stir well, let it boil again for 2 minutes and then pour the clam juice that has just been drained into the pot. When the water boils, add seasoning to taste, add a few slices of chili and laksa leaves, onions, and dill, then turn off the heat.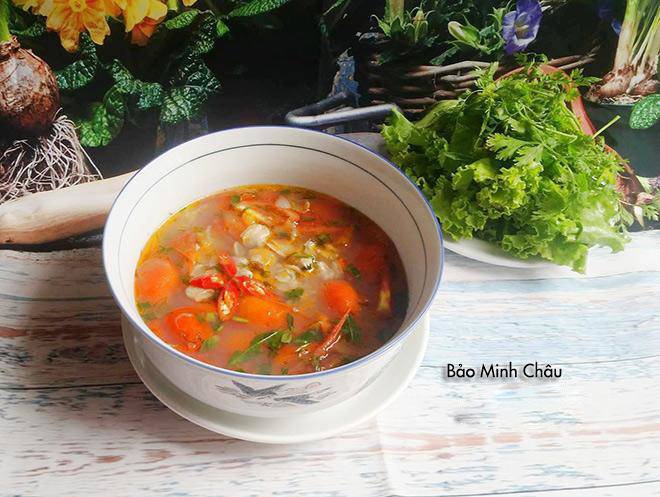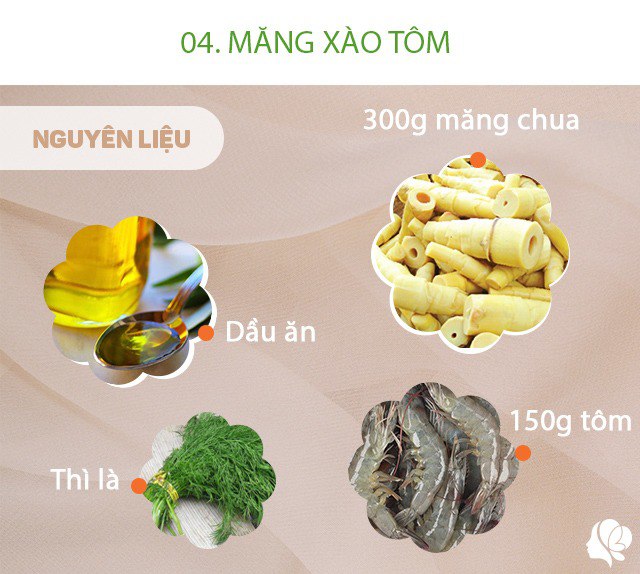 Prepare: – 150g shrimp – 300g sour bamboo shoots – Spices – Herbs, fresh chili.
Bamboo shoots are boiled with water. Then rinse to dry. Shrimp washed, marinated a little seasoning to infuse. Fry the onion with a little oil and then add the marinated shrimp and stir-fry. When the shrimp is cooked, add the boiled and washed bamboo shoots and stir-fry with the shrimp.
Let the bamboo shoots stir-fry for about 5 minutes on the stove, season to taste again, then add laksa leaves, finely chopped dill to the island. Put the fried bamboo shoots with shrimp on a plate, arrange a few slices of chili on top.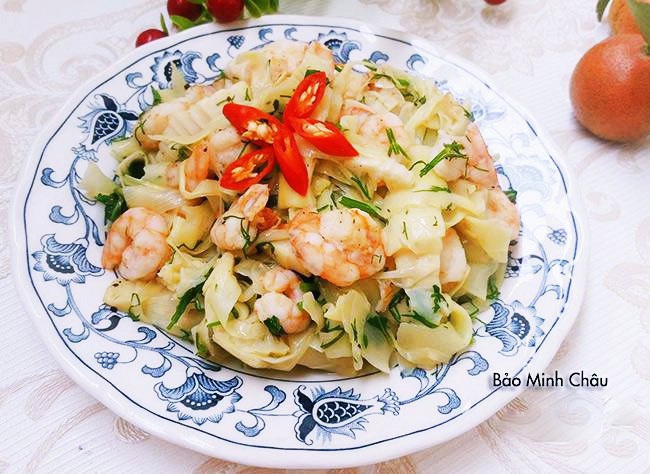 Good luck!
You are reading the article
The meal is full of familiar but rich dishes, looking at it makes you want to eat it

at
Blogtuan.info
– Source:
24h.com.vn
– Read the original article
here