Tin
Borrowing 10 million through the app must pay 15 million after 5 days
Borrowing 10 million VND must pay interest and fees up to 15 million VND within the past 5 days, if the mother's interest is not paid in time, it will be "terrorist" debt collection.
Calling for help to Nguoi Lao Dong Newspaper, Mr. NHC (living in Buon Ma Thuot city, Dak Lak province) said that his whole family was being "terrorized" dues after he borrowed from the online loan application (app).
Accordingly, there are many subjects who constantly call and text him, threatening to collect debts, affecting his work and the lives of his family members.
"Because I needed money urgently because my family had a sick patient, I was introduced and accessed the website vtvay.com, inside there were about a dozen different online loan apps named tomhungxanh, app hero, new app, double loan. .. Borrowing 10 million VND will pay a total of 15 million VND including service interest within 5 days from the date of borrowing" – Mr. NHC said.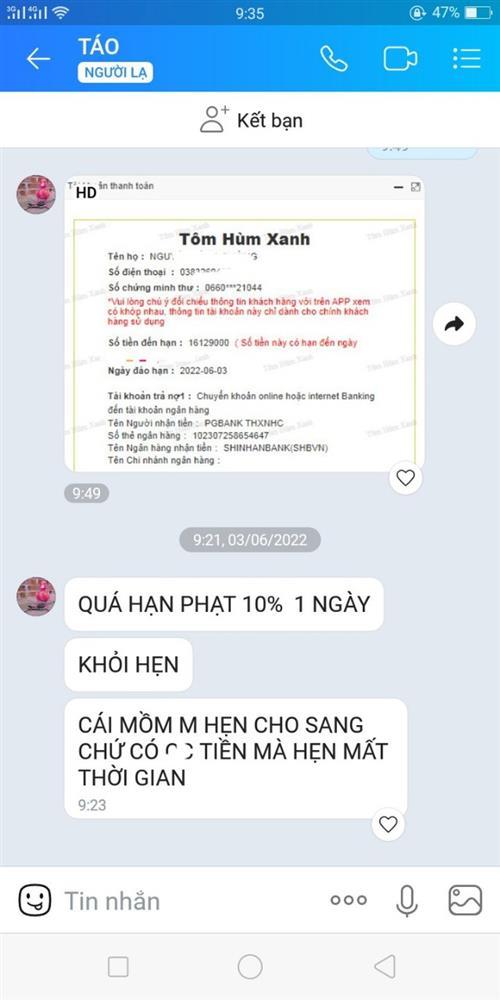 Penalty fee is 10%/day of the total amount owed if the borrower does not pay on time
Calculated, Mr. NHC has to pay 1 million VND of interest/day, equivalent to 10%/day, 300%/month and equivalent to 3,600%/year.
According to Mr. C., on the website vtvay.com, there is only information about the quick loan app with the highest limit of 10 million VND, there is no information about which company this app is introduced, where it comes from, who is it. is the owner of the app… Borrowers in need will enter the phone number and verification code sent to them to start the loan registration steps. Lenders only contact borrowers via Zalo messages and provide bank account numbers for borrowers to transfer money.
According to the introduction on this website, the loan limit is from 2 to 10 million VND, the interest rate is 1.6%/month, the highest is 19.2%/year. However, the information provided by Mr. NHC, in addition to the interest rate of up to 10%/day, in the debt collection messages sent, the staff of the apps stated that "the penalty is overdue by 10% a day". on the total outstanding balance.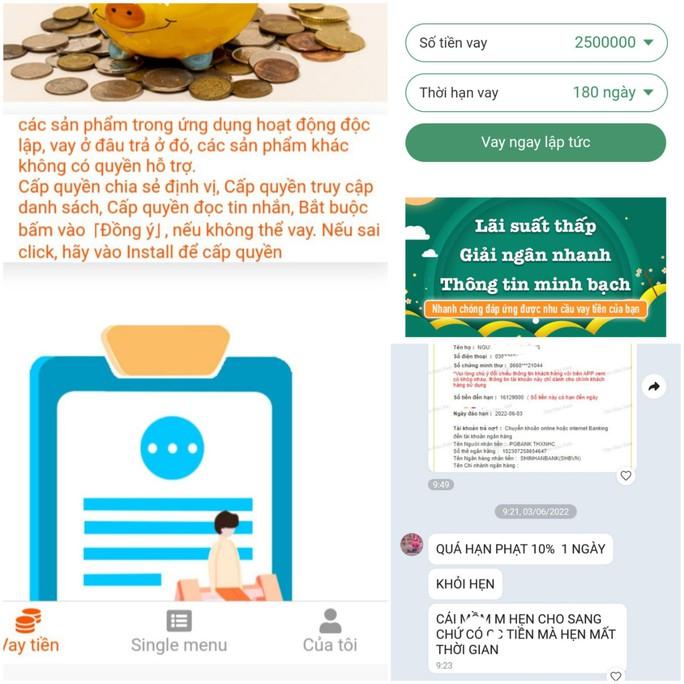 Borrowers via the online app will have to provide phone contacts, messages and even location sharing…
"This penalty fee makes me more indebted the more I pay. Strictly demanding debt, even threatening, "terrorizing" the whole family, workplace of relatives. And yet, they continued to invite me to borrow another app to pay off old debt. So far, I have borrowed about 350 million VND but have actually paid up to 800 million VND but still have not finished my debt. – Mr. NHC said and said he was very panic.
According to Mr. C.'s call for help, employees of online apps have been constantly calling to "terrorize" his relatives, affecting his family's morale, work, and reputation. He has reported it to the police and is waiting for a response.
Notably, in the notices on these loan apps sent to customers, it is clearly stated: "the products in the application work independently, borrow where to pay there, other products do not have the right to support. aid. Grant permission to share location, grant access to the list, grant permission to read messages, force click (agree) … if you want to be disbursed. Thus, when the customer agrees to borrow, it is obvious that all contact information and messages of relatives will also have to be provided, causing the relatives to be "terrorist" debt collection.
This is not an isolated case, in the past time, many people have been involved in online loan applications and have been subjected to "terrorist" debt collection, "parental interest and child interest", having to sell their houses, quit their jobs or quit their jobs. country to avoid debt.
In addition to warning and recommending to limit borrowing money through online apps, economic experts suggested that regulators could publish a list of apps belonging to legally licensed companies. This can be a temporary solution while waiting for a specific legal framework and sanctions for online loan applications.
According to Nld.com.vn
You are reading the article
Borrowing 10 million through the app must pay 15 million after 5 days

at
Blogtuan.info
– Source:
2sao.vn
– Read the original article
here