Chili is considered a familiar spice in many countries. In Vietnam, chili is easy to grow, suitable for many climates, and the price is cheap. But in the world, there is an extremely expensive chili, hearing the price that everyone is stunned, it is the Aji Charapita chili.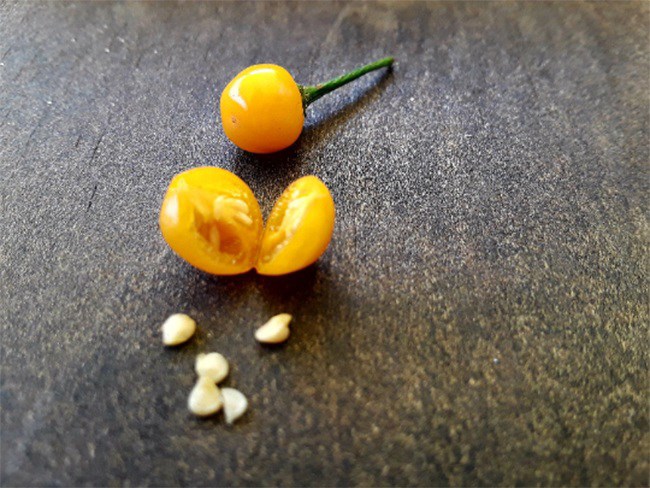 Aji Charapita chili is known as the most expensive spice in the world
In some countries, the price of Aji Charapita peppers is sold to high-end restaurants up to $ 25,000 (about VND 560 million) per kilogram. There was even a time when the price of Aji Charapita chili was up to 35,000 USD (more than 800 million VND). They are hunted by famous chefs in restaurants and luxury hotels to make a special spice in high-class dishes.
Few people know that Aji Charapita used to grow wild in the wild
With an extremely expensive price, but few people know that this fruit used to grow wild in the wild. Accordingly, the Aji Charapita chili pepper originates from the forests of northern Peru, it is known as a wild chili pepper, little attention is paid to it, and recently people have brought it back to grow for commercial purposes.
Each chili plant has hundreds of small round, red or yellow fruits, but yellow is the most common. Charapita peppers are as small as peas, very firm, crunchy, with a cluster of seeds in the middle. It is known that the spiciness of this chili is up to 30,000 to 50,000 degrees of Scolville spicy, it is even 4-20 times higher than the famous jalapeño pepper. When eaten raw, diners can feel a strong fruity flavor, which is perfect for salads or tropical sauces. However, they are mostly used in powder form to spice up various dishes.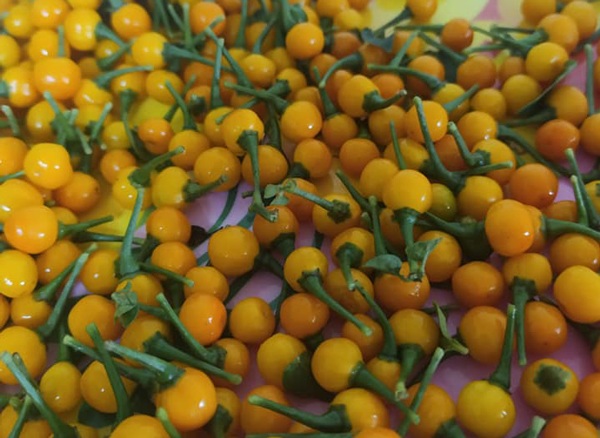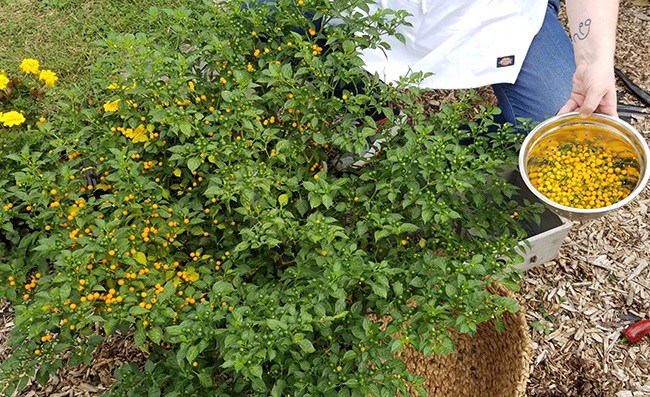 Aji Charapita chili is as small as a pea, but the spicy taste is very special
According to research, Aji Charapita chili has healthy ingredients that can help relieve pain, aid digestion and fight inflammation. The amount of vitamin C in each chili is up to 76.4 mg, equivalent to an orange, this is an antioxidant, helping to prevent the aging process on cells. In addition, the vitamin A content in charapita peppers also helps to brighten the eyes and prevent macular degeneration of the eyes.
Buying these peppers is not easy because they are not commonly grown in the world, so people can only order seeds and grow their own.
In Vietnam, this chili has also been successfully grown. Mr. Le Tien Dung has 3,000 square meters of land to grow chili peppers in Da Teh town, Lam Dong, providing dried Aji Charapita chili products and fruits for export.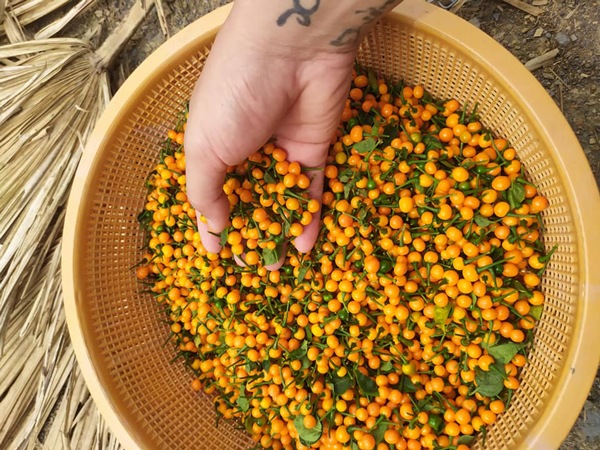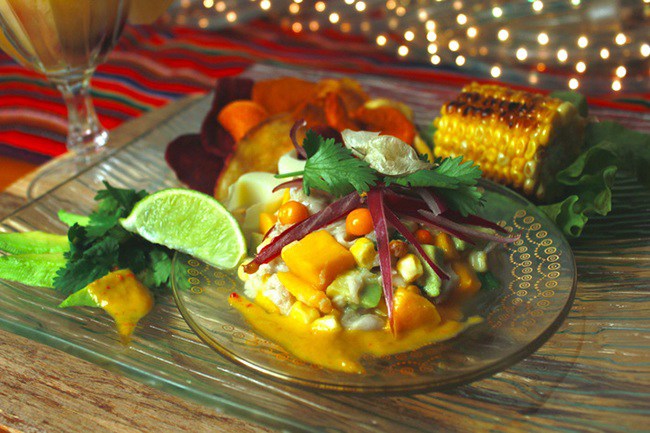 Chefs "hunt" for this fruit to make luxury dishes for 5-star restaurants and hotels
Mr. Dung said this chili began to appear in Vietnam in 2012, but it took 8 years for it to cause a fever and was sought by many people. Previously, he only wholesaled chili peppers and exported to foreign markets, now Mr. Dung also provides chili seedlings, flowers and retails chili peppers to domestic consumers.
According to Mr. Dung, in order for chili plants to grow, develop, and produce quality fruit when planted in Vietnam, it is necessary to buy quality seedlings to plant, but cannot be grown with seeds from chili peppers. This chili has a special feature that is very spicy like mustard, much hotter than chili peppers in our country, but it does not heat and puff up the mouth. In addition, it also has a very strong aroma, once eaten, you will remember.
Aji Charapita peppers grown in Vietnam are much cheaper than imported peppers. In the beginning, the fresh type cost from 4-10 million VND/kg, while the dried chili was much more expensive. And now, Aji Charapita peppers are grown by many people, so the price will not be as high as before, only about 1 million VND can be bought.
You are reading the article
The old wild fruit was full of no one to pick, turned out to be an extremely expensive and rare specialty, half a billion VND/kg

at
Blogtuan.info
– Source:
Eva.vn
– Read the original article
here