Giải trí
Xem ăn chơi
5 famous specialties of Ninh Thuan, with enough names, you are a true foodie!
Rice paper with fish sauce
Referring to the specialty of Ninh Thuan, it is impossible not to miss the divine rice paper with fish sauce. Each slice of cake is a fusion of the rich flavors of fish sauce, oily onion and egg, spicy and sweet chili sauce, crunchy crust and sesame flavour. It's rare to eat in one place because few people can resist the deliciousness of this country's typical paper-baked rice. Paper-grilled rice is best eaten hot in the afternoon at sunset, bustling with the wind and with dear friends.
Cake asking for pork liver
Referring to the delicious Phan Rang – Ninh Thuan signature dish, this dish must be mentioned, pork belly cake. This is a dish familiar to the people of Phan Rang in the morning or evening.
To enjoy this delectable dish, banh cuon, pork liver and fish sauce are the soul. To be delicious, real cakes must be made from rice flour. Pork liver should be fresh, clean, not old. The dipping sauce should be fish sauce seasoned for the whole day or tomato sauce or peanut sauce. And the last important thing is the onion fat.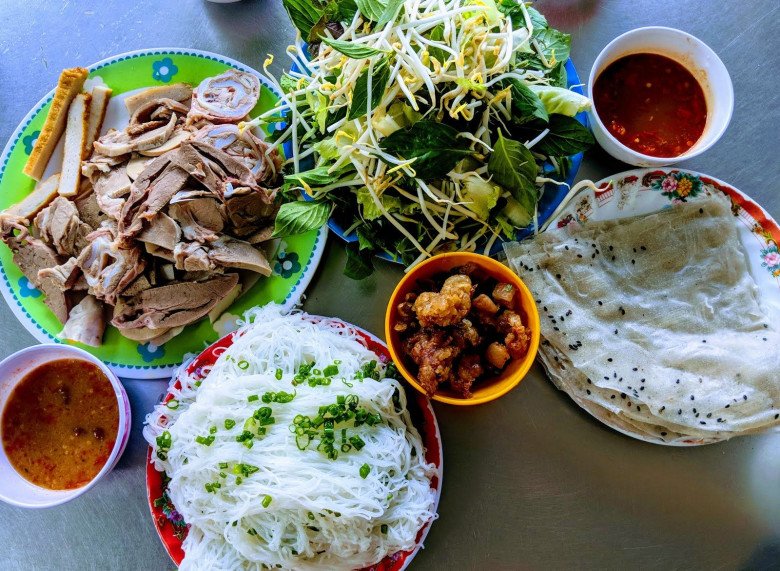 When eating, use thin and flexible rice paper, rolled with vegetables, rice cake, pork intestine and dipped in a cup of fish sauce. Chew slowly, slowly to enjoy the taste. I'm sure diners will eat until they're full.
sea ​​urchin Ca Na
When mentioning Ninh Thuan, apart from mentioning the land of the sun and wind, people often remember Ninh Thuan as a land of famous and delicious specialties. One of them, it is impossible not to mention the Ca Na sea urchin, one of the specialties of Ninh Thuan. Sea urchins, also known as sea urchins, are a unique specialty that cannot be found anywhere else.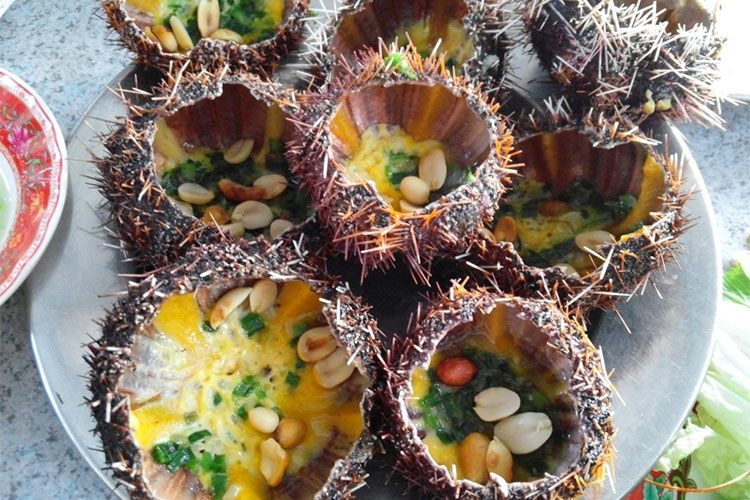 Sea urchins are made into many different dishes, but the most delicious dish is probably porridge or roasted sea urchins. The sea urchins are brought back to be cut into pieces for eggs, salted with spices and then quickly fried in oil. Sea urchin eggs are brought to cook rice porridge. The sea urchins are cooked with mustard, reducing the fishy taste of the sea urchins for new eaters, the sea urchins are dipped with a little salt and pepper, the lemon still retains the fresh taste of the sea but is very tasty. .
Wine
One of the typical fruits and characteristics of this country is grapes. It is the harsh sun and strong winds that are favorable for grape growth. Here, grapes are mainly grown in the districts of Ninh Son, Ninh Phuoc and Ninh Hai. In stark contrast to the famous vineyards in France, the grapes in Phan Rang are grown with overhead trellises. There are two main types of wine here, green grapes and purple grapes, which can be eaten fresh, made wine or grape nectar to drink at parties, which are often delicious.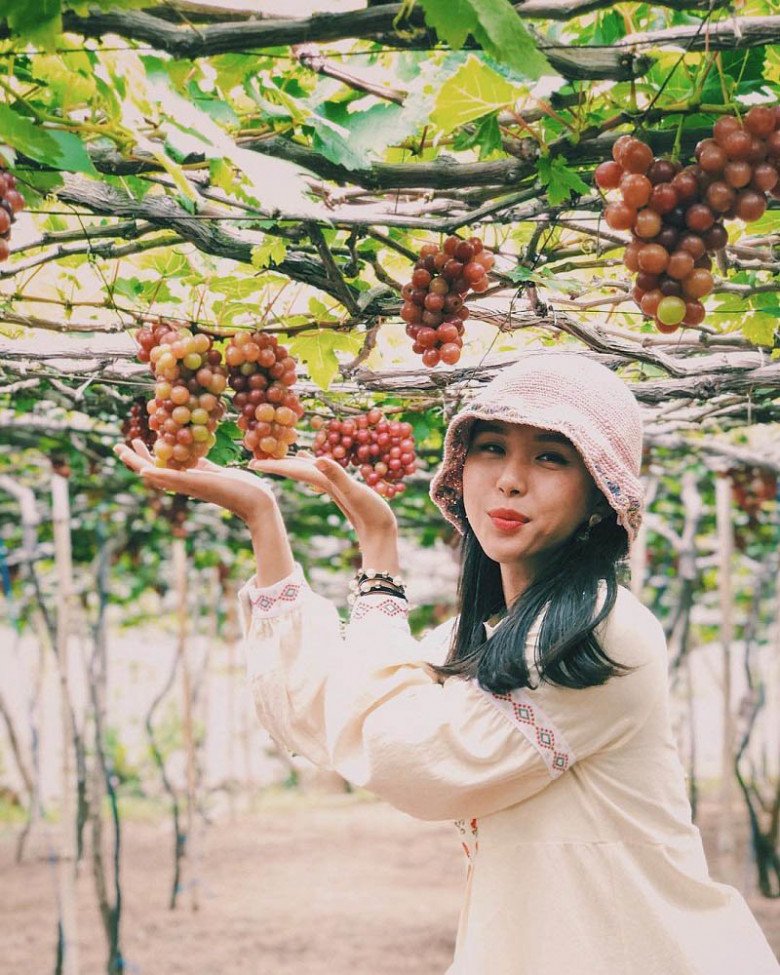 Past the ripe vineyards, when they are ripe on the branches, you will no longer want to ignore them but are forced to rest, take comfortable photos, buy a few kilograms of grapes here. The people of Phan Rang are very friendly, but remember to ask permission from the park owner before visiting. Follow in the footsteps of farmers pruning fruit in the garden, they will show you how to select bunches of grapes that you can pick and eat right away.
Rain storm
Ninh Thuan is a Vietnamese province with many coastal sand dunes, which are favorable conditions for thunderstorms to live and thrive. Thunderstorms, also known as sandstorms, are reptiles that live in hot sand dunes. Thunderstorms are similar to ordinary lizards, but much larger. Dong meat is considered as one of the famous specialties of Ninh Thuan, whenever tourists have the opportunity to visit, they should definitely enjoy it once.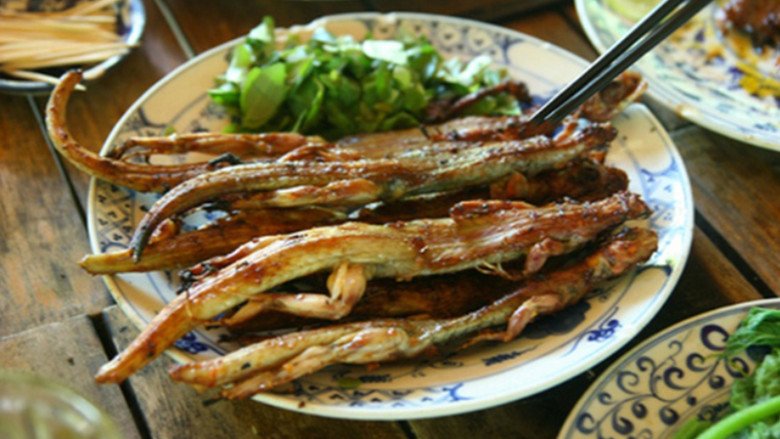 The flesh is thick and sweet, which is why thunderstorms characterize this place. Pork is processed into a variety of dishes. The professional chefs at Ninh Thuan have the ability to turn a thunderstorm into delicious dishes from spring rolls, salads, steamed thunderstorms to roasted thunderstorms. However, the most beautiful dish to mention is the grilled pork belly satay over coals. Eaten with grilled rice paper or a little fresh vegetables, vermicelli, rolled in chili sauce, the more delicious! If you visit Ninh Thuan, you should definitely enjoy the pork belly!
You are reading the article
5 famous specialties of Ninh Thuan, with enough names, you are a true foodie!
at Blogtuan.info – Source: Eva.vn – Read the original article here