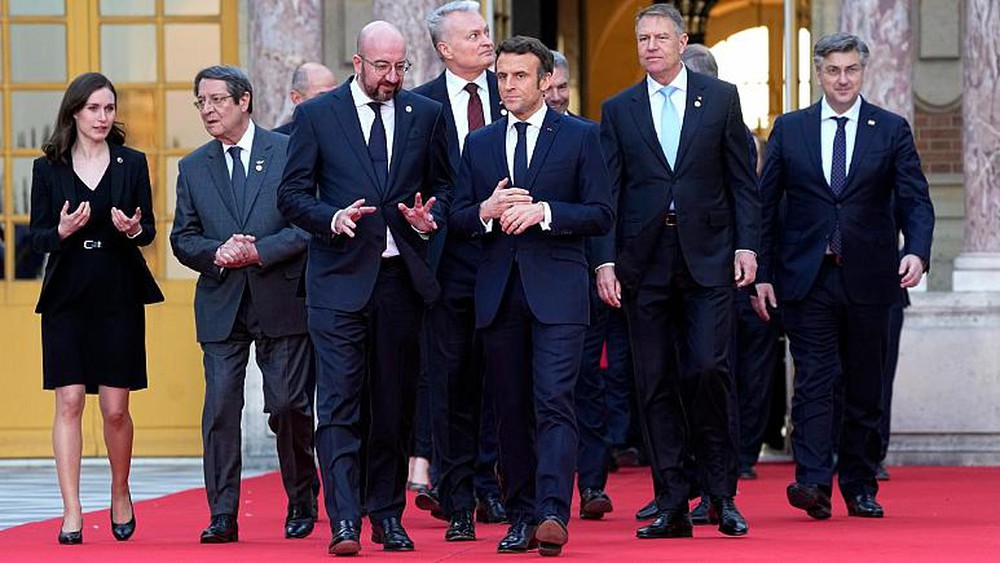 European Union leaders at a summit at the Palace of Versailles focused on the Ukraine war. Photo: AP
Since the Russo-Ukrainian conflict broke out, Ukrainian President Volodymyr Zelensky and senior Ukrainian officials have repeatedly called on the EU to immediately recognize the country as a member.
At an informal meeting in Versailles (France) which took place from March 10-11, 27 EU leaders acknowledged only Kiev's aspirations and noted the EU membership application that Zelenskyy had signed on 28/2.
European Union leaders have commissioned the European Commission to prepare a report on this request. The document is expected to be published in the coming weeks, but there is no specific deadline.
"Awaiting this report, we will further strengthen our partnership to support Ukraine in pursuing its European path. Ukraine belongs to the European family," the leaders said in a joint statement, EU leaders said.
When the European Commission releases its report, EU leaders will vote on Ukraine's candidate status. After that, the parties involved will negotiate and Ukraine will have to implement the necessary reforms.
This is said to be "cold water" on Kiev's ambitions to join the EU soon, but also reflects the West-East split in the EU.
Earlier this month, a group of Eastern member states (Bulgaria, Czech Republic, Estonia, Latvia, Lithuania, Poland, Slovakia and Slovenia) wrote a letter urging the EU to immediately grant candidate status to Ukraine.
But Western European countries seem to care less. "Now can we open accession procedures with countries in conflict? I don't think so," French President Emmanuel Macron said at a summit in Versailles.
Spanish Prime Minister Pedro Sánchez previously said in an interview that joining the EU is a long process and has conditions and reforms that Ukraine must meet.
Dutch Prime Minister Mark Rutte was even more explicit before the meeting. Speaking to reporters, Rutte said: "Of course the Netherlands and Ukraine stand shoulder to shoulder, but cannot provide a procedure to quickly join the EU. There is no such procedure".
Later, Polish Prime Minister Mateusz Morawiecki accused several countries of wanting to slow down the Ukrainian accession process, such as the Netherlands.
EU-Ukraine signed an agreement to strengthen economic and political cooperation. Under the agreement, Kiev pledged to implement a series of reforms aimed at bringing it closer to EU standards.
You are reading the article
EU does not grant special status to immediately recognize Ukraine
at Blogtuan.info – Source: Soha.vn – Read the original article here