Instant noodles are a dish that is no longer strange to Vietnamese consumers of all ages and classes. However, instant noodles are often considered "pale" in terms of nutritional value and eating a lot will cause boredom. Therefore, the noodle-loving team, in addition to hunting for unique noodle flavors, is also creative in adding toppings to upgrade the bowl of instant noodles into a quality and nutritious meal. Here are the two factions "fighting" in the "3 minutes 1 dish, both convenient and delicious".
1. Team eating meat
Also known as the protein-loving team, there are believers in every dish that must have meat, the more meat the more you like it. And this is the topping that often appears in this team's bowl of instant noodles.
Eggs processed in many ways
Eggs are a favorite dish of many people thanks to the delicious, greasy taste of the yolk and extremely easy to prepare. The gourmet team has many ways to turn a bowl of noodles with eggs into a delicious dish: half-cooked, stir-fried in soup, or make soft-boiled eggs, fried eggs to serve… In addition, spices like onions , cilantro, chili sauce are also added to enhance the taste of the noodle bowl. Small tip, chicken eggs and especially chicken eggs with smaller size, easy to cook, not fishy and big greasy yolk are the most recommended eggs to "upgrade" your bowl of instant noodles.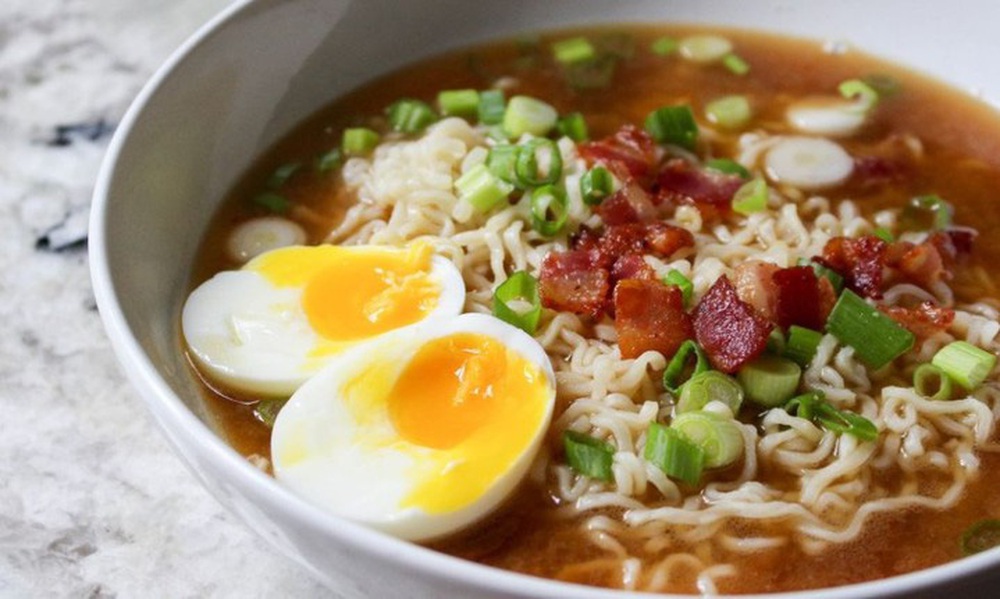 Sausage, cold meat
Just like instant noodles, you can find hot dogs and cold cuts at any convenience store. Sausages and cold meats, in addition to adding protein to the meal, also help stimulate the taste buds to make the bowl of noodles less boring and fuller. When you are in a hurry but want an affordable yet delicious and nutritious meal, instant noodles and these super popular toppings are also an option often considered by the noodle team.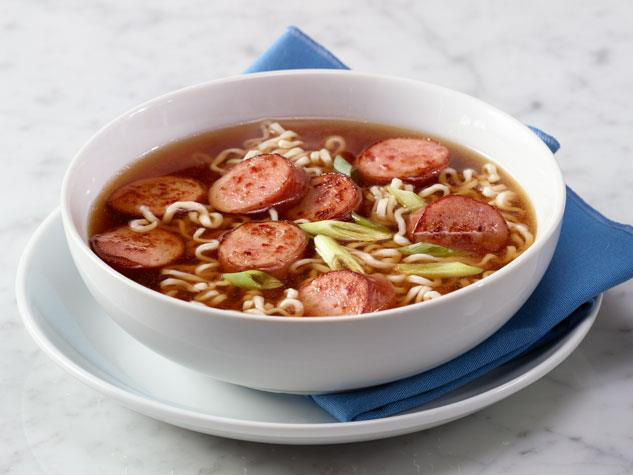 2. The team loves vegetables
Also known as the green living team. Contrary to the meat-loving team, the vegetable-loving team will feel uneasy if a meal lacks the presence of fresh vegetables. Vegetables not only help add vitamins to beautiful skin, but also make meals more delicious and not boring. Teams who live green but like noodles or have a busy lifestyle can't ignore high-class Reeva noodles supplemented with ingredients of 100% fresh abalone mushrooms and seaweed. Not to mention, the ingredients present in the Reeva noodle package are also toppings that have been loved by people in countries such as Korea and Japan thanks to their high nutritional value and special texture that they add. meal.
Abalone mushroom
With the ability to make the broth more sweet, delicious and provide a chewy, delicious feeling when chewing, it's easy to see why abalone mushrooms have become one of the favorite ingredients to add to the bowl. gourmet instant noodles.
Now with the innovative Reeva noodles that add 100% fresh abalone mushrooms to the product, it's easy to enjoy a delicious bowl of noodles with a real crunchy mushroom topping alongside a rich hot pot broth and delicious ingredients. Golden noodles on busy days but you still want to eat well.
Reeva noodles with 100% fresh abalone mushroom package meet all 3 criteria of delicious – convenient – rich in nutrition for users.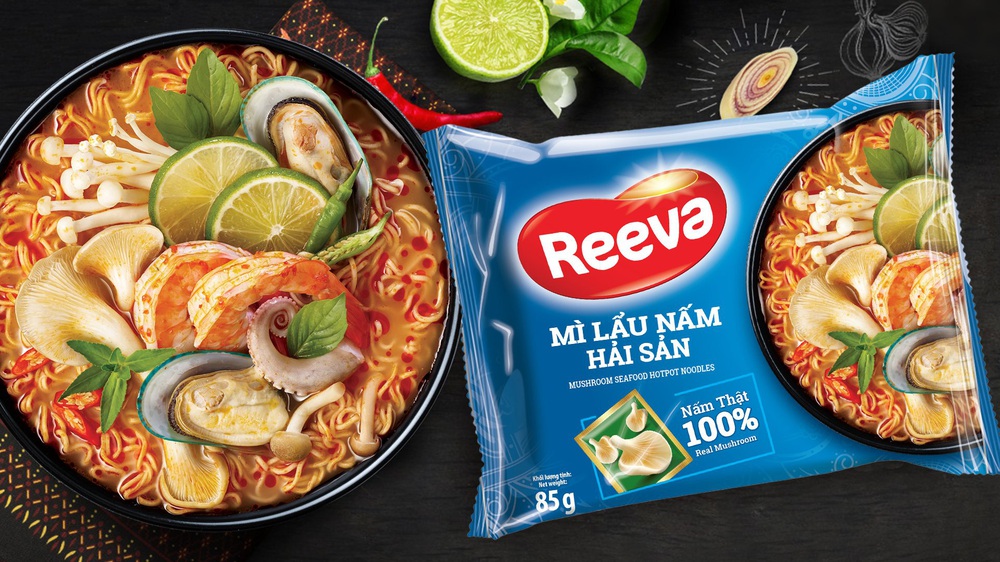 Seaweed
Although not really popular with the majority of users like mushrooms, seaweed is a favorite dish of many young people. From snacks like dried seaweed to filling dishes like sushi, rice balls, hot pot, this ingredient must be present. Now with the technology of putting fresh ingredients into instant food, seaweed has officially become a luxurious – genuine – smooth topping that elevates the daily bowl of noodles into a unique delicious meal.
Reeva is an innovative instant noodle brand that brings 100% real, crispy fresh seaweed into its products, combined with a broth inspired by the rich Japanese Tonkotsu ramen that has become a new favorite that makes everyone Office workers, students, international students, from the elderly to the young, must "wobble" by the uniqueness and strangeness of the mouth.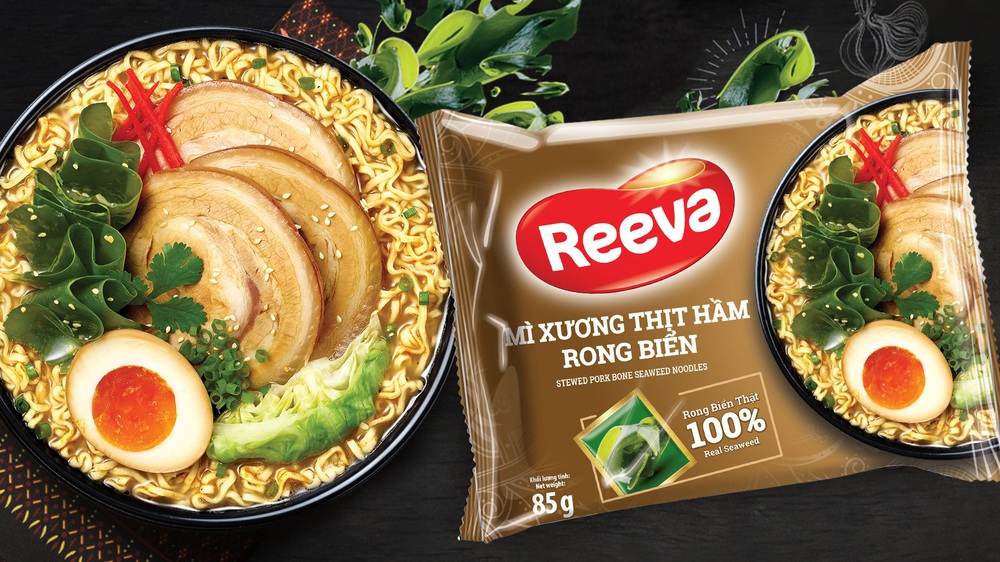 Pioneering with many 100% fresh toppings, Reeva noodles deserve a 10 in the topping and instant noodle village. Innovative, diverse and unique products, Reeva noodles are not only popular in the country but also exported to many countries around the world, including demanding markets with high safety requirements. foods such as Japan, America, Korea…
Uniben owns 3 large and modern food factories, with the brands 3 Mien, Reeva, Boncha, Joco and Abben. In which, 3 Mien noodles is the brand chosen by Vietnamese consumers to buy the most. Reeva is a premium noodle brand with 100% fresh ingredients. Boncha honey tea from 100% pure honey and whole leaf green tea. Joco juice with crunchy, crunchy fresh fruit pieces. Abben is an energy drink brand with the positioning "The best energy standard, creating precision in every action".
https://soha.vn/mi-goi-la-phai-co-topping-tuoi-100-cong-dong-sanh-an-chia-lam-hai-phe-20220316212450425.htm
You are reading the article
"Noodles must have 100% fresh topping" the gourmet community is divided into two factions

at
Blogtuan.info
– Source:
Soha.vn
– Read the original article
here