Thế Giới
Ukrainian pilot recounts the moment "lucky" Russian missile
(Dan Tri) – With the size of the air force much smaller than that of Russia, the pilots of Ukraine have to stretch themselves for the air battles in order to stop the offensive momentum and prevent the air attacks of the Russian forces.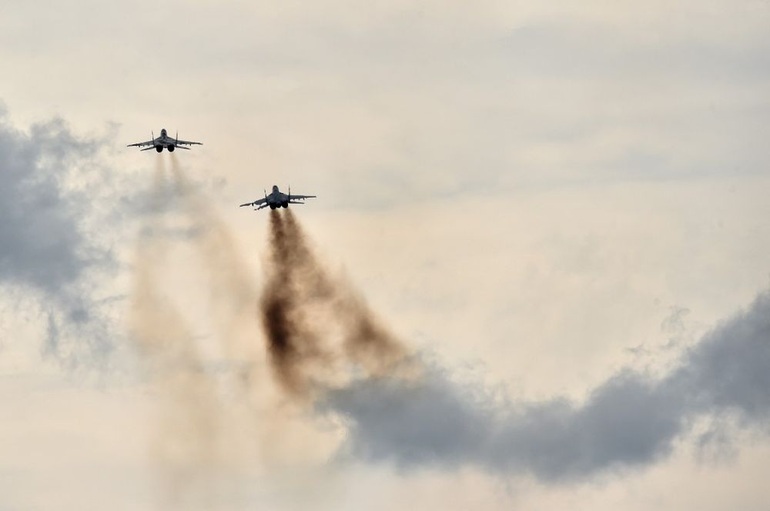 Every night, Ukrainian pilots like Andriy are restless inside the secret hangar, waiting and waiting until they receive the command: "Take off". Andiy hurriedly jumped on the Su-27 fighter, rushed to the runway, soaring into the air as fast as possible. He took off so quickly that he didn't know exactly what tonight's mission was, although in general the missions were similar: to participate in an air battle with the Russian Air Force – an overwhelming force.
"I couldn't think of anything else. I just took off," Andriy shared with New York Times about his mission during the past month since the Russian-Ukrainian conflict broke out.
Analysts military once predicted that Russia would quickly destroy or paralyze Ukraine's air defense systems and squadrons. However, a month passed, they still did not do that and the air battles continued to take place over Ukraine.
"Every takeoff is every time ready for a real war. In all the air wars with Russia, there is never a balance. Their squadron is always 5 times larger (of Ukraine)", Andriy , 25 years old, said. He made a total of more than 10 such sorties.
The success of Ukrainian pilots contributed to supporting troops on the ground, preventing large-scale attacks on cities.
The Ukrainian Air Force operates almost in secret. Fighter planes can take off from airports in the western part of the country, airfields that have been bombed, but still have enough conditions to allow planes to take off or land. According to analysts, Ukrainian fighters can even take off from highways.
The Russian side is believed to carry out about 200 sorties per day, while Ukraine only has about 5-10 sorties.
However, Ukrainian pilots have an advantage of being geographical. "Ukraine can effectively fight in the air by operating on its own territory. Enemy aircraft entering Ukrainian airspace means entering their air defense identification zone," said Yuriy Ihnat, a spokesman for the Air Force. Ukrainian army, said. He described this strategy as "lubricating Russian planes into a trap".
Unbalanced battle
Ukraine is said to have only 55 fighters left as some of them have been shot down, destroyed or damaged. Ukrainian President Volodymyr Zelensky has repeatedly called on the West to provide fighters or create a no-fly zone to support the country's air force, but has so far been refused. Slovakia and Poland considered transferring MiG-29 fighter jets to Ukraine, but so far have not delivered.
Dave Deptula, a senior scholar at the U.S. Air Force Academy and principal attack planner for Operation Desert Storm in Iraq, said the addition of fighter jets was significant to Ukraine. "If not replenished, at some point they will run out of planes before they run out of pilots," he said.
Most of the aerial combat over Ukraine took place at night, when Russian planes were less vulnerable to Ukrainian air defenses. Andriy said that Russia often uses modern fighters such as Su-30, Su-34 and Su-35.
"I was on a mission to get close to the Russian plane, so close that it could become an enemy target… At one point the ground forces warned that a missile was coming at me. Time I could save myself. Depends on how far away the missile is from me and what kind of missile it is," Andriy said.
He said he had to fly the plane around the coast, fly up, down, to lure missiles, destroy the enemy's arsenal. According to Western intelligence sources, Russia has fired a total of more than 1,000 missiles of various types in Ukraine in the past month. The Russian Defense Ministry announced over the weekend that it had used Kinzhal hypersonic missiles to attack a fuel depot of the Ukrainian army for the first time.
Andriy graduated from the Kharkov Air Force School. The young pilot confided: "Neither me nor my friends thought that we would face a real war. But the opposite was true." Before joining the war, Andriy took his wife to a safe place, but still in Ukraine. He never told his family members when to do a mission, but only called them after completing a mission.
Russia launched a military operation in Ukraine on February 24 with a statement aimed at demilitarizing Ukraine. Moscow insists that it only uses high-precision weapons to destroy Ukrainian military targets. The West believes that, after a month, the Russian campaign still seems to have not reached its goal, while the resistance of the Ukrainian army is more effective than previously forecast, thanks in part to the supply of weapons. military equipment of the United States and its allies.
You are reading the article
Ukrainian pilot recounts the moment "lucky" Russian missile

at
Blogtuan.info
– Source:
dantri.com.vn
– Read the original article
here