Kinh doanh
The price of male papaya flowers is worth millions, small traders are busy collecting
When F0 is increasing rapidly in Hanoi, buying male papaya flowers to soak in honey, despite the acrid price, is still used by many housewives and is considered a panacea for respiratory inflammation and lung tonic.
These days, when Covid-19 cases are increasing rapidly in the community, Mr. Bui Van Hoang – a focal point specializing in selling Northwest medicinal herbs in Linh Dam, Hanoi – is selling very popular online. Among them, male papaya flower was ordered by many city guests to drink or soak in honey. However, because male papaya trees are very rare, there are times when he cannot collect much to sell to customers.
"Each season of male papaya flowers is harvested from April to October every year, the people in the communes picking in the hillside areas can only collect a small amount, so I can collect about 1 quintal for drying.
In previous years, this flower was mainly sold to oriental medicine pharmacies, Southern doctors and regular customers. But since Tet, many people have asked to buy male papaya flowers to replenish their lungs after Covid-19, so the goods are not available for sale," Hoang said.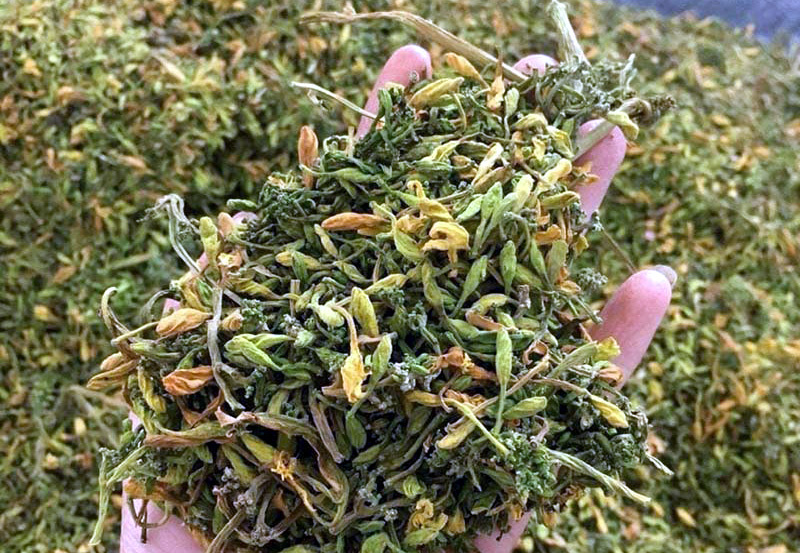 Male papaya flowers are collected by small traders to sell to customers
Hoang shared, this time he is taking advantage of the collection because the demand of customers suddenly increased. Those who buy less than 0.5kg, those who buy a lot, buy 1-3kg to use gradually or give to relatives and friends. For the past 3 months, he has sold a ton of dried flowers for many people with Covid to use. Goods have as many customers as they have ordered, always in a state of out-of-stock. Customers who want to buy must book half a month to 1 month in advance.
Dried papaya flowers used to decoction drinking water as usual or soaked in honey will help reduce the bitterness, so children can also use it.
To soak dried male papaya flowers with honey is also very simple, 1kg of dried male papaya flowers will be soaked with about 2 liters of honey. When soaking, it is best to use porcelain or crockery, glass.
After about a month, it can be used. Drink 2 small teaspoons a day, use both morning and evening after meals to achieve the best effect of supporting healing and promoting health – he said.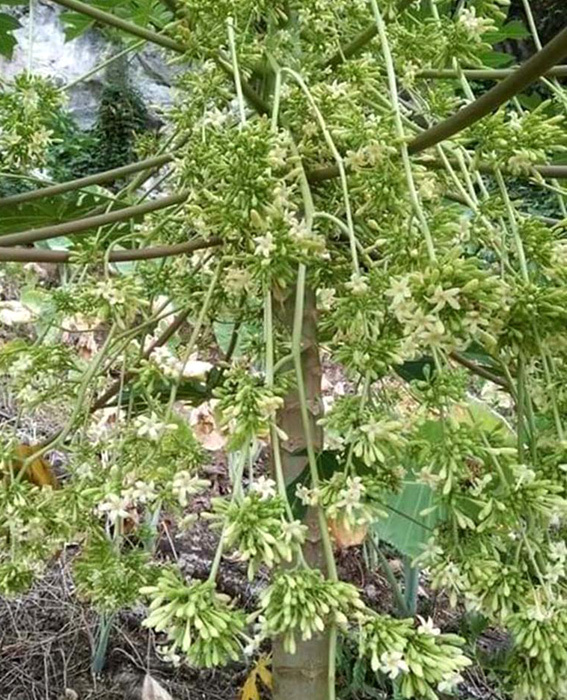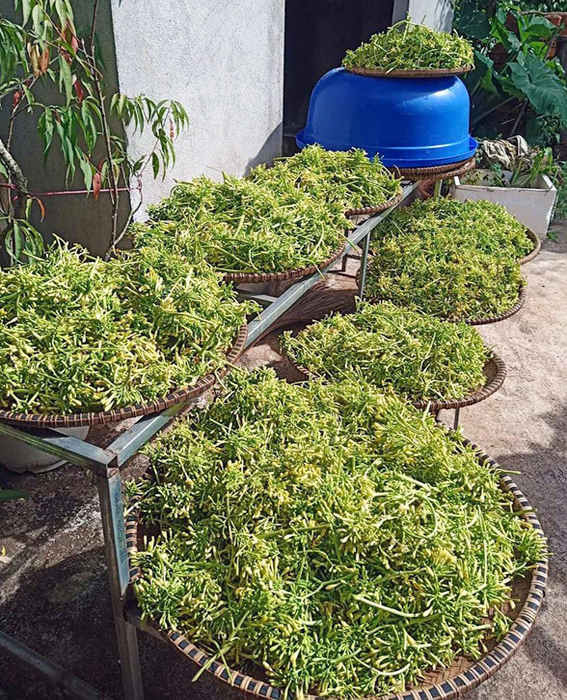 When asked how to identify male and female papaya flowers, this small trader said: "The female papaya flowers grow close to the stem, so the flowers are usually large, with only 1 single flower, not in clusters. The male papaya flowers grow in the interstitial part of the leaves, have long branches, small calyx, many flowers and grow in clusters. Therefore, if customers are observant, they will immediately recognize them, and sellers cannot mix or mix them."
He also recommends that the price of male papaya flowers is quite high, from 800,000 to 1.2 million VND/kg depending on the time. Therefore, to avoid mixing male and female flowers, customers should only buy from reputable herbal sellers.
Just 2 weeks after coming to work after the Lunar New Year, Nguyen Thi Thao, an employee of a media company in Cau Giay (Hanoi), was infected with the virus. Covid-19 from colleagues. After 14 days of treatment and isolation at home, Thao tested negative and returned to work. But after a month, she still had a long cough, hoarse voice and felt tightness in her chest. She took a chest X-ray but found no damage. Many people told her to use honey-soaked male papaya flowers to nourish her lungs after Covid, so she bought it.
Through an acquaintance, she found a small trader specializing in selling medicinal herbs in Son La mountains and ordered 1kg of dried male papaya flowers for 800,000 VND.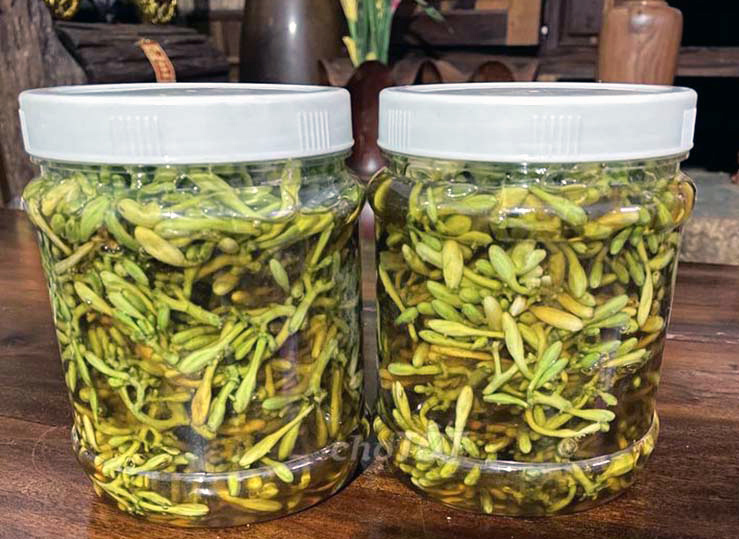 Dried papaya flowers just need to be boiled with water or soaked in honey to help reduce the bitter taste
Bringing home, she soaked alum sugar honey to cure cough. In addition, she saves a little bit of water to drink every day.
"Fresh male papaya flowers are half as cheap as dried male papaya flowers. However, fresh flowers are more difficult to buy because it is difficult to transport, and for a long time, they are afraid of losing nutrients. Buy the kind that people have dried and packed in vacuum bags that can be used all year round," she said.
Sharing about the use of male papaya flowers, herbalist Vu Quoc Trung (Vietnamese Oriental Medicine Association) said that this is a folk remedy with therapeutic uses such as cough, prolonged asthma, sore throat, detoxification. and some other diseases such as blood pressure, heart disease, etc. In particular, persistently using male papaya flowers soaked in honey regularly helps limit the risk of respiratory diseases.
This type of flower is white, bitter in taste. Fresh flowers can be used directly as food for cooking in daily meals or dried flowers as medicine. But depending on the location and physical condition of each person, not everyone can use this flower. Therefore, you should research carefully before using. With dried papaya flowers, on average, only 10-20g should be used per day.
Meadow
You are reading the article
The price of male papaya flowers is worth millions, small traders are busy collecting

at
Blogtuan.info
– Source:
vietnamnet.vn
– Read the original article
here