Học Đường
Life Style
Male student conquering Fansipan peak, considered a rich kid, but how to respond?
Graduation is always an important event for each student, it closes the learning journey through the graduation ceremony. Many students have come up with unique and strange celebration ideas to "show off" to the world that they have graduated in many different ways that not everyone can think of.
For example, a young man named Nguyen Tuan Khanh, a student majoring in Tourism at Hoa Sen University (HCMC), Tuan Khanh officially graduated from the University in April 2021. Instead of choosing the usual way of celebrating, taking a set of photos of his bachelor's suit with his school, the guy above decided to open a journey that combines Graduation and Travel lasting nearly a month to celebrate. graduated from school.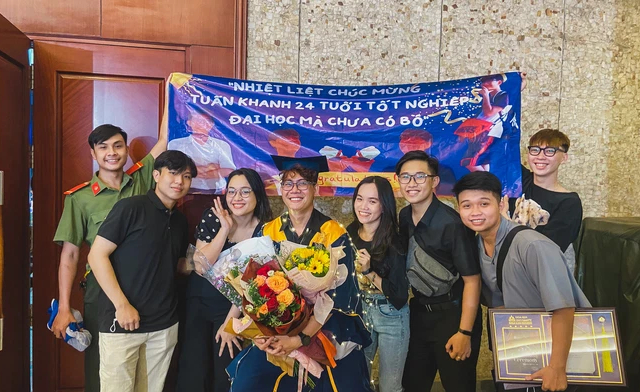 Tuan Khanh on graduation day
Decided to shoot yearbook of 3 regions for 1 month after graduation
Tuan Khanh said This set of photos was planned and planned in advance, because he had to go to work during the week and go to experience on the weekend, so Tuan Khanh had a very specific and detailed plan to make everything go as best as possible. The guy shared: "The photo series is partly a spiritual gift I gave to myself after my university days, so I never thought of giving up, and always tried and wished it to be the most complete and the best."
In one month, Tuan Khanh traveled to 7 provinces: Ho Chi Minh, Hanoi, Fansipan – Lao Cai, Ta Xua Peak – Yen Bai, Da Lat, Da Nang, Vung Tau. The guy shared: "Particularly, Da Nang was an unexpected and unexpected destination: Due to the flight from Ho Chi Minh City to Hanoi, my plane could not land in Hanoi due to bad weather, so my plane landed in Da Nang for transit. 1 night".
Thanks to that plane "incident", Tuan Khanh and his group of friends experienced Da Nang at nightmake the album cover all 3 regions North – Central – South, instead of 2 regions North – South as originally planned.
Tuan Khanh took year-round photos with his diploma everywhere from North to South
At first, Tuan Khanh only planned to make a photo series for himself after his journey at the University, but then the guy was supported by everyone before his idea, so now Tuan Khanh feels very proud. proud, happy.
"I want to send a message of positive energy to everyone, especially after the recent pandemic. At the same time, I want to remind young people, live with passion, then confidently do what you like. discover, break through ourselves more, maybe we can find interesting and good values ​​around" – Tuan Khanh confided.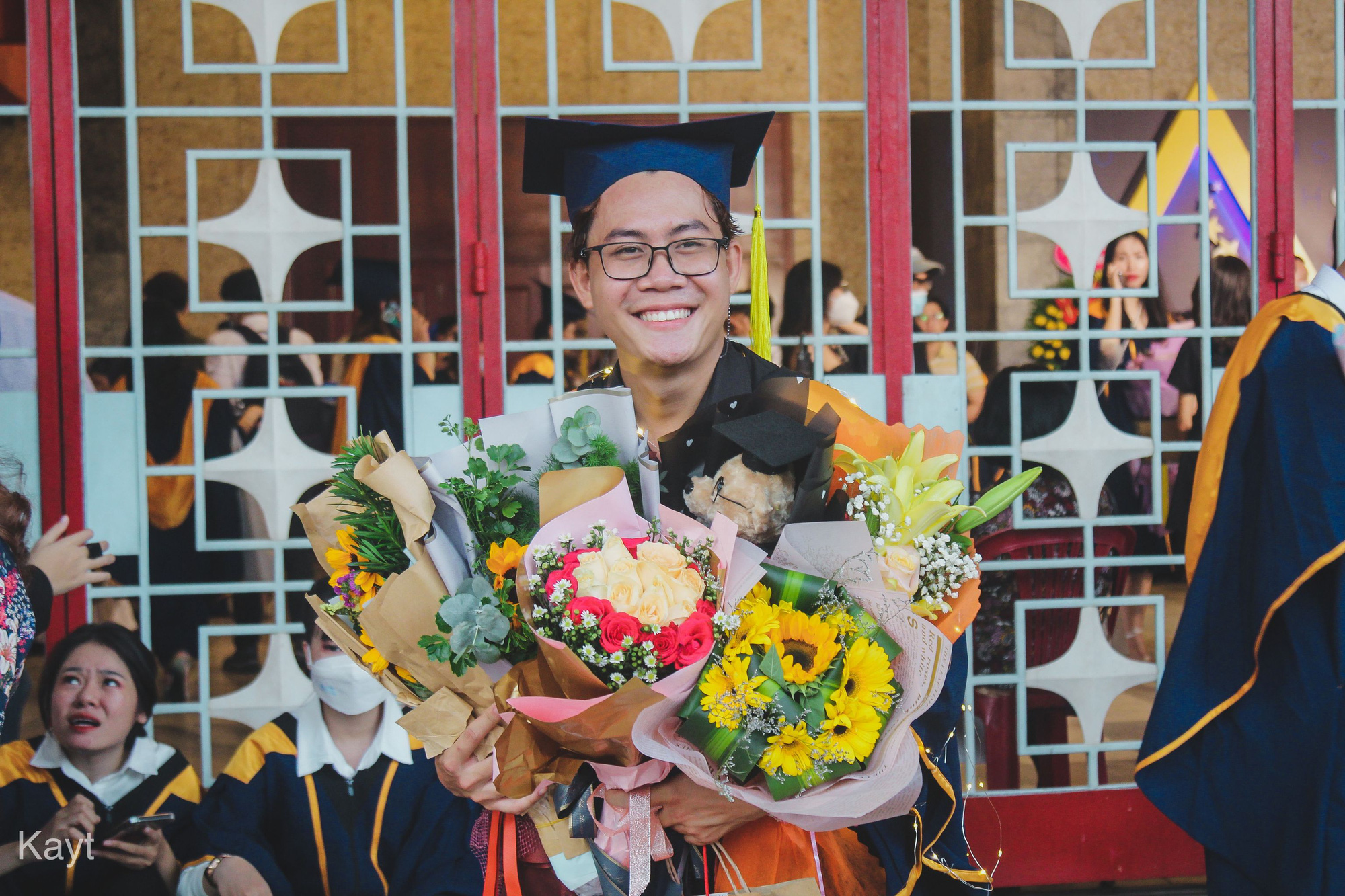 Tuan Khanh feels very proud and happy when people support his photo series
Wearing a bachelor's shirt, conquering life's peaks, overcoming self-limitations
After his trip, the young Tuan Khanh often sat and looked back on the past journey like studying at university. He always considers himself as a shortcoming or a strong point that needs to be improved and promoted to continue developing in the future as well as prepare for other roads.
Not only different in the way of creating his own mark for the Graduation photo series, Tuan Khanh also continued to make a difference with an idea when bringing a climbing tree to the graduation ceremony.
"I brought to the stage the climbing plant associated with my favorite trekking and hiking subject, the light string set associated with the image of decorative light strings when camping with friends. All of these are creations. Based on my own interests and passions. To be honest, I also proposed and received the consent of the Organizing Committee, so I was so exposed." Tuan Khanh shared.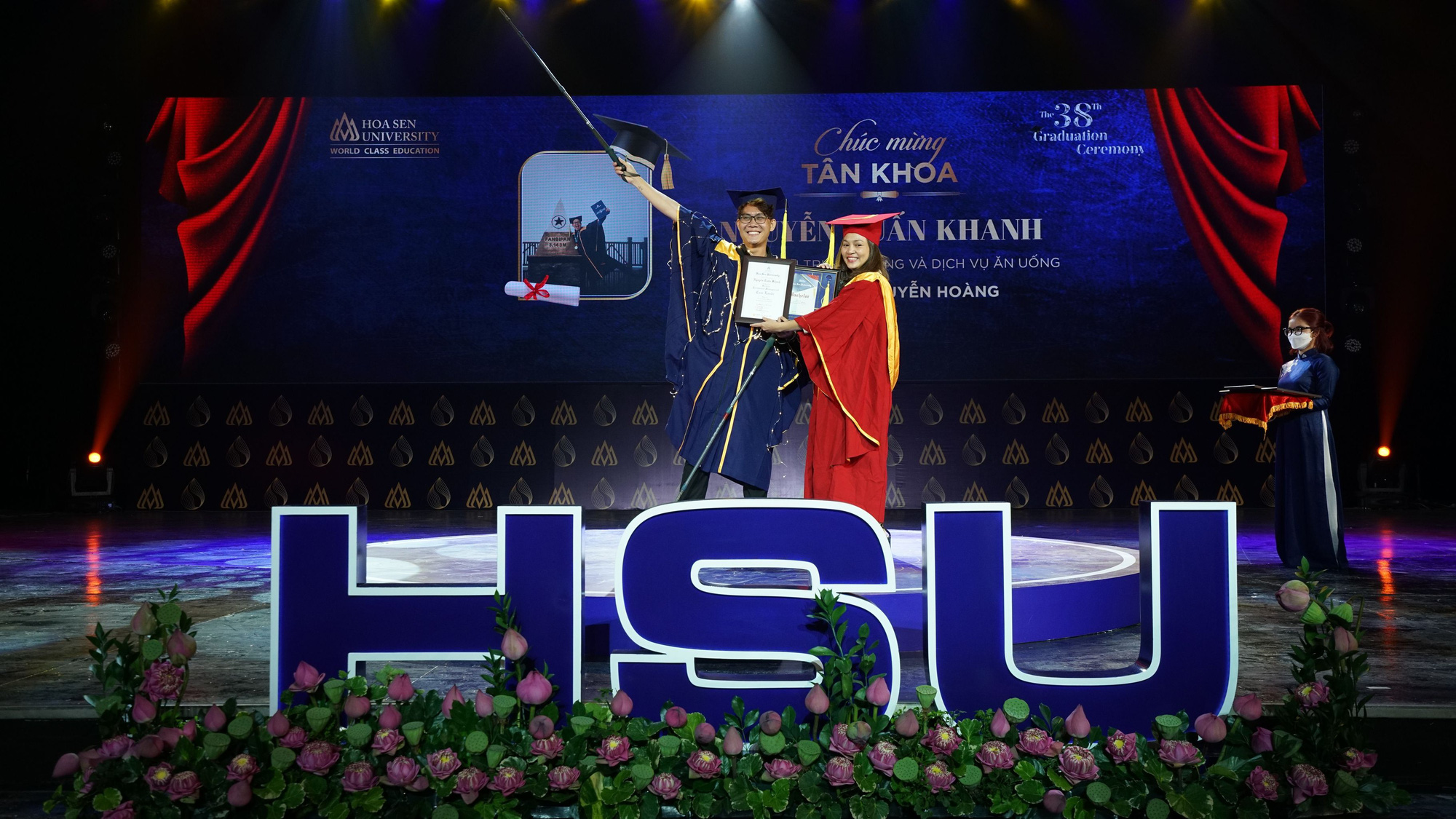 Tuan Khanh considers this an idea beyond his limits
The young man views the trip to take graduation photos in many different locations across the country as a journey to change himself. Tuan Khanh believes that when looking at the photo album, everyone will have a different view of the guy, the guy positive: "All of my trips are the result of my efforts in the process of accumulating, going to the office, and even the trips I go to work and go out."
When the set of photos went viral, many compliments were replaced by criticisms and mixed criticism that maybe it's because of the rich guy who likes to show off, so he's like this. Sharing that point of view, Tuan Khanh has a very mature approach.

"When the photo series received a strong response after its publication, I also anticipated that I would encounter mixed opinions except for the online community. I always appreciate contributions whether positive or comment, perspective. negative feedback from everyone, because each person will have their own opinion, especially since each of us is living in a different position, different living environment, different perspective, so opinions will be different." – Tuan Khanh said.
Tuan Khanh's diverse moments and experiences to bring back a set of graduation photos for a lifetime
College is a journey of discovery and learning
Finish University with a good degree (GPA: 3.35/4), Now the young man plans to continue his studies for a Master's degree.
Sharing about his major, Tuan Khanh confided: "The service industry group in general helps me have a lot of knowledge not only in my subjects but also have many wonderful experiences in real life. I get to travel more, explore and learn more about different cuisines and cultures. local culture, especially Vietnam is a place where tourism development potential is highly appreciated and has many values ​​that need to be preserved and developed.
The university journey is described by the guy in 2 words: Happy and Proud
When studying at University, Tuan Khanh loved to travel, participating in many activities, events, and social work. He used to live and work in Ta Lai for nearly 3 months with his aunts and uncles who are the Ma, Tay and Stieng ethnic groups; living with foreigners such as: France, Philippines, Malaysia, … and have conquered trekking routes, learned a lot of new things.
Tuan Khanh also set a close goal for himself to experience Vietnam by motorbike. After that, if given the opportunity, he will set foot in regional and international countries so that he can learn on his own.
Image source: NVCC
https://kenh14.vn/hanh-trinh-khoe-bang-tot-nghiep-tu-nam-ra-bac-nam-sinh-chinh-phuc-ca-dinh-fansipan-bi-coi-la-rich- kid-velvet-dap-tra-the-nao-20220327151006146.chn
You are reading the article
Male student conquering Fansipan peak, considered a rich kid, but how to respond?

at
Blogtuan.info
– Source:
Kenh14.Vn
– Read the original article
here