Business
"I accept bitter and insulting words to now pick the sweet fruit"
"Everybody thinks I can't go to school, even saying 'because of my disability, I should be supported by my teachers'. The insults are so many that I can't tell them all in one day…"
"Many people are startled to see me"
Looking through the window from the outside into the lab, Chinh has a thin appearance, sagging eyes, no ears, a cleft palate, and no cheekbones. He was contemplating studying the document. He doesn't look tired when he is in the lab for many hours because, he is trying to be himself and… be a normal person.
Born with a birth defect (Treacher Collins syndrome), Mr. Pham Duc Chinh (born in 1993) lived since childhood with his paternal grandparents and farming parents in Dong Hung district, Thai Binh province.
At the age of 2, the skinny boy had to undergo surgery to correct a cleft palate. It was also the only thing the doctor could do for him because the surgery to open the ear canal was too dangerous, no one dared to take the risk. Chinh's younger brother also suffered from Treacher Collins syndrome and died shortly after being born.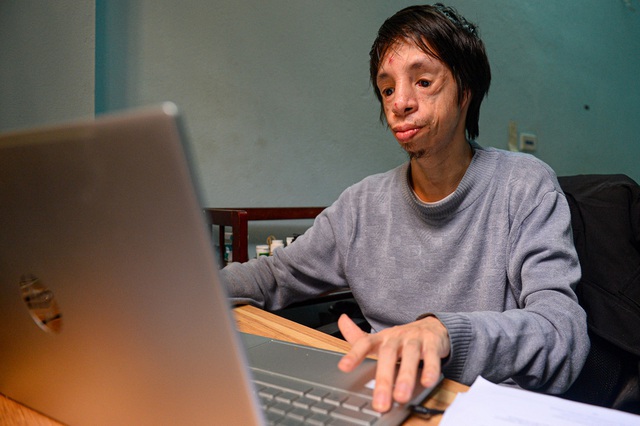 Pham Duc Chinh works hard every day at the job he loves.
"Chinh is an only child, and suffers from all kinds of disadvantages, but we never thought we would abandon him"Ms. Vu Thi Oanh (Chinh's mother) said after knocking on the doors of all the largest hospitals in the capital to find out the disease and run surgery for her child.
It is known that Treacher Collins syndrome is a rare genetic disorder with no cure, so Chinh was forced to adapt to limitations in appearance and ability to hear and speak. Specifically, his hearing was reduced by 70%, he had frequent live tears and could not speak clearly some consonants. Therefore, when communicating, he often asks the other person to repeat it a second time or ask to speak louder in combination with looking at the mouth to guess the idea.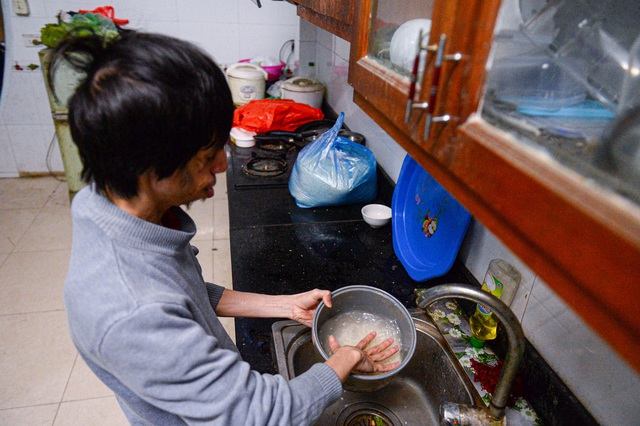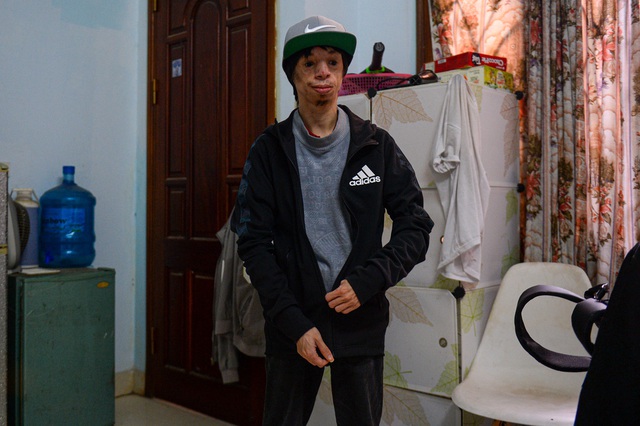 Remembering his school days, young Duc Chinh was very eager to go to school like many other children, but here, he became the focus of his friends who deliberately teased him every recess. "Everybody thinks I can't go to school, even saying 'because of my disability, I should be supported by my teachers'. The insults are so many that I can't tell them all in one day."Chinh confided.
However, he thinks that there is no need to condemn friends from the past to the present for a few insults while joking or arguing.
The young man added: "The difference in appearance is normal. Some people are pretty, some are ugly, some are fat, some are thin. And there will be bad comments, comments, gossip, even startling people. and scared to see me…it's true.
I think, life was born and the path was chosen like that, so surely no one stops in the middle… The disparagement will also fade over time if we don't take it as pain and scream. . And I have found relationships: friends, teachers, comrades… not too interested or used to my face and personality".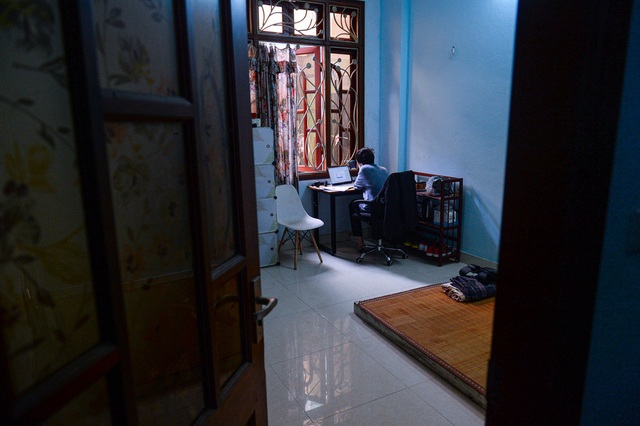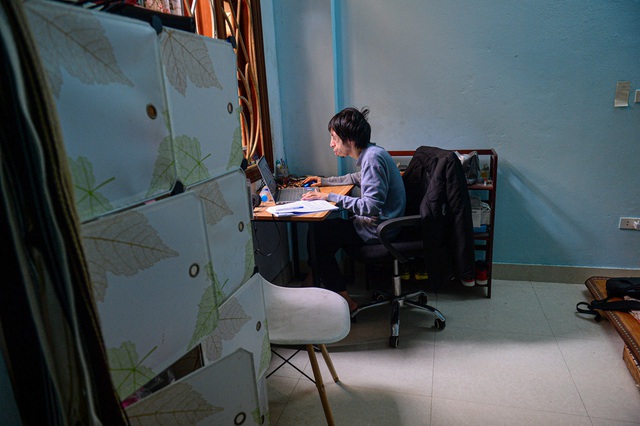 Being yourself while doing scientific research
When he was acquainted with basic chemical experiments and reactions in grade 2, Chinh saw his "future" and began to seriously pursue Chemistry. Before, his score was only average, but since the 8th grade, Thai Binh boy has improved in academic performance, becoming a good and good student. 9.
In high school, Chinh was impressed with Polytechnic University through the introduction from people and websites, so he decided to plan to prepare for the entrance exam.
"Due to my early identification and goals, right from the 10th grade, I focused on the natural course (Mathematics, Physics, Chemistry) with a focus on Chemistry. In addition to the classroom hours, I studied other subjects. classes organized by the school itself (on Sunday mornings) Besides, I reworked the old question papers of my brothers and sisters in the exam preparation center, looking for multiple-choice materials related to chemistry. As a result, I passed the University of Science and Technology with 25.5 points."Chinh shared.
Packed in Hanoi to study, his family was worried that he would face many difficulties and obstacles, but Chinh always kept his confidence. Staying with his cousin, Chinh has someone to monitor his health, help him when he's sick, and remind him to study. After 5 years of going to school, male students regularly cycle to school, without missing a day, regardless of the weather.
When he went to university, Chinh was well received by his friends and devotedly supported by his teachers. He was also surprised that his friends not only did not discriminate, but also helped him in the process of receiving and absorbing knowledge. One day, when he could not hear the teacher clearly, Chinh was taught by friends and lent him documents for reference.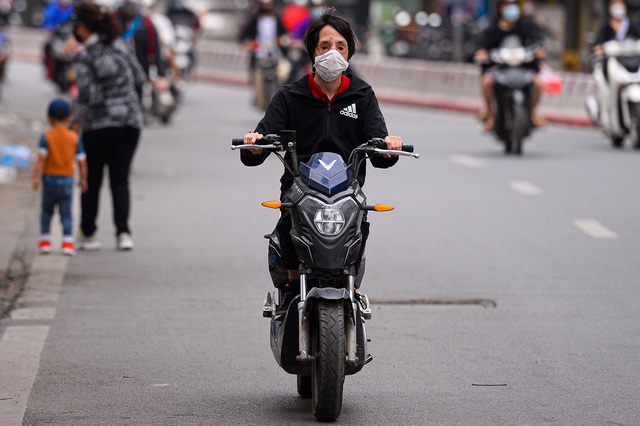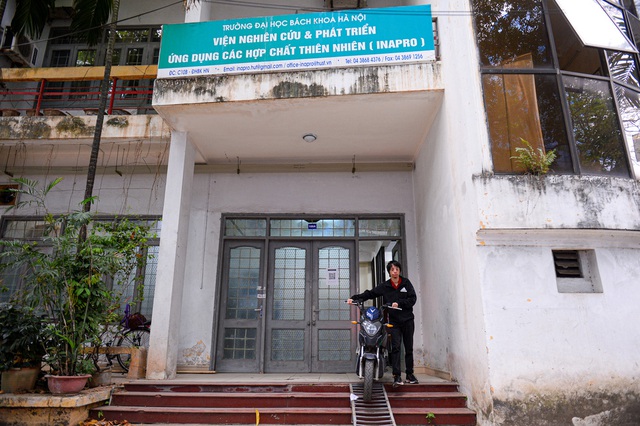 In 2017, he graduated with honors with a score of 3.2 and was in the top 20 of the school. Particularly for the first semester of year 3, he was one of two people who received an A-class scholarship with a score of 3.9/4.
After graduating, Chinh continued to stay in graduate school and worked as an assistant in research and development of natural compounds applications at Hanoi University of Science and Technology. Here, along with research, he has the opportunity to guide students to do scientific experiments, research and develop new topics with high practical application.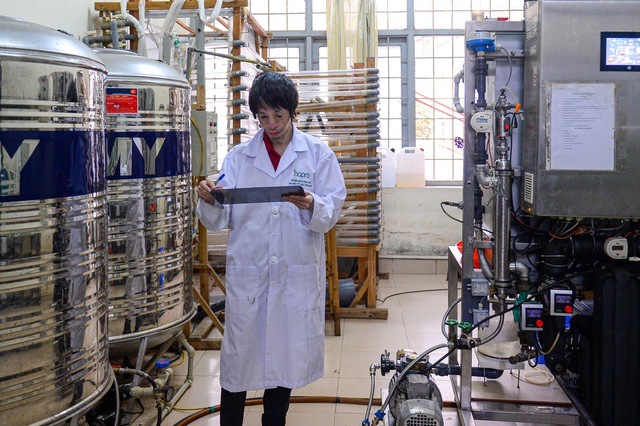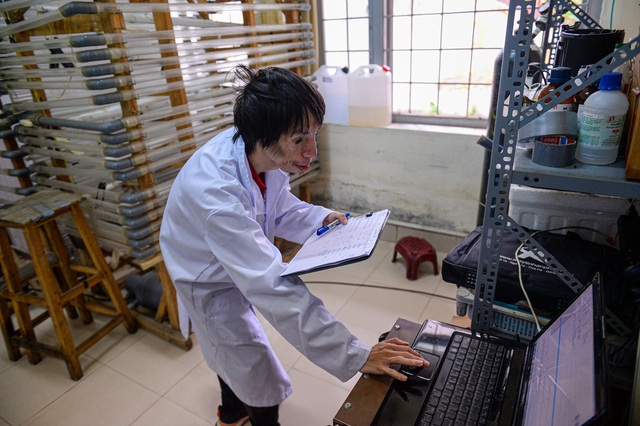 Currently, Thai Binh has graduated with a Master's degree in Chemistry and continues his scientific research journey.
Regularly every 7 am, Chinh is at the laboratory and does his main job of researching processes and equipment in chemical technology.
With a focus on research into advanced oxidation processes for wastewater treatment; Researching technology to concentrate juice at low temperature and normal pressure, Master Chinh hopes to bring positive impacts to the practical development of society.
https://soha.vn/thac-si-khong-tai-toi-chiu-loi-dang-cay-xuc-pham-de-bay-gio-hai-qua-ngot-20220404013124255.htm
You are reading the article
"I accept bitter and insulting words to now pick the sweet fruit"

at
Blogtuan.info
– Source:
cafebiz.vn
– Read the original article
here