As we all know, calcium is one of the nutrients that effectively support children to increase height. Calcium supports the formation and development of bones and teeth and helps maintain bone density and bone mass during adolescence.
At the same time, calcium also plays an important role in ensuring that muscles and nerves work properly, as well as in the release of hormones and enzymes.
Experts recommend that if children and infants do not get enough calcium, they will be at high risk of rickets, sometimes painful and weak muscles.
Adolescents, especially girls, whose diets do not provide nutrients for maximum bone building are at risk of developing osteoporosis, which increases the risk of fractures due to weakened bones, or some disabled as a bow leg.
To ensure adequate nutrition for children to grow healthy and increase in height, mothers can refer to how to prepare 3 calcium-rich dishes.

Steamed shrimp with egg
The main ingredients of this dish are shrimp and eggs, eggs are rich in protein, fat, vitamins, calcium, iron and other trace elements.
For young children, steamed food is soft and smooth, can be eaten often, but if you want the nutritional value of steamed eggs to be better and have a calcium supplement effect, you can add a dried shrimp or shrimp when steaming the eggs.
Shrimp shell is rich in calcium, phosphorus and other trace elements, should add a little when stewing or stir-frying vegetables, has the effect of improving freshness, the combination of egg and shrimp skin helps to supplement calcium well. can play an important role in strengthening muscles and bones for children.
In addition, this dish also has carrots as ingredients, the nutritional value of carrots is also very high, contains many carotenes and vitamin A, which strengthen and protect children's eyes.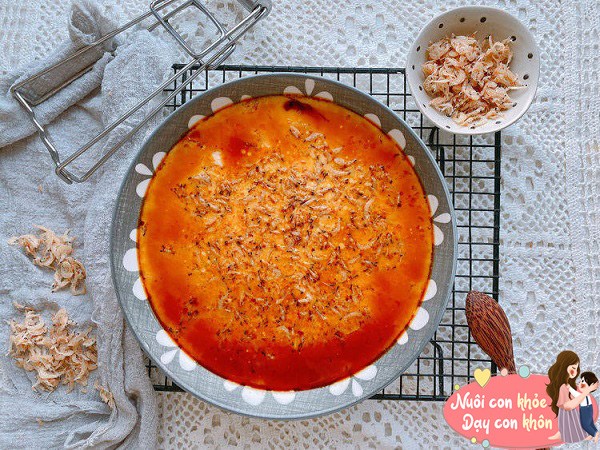 For young children, steamed food is soft and smooth, can be eaten often.
Material: Eggs, fresh or dried shrimp, warm water, carrots, salt, soy sauce, sesame oil.
Processing
Step 1: Break the prepared eggs into the bowl, add a little salt, beat with a whisk, stir until the eggs are completely dissolved.
Step 2: After stirring well, add an appropriate amount of warm water (boiling, but not hot, about 35 degrees warm water) and stir again.
Step 3: If there are many air bubbles on the surface of the egg after stirring, you can use a sieve or use a spoon to skim off the air bubbles on the surface to reduce the foam in the egg, making the steamed egg look softer.
Step 4: After that, prepare the remaining ingredients, after peeling the carrots, cut them into pieces and mince them as finely as possible.
Step 5: Spread the prepared carrots evenly into the pot, then sprinkle the shrimp evenly over the prepared egg, then put in a steamer over medium heat.

Tofu stewed shrimp soup
Tofu is high in protein and contains all the essential amino acids that the body needs. It also contains fats, carbs, and a variety of vitamins and minerals. In particular, calcium in tofu contains up to 20% of the RDI.
Coupled with a total calorie count of just 70, tofu is a nutrient-dense food. The trace content in tofu can vary, depending on the coagulant used for processing. Nigari adds magnesium, while precipitated calcium increases calcium content.
According to nutrition experts, mothers can prepare some nutritious dishes from tofu for children.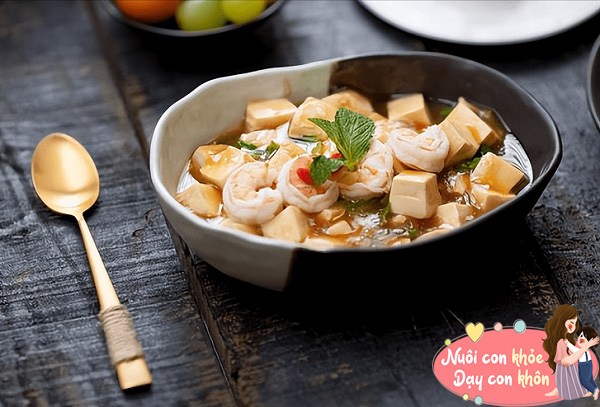 Tofu is high in protein and contains all the essential amino acids that the body needs.
Material: Shrimp, tofu, egg, ginger, red onion, salt, a little pepper.
Processing
Method 1: Cook shrimp first, if shrimp is frozen, you can defrost first, drain, wash tofu and cut into small pieces for later use.
Method 2: Heat the pan, pour an appropriate amount of oil, fry the ginger slices until fragrant, put the shrimp in the pan and sauté over medium and low heat until the shrimp is oily.
Method 3: Put the cut tofu in a pot, pour half a bowl of boiling water in, bring to a boil, turn to medium-low heat and cook for about 15 minutes.
Method 4: Break the eggs into a bowl, pour into the pot along the sides of the pot, stir well, do not use too much force, otherwise the tofu will be crushed.
Method 5: Sprinkle salt and pepper to taste and cook for a few more minutes, after stirring to taste, you can turn off the stove, after turning off the stove, you can sprinkle more green onions.

Seaweed soup cooked with shrimp
Seaweed is rich in minerals and trace elements such as protein, vitamin K, magnesium, calcium… In fact, it often contains higher levels of these nutrients than most other foods.
Seaweed also contains small amounts of other nutrients: omega-3 and omega-6 fatty acids, vitamins A, C, E, phosphorus, B vitamins and choline. Seaweed is a rich source of antioxidants. It also contains high amounts of sulfated polysaccharides (sPS), which are beneficial plant compounds believed to contribute to health benefits.
Seaweed shrimp soup is a particularly delicious soup. Dried shrimp has a strong aroma, the taste of seaweed is very delicious and especially nutritious. Because of this, the mother made a seaweed soup to cook shrimp for the baby.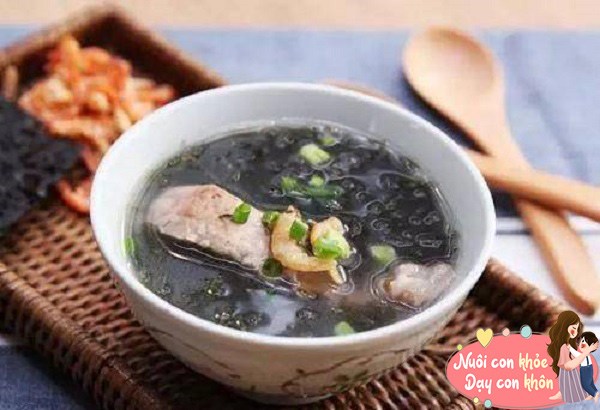 Seaweed is rich in minerals and trace elements such as protein, vitamin K, magnesium, calcium… good for children to develop.
Material: Fresh seaweed, eggs, dried or fresh shrimp, some green onions, salt and necessary seasoning.
Processing
Step 1: Chop fresh seaweed and place in a bowl. Then we cut the green onions to share with the shrimp. Next crack the egg and stir well for later use.
Step 2: Heat the pan and add a little oil, put the dried shrimp and onion in the pan, fry until fragrant. Note at this step, the scallions and dried shrimp must be fried until golden brown so that their aroma blends into the soup, making the shrimp and seaweed soup more delicate and richer.
Step 3: After stir-frying the ingredients, add water to boil, proceed to add spices to taste.
Note: Stir-fry shrimp and scallions until golden brown first, then add water. In this way, the shrimp and shrimp seaweed soup will be more fragrant and delicious. y.
You are reading the article
Seize the golden age to grow up, let your child eat this food to grow taller faster

at
Blogtuan.info
– Source:
Eva.vn
– Read the original article
here