Tài chính
Only a few sessions evaporated 20 billion USD
Shock reduction, many people deflate
The market continues to be under great selling pressure. After dropping hundreds of points in the previous 5-6 sessions, many stocks increased again at the beginning of the trading session on April 19. However, massive sell orders were launched in the last few minutes of the session, causing the VN-Index to collapse, dropping more than 26 points to close to the threshold of 1,400 points.
Thus, compared with the peak of 1,524 points at the beginning of April, the VN-Index has lost about 120 points, equivalent to a decrease of about 8% in a very short time. Total, stock market decreased by about 20 billion USD. Many stocks have dropped 60-70% in the past few weeks.
"Investing 1.6 billion, in the past 2 weeks, it has lost 700 million. The market dropped too much," an investor in Dong Da, Hanoi shared.
Many people do not understand what is happening with the stock market, when a series of forecasts previously predicted that stocks will continue to go up in 2022. The VN-Index will rise to 1,600 points, even 1,800 points. "Who explains what's going on with the stock market," lamented an investor on a stock investment forum.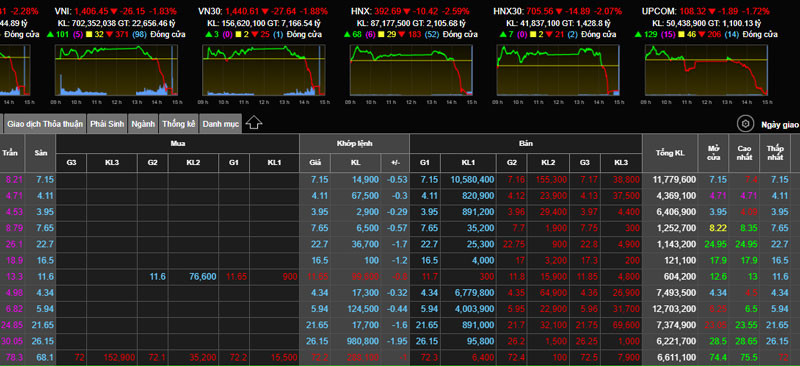 "My account was cleared by the securities company. Goodbye to the stock market without a date," another investor shared.
Mr. Nguyen Van Tuan, an investor in Ba Dinh, said that this was a shock to him because the market fell so quickly. Looking back and forth, in just a few sessions, the VN-Index lost hundreds of points.
Many people are concerned that the bullish phase cycle from 2019-2021 has ended and now is the time for a downward correction. The reason is that there is no new cash flow, while the old cash flow may be withdrawn when business activities recover and cash flow is tightened.
Some investors also believe that the hot cash flow is immobile after former FLC chairman Trinh Van Quyet was arrested for "manipulating the stock market".
"The stock market is becoming cleaner, more transparent. However, in the short term, a certain amount of money poured into stocks of hot stock groups may have been withdrawn, or remained dormant after drastic moves by state management agencies," said Ms. Do Thi. Hien, an investor in Thanh Xuan, commented.
In fact, in many recent sessions, the group of hot stocks dropped very strongly, many stocks dropped 30-70% in a very short period of time.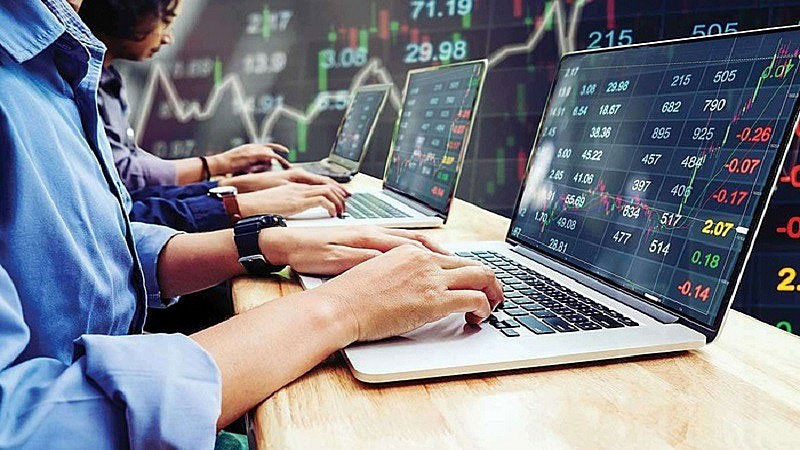 In the trading session of April 19, hot stocks such as "Louis", "FLC", "DNP" mostly fell to the floor with a buying surplus of zero.
FLC shares of FLC Group fell to the floor at 7,150 dong/share with a selling surplus of more than 10 million shares. From the beginning of the year until now, FLC stock has decreased more than 3 times, from nearly 23,000 VND/share to the current threshold of 7,000 VND. ROS also decreased more than 3 times, from over 150000 VND/share to 4,340 VND/share at the end of the trading session on April 19.
The group of stocks "family APEC", "family DNP" as well as many stocks in the real estate industry… continued to decline, many stocks lost tens of percent compared to the peak set in the first week of January 2022.
Real estate stocks were negatively affected after the event that Tan Hoang Minh put a deposit on the land plot in Thu Thiem area, and then the cancellation of the 10 trillion bond block of this group. The psychology of investors was further affected when there were rumors about leaders of many businesses in the market. Many real estate codes decreased by 40-50% such as DIG, CII, QCG, NBB, SCR, CEO…
Stalking to catch the bottom
"Looking at the price, it seems to have dropped significantly. In just a few sessions, VN-Index lost hundreds of points. It is likely that there are stocks that have entered the low or oversold level," said Mr. Do Duong, an investor in District 2, Ho Chi Minh City.
An account on FB advised investors not to panic and sell at all costs. Accordingly, the VN-Index's relative strength index RSI, which measures the degree of change in stock prices relative to past price movements, has entered the oversold zone.
According to this account, the market will recover soon and investors should not panic as they can cut their losses at the bottom.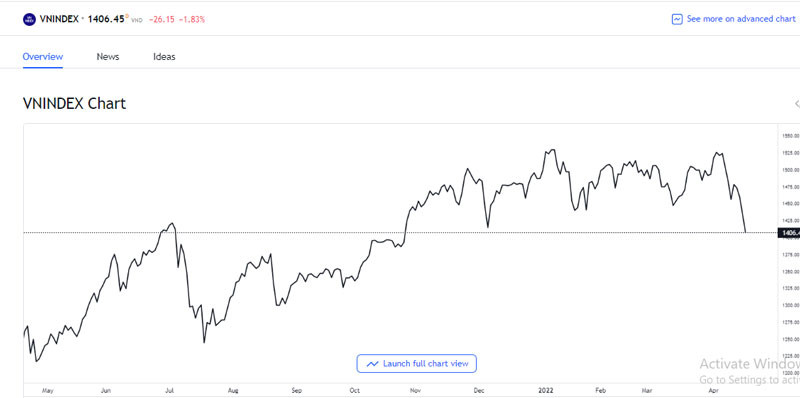 Some investors standing outside the market think that everything is returning to the right value. The market may end the 2019-2021 bull phase cycle and have to correct down before rising again. The market is also under pressure from bank interest rates tend to increase and cash flow is strictly controlled when pouring into real estate or securities. This is one of the measures to prevent possible inflation like in 2011-2012.
In fact, in the last few trading sessions, stocks with good or bad business results or prospects were sold mercilessly. According to brokers of some securities companies, this is the time when many bottom-fishing long-term investors buy stocks with good fundamentals and prospects.
Mr. Phan Van Nhan, an expert at SSI Securities, said that the stock market might soon recover. However, the market will now be "harder to play" than before, there will be no more one-way up.
According to Mr. Nhan, the stock price will fluctuate according to the prospect of production and business. Any business with good profits will rise. Some industries have good prospects such as seafood, logistics, consumption, retail… But it also depends on the business.
The important issue is that the market is witnessing a weak cash flow and speculative cash flow. In the past time, stocks with large trading volume, speculative stocks, stocks rising because of expectation… all dropped sharply.
Mr. Phan Van Nhan analyzed that the economic outlook is still good. In terms of macroeconomics, after the pandemic, economic growth will be better. Inflation is still contained within the allowable level and Vietnam is still in the money injection phase.
In the opposite direction, Russian-Ukrainian War still unpredictable movements, putting pressure on oil prices… causing high global inflation. The central banks of the countries will limit money injection and gradually tighten the currency due to inflation. World stocks have a bad trend, thereby affecting investor sentiment in Vietnam.
Some international organizations have a positive assessment of Vietnam's economy and securities. Dragon Capital believes that Vietnam's economy can grow by 7.0% this year, if the economic recovery package is implemented early and effectively, 8.6% growth is an achievable target.
M. Ha
You are reading the article
Only a few sessions evaporated 20 billion USD

at
Blogtuan.info
– Source:
vietnamnet.vn
– Read the original article
here