Tech
A 9th grader in Vietnam and the idea of ​​preserving the beauty of death
In fact, Diaphonization is not a new technique for making slides, first developed by Schultze in 1897, and then modified by many researchers. The first complete specimens using this method appeared in 1927, and continue to be used by comparative anatomists, vertebrate embryologists and anyone else interested in shape. or skeletal growth.
In Vietnam, this technique has also begun to appear in the past few years, but it is relatively rare for a 9th grader to be able to create such beautiful specimens.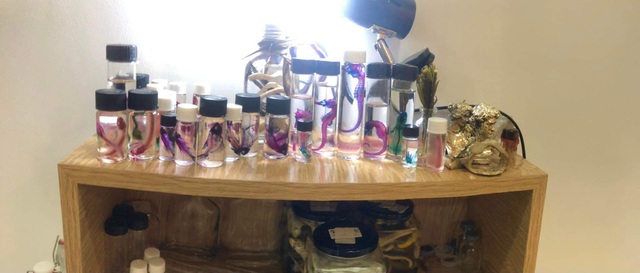 Starting from the interest in scientific research, and then wanting to make the death of animals have its own beauty, Nguyen Tien Minh Duy (born in 2007, living in Buon Ma Thuot) has been researching and creating Nearly 50 specimens were obtained by this method. Accordingly, the article I shared on the Facebook group of Vietnam Designer Community has attracted a lot of attention and received about 17,000 likes, nearly 900 shares and comments after only 16 hours of posting.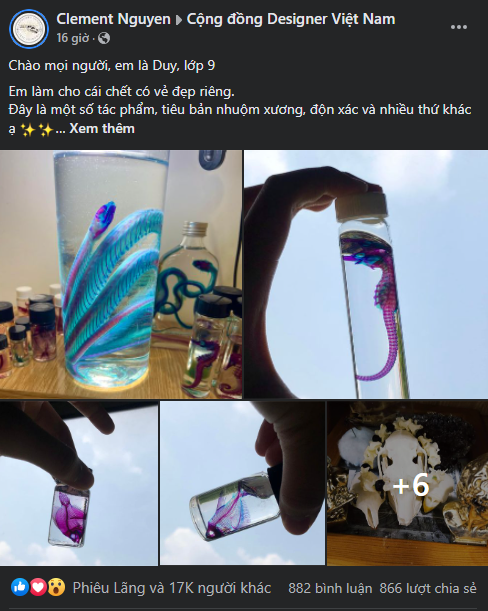 In order to get materials to make specimens, Duy had to buy and ask for animal carcasses from aquarium stores, pet shops as well as brothers and relatives around him. In addition, the chemicals used to make specimens are also very difficult to buy in Vietnam, so I have to ask acquaintances from the US, Canada, and China to buy them and send them back.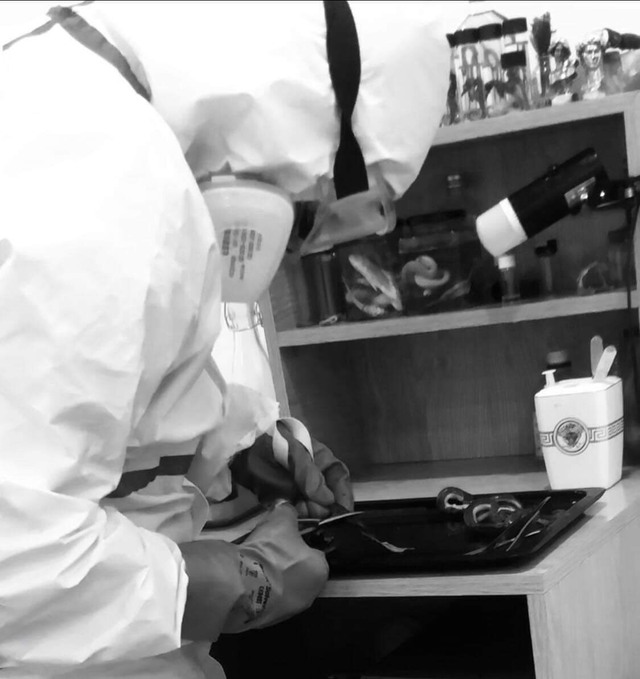 Starting to make specimens from 7th grade, after 2 years, Duy's specimen collection now has nearly 50 specimens, including australian dragons, seahorses, snakes, iguanas, lizards.. Normally, it will take a few weeks to create a complete specimen, but with some large specimens it can take up to several months.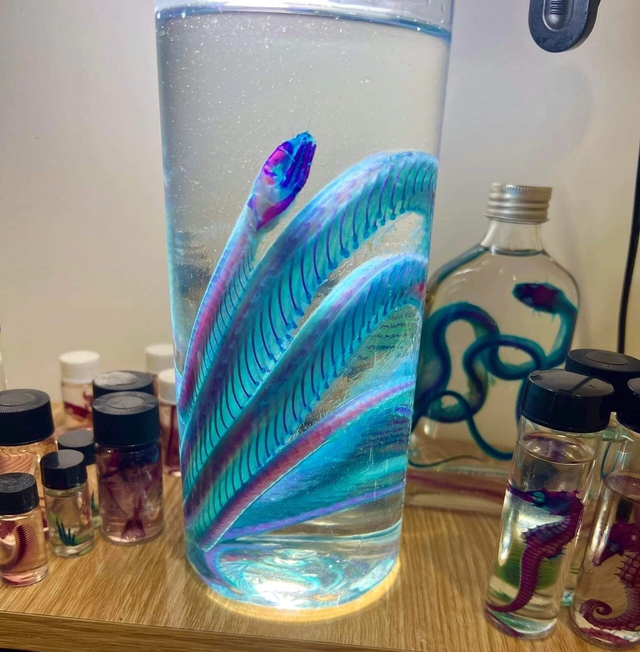 The process to make a complete specimen has many stages, but can be summarized in a few basic steps. The first stage of this multi-step process is specimen cleaning. It is recommended to remove the internal organs, and hair for the respective animals. Next, the animal tissues are dipped in a solution containing the enzyme trypsin. This enzyme leaves the collagen-binding protein intact, creating a ghostly translucent specimen, but will not break.
Next, the specimen was "bathed" in a solution containing the red dye Alizarin, which stains the bones red. Likewise, cartilage was also stained blue using Alcian blue. When the treated specimen was placed in glycerin, an amazing thing happened: The opaque connective tissue seemed to disappear and became transparent, revealing the colored skeleton inside. This is because glycerin has the same refractive index as collagen, allowing light to pass through unimpeded.
Today, the technique of Diaphonization is not widely used in the scientific field. Advances in imaging technology have rendered this practice obsolete, although it is still practiced by many as an art form.
This type of specimen requires the operator to have very high skills, knowledge as well as expertise in terms of laboratory safety, because it uses more than 10 chemicals, most of which are very toxic, not It only harms the worker, it is also harmful when dispersed in large quantities with high concentration into the surrounding environment.

https://genk.vn/cau-hoc-sinh-lop-9-tai-viet-nam-va-y-tuong-luu-giu-ve-dep-cua-cai-chet-2022042111495553.chn
You are reading the article
A 9th grader in Vietnam and the idea of ​​preserving the beauty of death

at
Blogtuan.info
– Source:
genk.vn
– Read the original article
here