Du Lịch
5 "crazy" ideas of the aviation industry
In the late 1970s, the US government deregulated many federal regulations with the airline industry. Specifically, they removed federal control over fares, routes, and the entry of private airlines into the market.
As a result, a host of new airlines emerged from the 1980s on, and some of them were unusually "crazy" ideas.
5 Crazy Aviation Ideas: Pet Airlines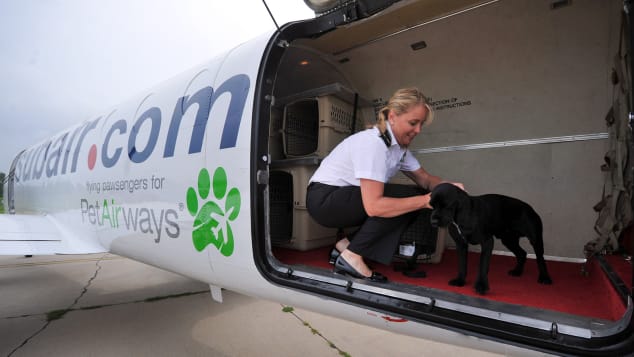 Founded in 2009 in Delray Beach, Florida, Pet Airways is an airline dedicated to pets like cats and dogs.
Pets will board the plane without an owner, in a specially adapted main compartment. Each plane can carry around 50 pets, with "Pet Servant" checking them in every 15 minutes. Before take-off, the animals were given a pre-flight walk and rested in specially designed airport bathrooms.
The idea is that pet owners would rather go all the way alone through a dedicated airline than let them board a private flight in the cargo hold of a regular plane. Pet Airways describes keeping pets in the cabin as very dangerous for their lives.
The airline has been in business for about two years, serving dozens of US cities including New York, LA, Denver, Chicago and Atlanta. Ticket prices start at $150 and can go up to $1,200 depending on the size of the animal.
In 2012, the airline ran into financial difficulties and began canceling flights, before shutting down altogether the following year, after taking away about 9,000 pets.
5 crazy ideas of the aviation industry: Flying with "beauties"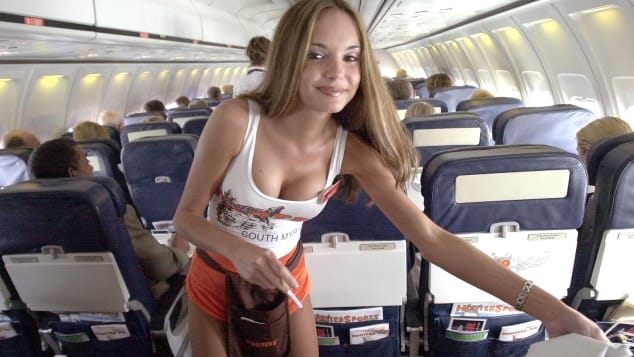 In 2002, Robert Brooks, president of the Hooters restaurant chain, bought Pace Airlines, a charter airline with a fleet of eight, mainly Boeing 737s. The following year, he renamed it Hooters Air, an airline. not designed after the restaurant chain of the same name.
Its distinguishing feature, in addition to its bright orange design featuring a big-eyed owl, two people known as "the Hooters" were on board, mingling with passengers and hosting quizzes with prizes. . These two girls will wear orange shorts with a white top or belt, the uniform of the restaurant chain.
However, they do not serve food or do in-flight duties as these are performed by three FAA-certified flight attendants.
The airline, based in Myrtle Beach, South Carolina, a resort hotspot known for its golf courses and beachfront cottages, has lost direct air traffic during a general restructuring of the airline industry. non-commercial after 9/11.
Due to its pocket-friendly prices and direct connections to cities like Atlanta, Newark and Baltimore, Hooters Air has attracted passengers of a wide variety, but mainly golfers and tourists.
However, it was not successful enough to survive and was retired in early 2006, due to rising fuel prices following hurricanes Katrina and Rita.
5 Crazy Aviation Ideas: God's Airline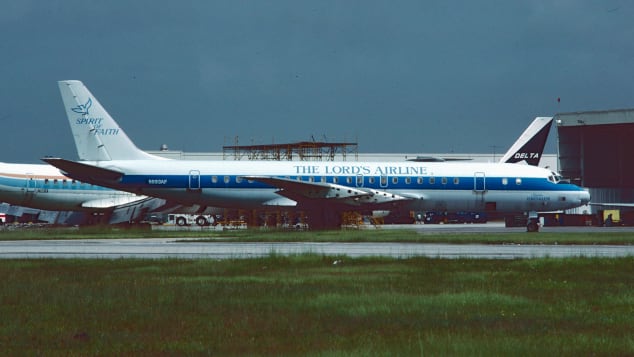 This airline strictly prohibits alcohol on board. They have the Bible and the Torah instead of the magazine, only show religious films, and a quarter of the ticket price goes to fund missionary work. These are the unique features of God's Airline, founded by New Jersey businessman Ari Marshall in 1985, when he purchased a DC-8 aircraft. This is also the only plane of the airline of God.
The plan is to have three weekly flights from Miami to Ben Gurion Airport in Israel, providing a direct route to Jerusalem. At that time, religious pilgrims who wanted to get to the Holy Land had to catch a connecting flight to New York. "The Russians have their airlines. The British have their own. Playboy too. So why doesn't God have his own airline?" Marshall said in 1986 in the newspaper The Associated Press.
However, by 1987, the airline was not eligible for a license from the FAA because modifications and aircraft maintenance had not been completed. Investors became nervous and dismissed Ari Marshall, forming a new board of directors to run the firm.
However, after legal disputes between the new and the old, this particular airline was forced to dissolve.
5 crazy ideas of the aviation industry: Airlines allow passengers to smoke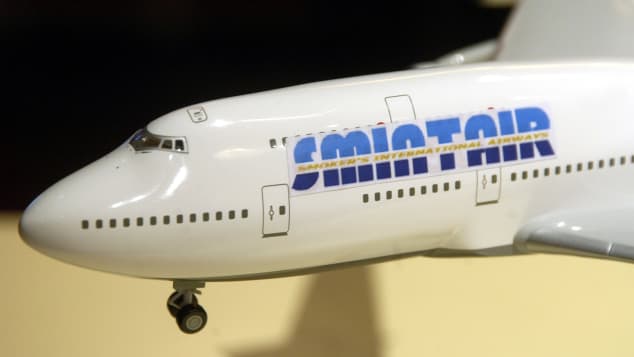 The FAA banned smoking on all domestic flights in the US in 1990. However, two businessmen William Walts and George Richardson from Brevard County, Florida, were not happy about this. In early 1993, they decided to circumvent the law by establishing an airline based on a private club. It requires a 25 USD membership fee and is only available to people over 21 years old.
The airline is headquartered at Space Coast Regional Airport in Titusville, Florida. The plan was to offer steaks and burgers on board, along with free cigarettes.
However, nearly a year after it was announced, the airline still has neither a license nor an aircraft. Although the founders are said to have gathered more than 5,000 members, the regulators refused to give Smokers Express permission to operate, causing the airline to disappear without ever taking off for a minute.
In 2006, this idea was revised by German businessman Alexander Schoppmann, who announced his intention to establish Smoker's International Airline, called SmintAir for short.
Schoppmann, who smokes 30 cigarettes a day, wants to launch a daily service between Tokyo and Dusseldorf, his hometown, home to large numbers of Japanese expats and the European offices of hundreds of Japanese companies.
Both countries still had a significant number of smokers at the time. However, SmintAir also suffered the same fate as Smokers Express: failed to raise the necessary capital to start operations and never went into full operation.
You are reading the article
5 "crazy" ideas of the aviation industry

at
Blogtuan.info
– Source:
danviet.vn
– Read the original article
here