After giving birth, the thing that mothers are most concerned about is whether they have enough milk to breastfeed. Because in addition to the precious but little colostrum, if mothers do not know how to stimulate milk, suck milk, it will lead to no milk or not enough milk for their babies.
After receiving a marriage proposal from her long-time boyfriend Hai Long – a young master of a notorious garment corporation, actress Salim (real name Hoang Kim Ngan) was really noticed even though she was a former employee. Ha Thanh's cult hotgirl at the same time as Chi Pu, Quynh Anh Shyn…
At that time, although people speculated that I was pregnantSalim remained silent. It was not until the last Lunar New Year that she officially announced her pregnancy and on April 4, "the proud bride" successfully gave birth to her first daughter.
After 4 months of being proposed, hotgirl Salim gave birth to her first daughter for Hai Long – a young master of a garment corporation.
After 2 weeks of "promoting", Salim recently confided about her milk stimulation with a wave of 130ml milk bottle: "My milk is pumped at least this amount on each side. There was no milk in the first week and the milk came back very little, but my breasts were tight so I was a little stressed. Stress the sound of the baby crying because he is not used to it. I do all sorts of ways to unclog milk ducts: in the morning, I eat sticky rice, porridge with turmeric loin (the turmeric meat dish I don't like to eat, but my mother says it's good, so I have to eat it), drink 3 liters of warm water, have a good mood, sleep If you get enough sleep, the milk will gradually come back.
I think eating and sleeping enough, a comfortable mood is the most important, after that, mothers can supplement with functional foods or milk tea. I just need enough milk for my baby, I don't want a lot of milk, but it's also very hard to sit and pump."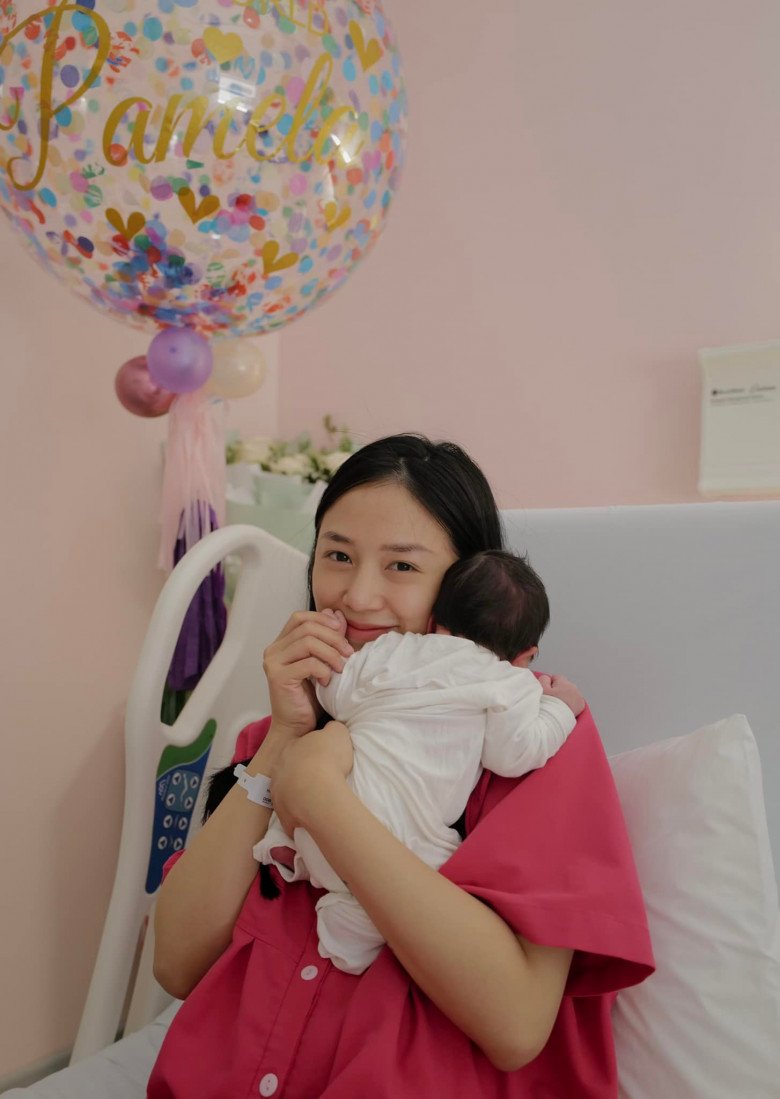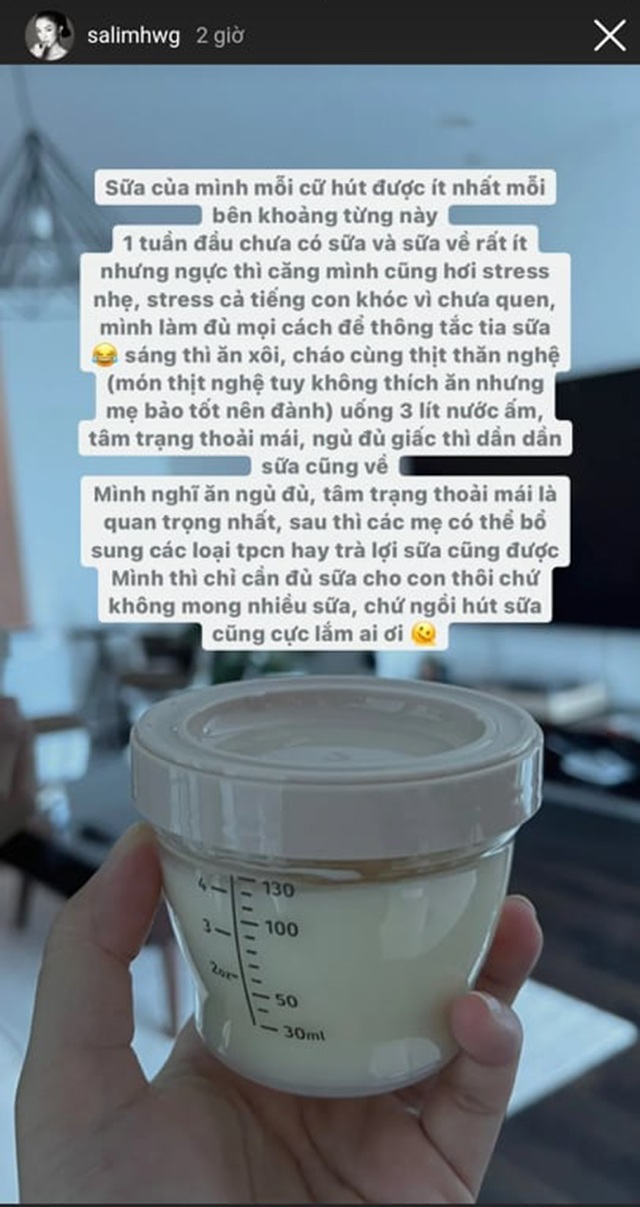 Salim revealed she was stressed because a week after giving birth there was no milk. After that, she had to stimulate milk so now she has enough milk for her nipples.
A few days earlier, the young lady of the garment group shared her feelings of "wanting to put the baby back in her stomach" because her mother was hunched over to suck or breastfeed, but the baby spit out a lot. This sharing of Salim quickly touched the sympathy of other breastfeeding mothers: "The story does not belong to anyone", "You look so pitiful", "It's so hard!", "The reality after giving birth"…
This shows that even though she is a "mom mom", taking care of Salim's children is not easy. She was still up at night, her hair messy, taking care of her baby and breastfeeding. Especially she was stressed because there was no milk and then had to work hard to increase milk after giving birth.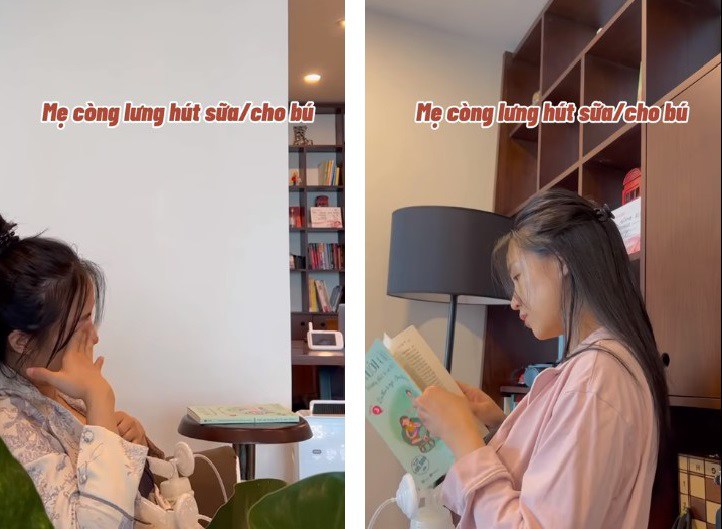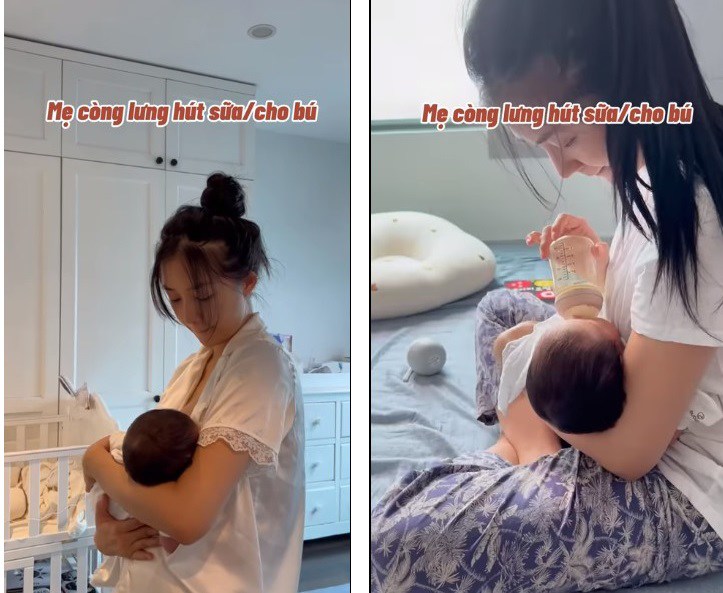 Salim even filmed a clip to lament about how he struggled to pump milk, sit for his baby…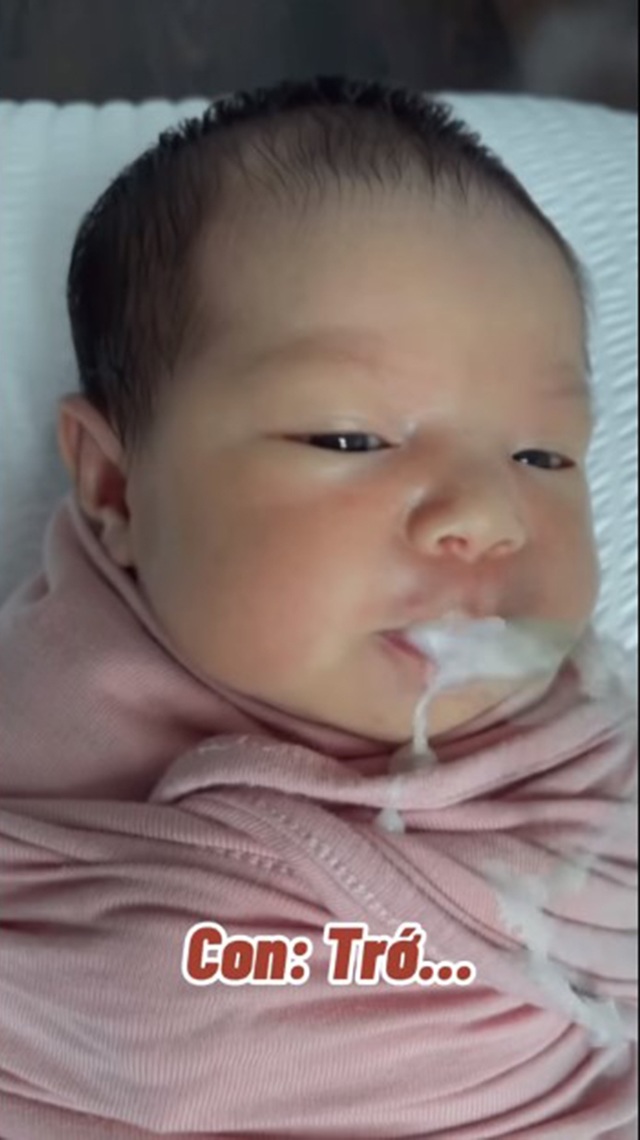 But I spit out a flurry of gut-wrenching looks.
Not only that, according to the photos and clips Salim shared, after giving birth, she had completely lost her neat appearance and "distilled water" charisma. Instead, it is the image of a mother who is dressed casually, her hair is tied up or tied up quickly, taking advantage of the time when she sucks milk for her baby, take a nap or read a few pages of a parenting book.
Fortunately, at present, Salim has enough milk to feed the child as desired. Hopefully she will maintain this milk supply and not have any more clogged milk ducts. And to be able to call for more "milk", Salim as well as other diaper mothers should apply some of the following methods:
– Healthy eating mode: You should not diet too much to avoid nutritional deficiencies. Instead, you should eat a variety of foods, only limit your intake of sweets, foods with a lot of fat…
– Drink enough water: Breast milk contains 90% water, so you need to drink about 2-3 liters of warm water every day including water, milk, soup, soup…
– Breastfeeding often: This will help your body adjust its milk production to suit your needs. Therefore, if you want to have a lot of milk, you should take the time to breastfeed or pump regularly.
– Regularly massage breastsMassage around the breasts will increase the body's secretion of prolactin and oxytocin, helping to stimulate milk secretion. In addition, massage also contributes to dissolving curds, if any, thereby stimulating the flow of milk in the lobules and milk ducts, this is also a way to make breast milk more and more regular.
– Keep your mind at ease: Having enough sleep and being comfortable is also one of the factors that help breast milk come back more. So, no matter how busy you are, you should make time for adequate rest.
You are reading the article
Having a baby with a rich husband, hotgirl Ha Thanh has messy hair, doesn't like turmeric meat, she still has to eat

at
Blogtuan.info
– Source:
Eva.vn
– Read the original article
here