With these 4 reasons, NAN SupremePro 3 is currently a line of milk that supports children's resistance to increase, which is being interested by many Vietnamese mothers.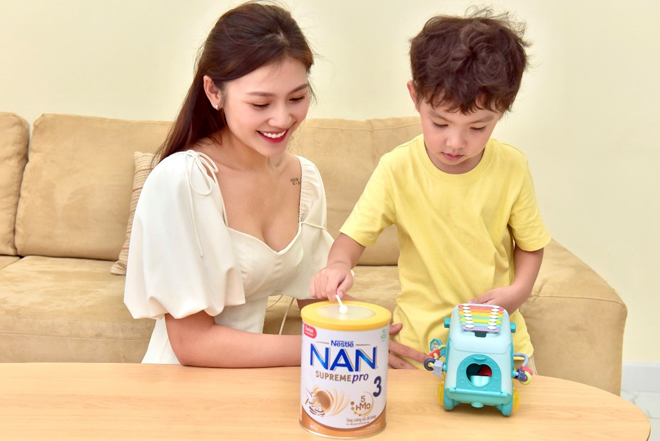 Modern Vietnamese mothers increasingly prefer to supplement nutrients for their children with this "super resistant" milk line.
Breakthrough formula supplemented with 5HMOs – Superior intestinal immunity booster
The reason WHO recommends that babies be breastfed for at least the first 6 months of life is because breast milk not only provides children with enough nutrients to nourish the body, but also contains substances that help strengthen resistance and protect the immune system. The translation to keep your child healthy is HMO. HMO is the third most abundant solid in breast milk, after Lactose and fat, has a good effect on resistance by helping to nourish beneficial bacteria in the intestinal tract, creating traps for harmful bacteria. , help strengthen the intestinal lining as well as help balance the immune response.
It is easy to see that HMOs have a diverse composition with outstanding content in breast milk
With continuous efforts in nutritional research, Nestlé has introduced NAN SupremePro 3 with an improved formula supplementing up to 5HMOs including 2'FL, DFL, LNT, 3'SL and 6'SL which are representative of the standard. represents the three main subtypes of HMOs. This is one of Nestlé's important steps when it comes to adding more and more types of HMOs with diverse groups according to their journey into nutritional milk for babies, because it shows that milk formula is increasingly developed. , take advantage of the outstanding resistance benefits for children's health. The HMOs added to NAN SupremePro 3 have been certified safe by the FDA (US Food and Drug Administration) and EFSA (European Food Safety Authority).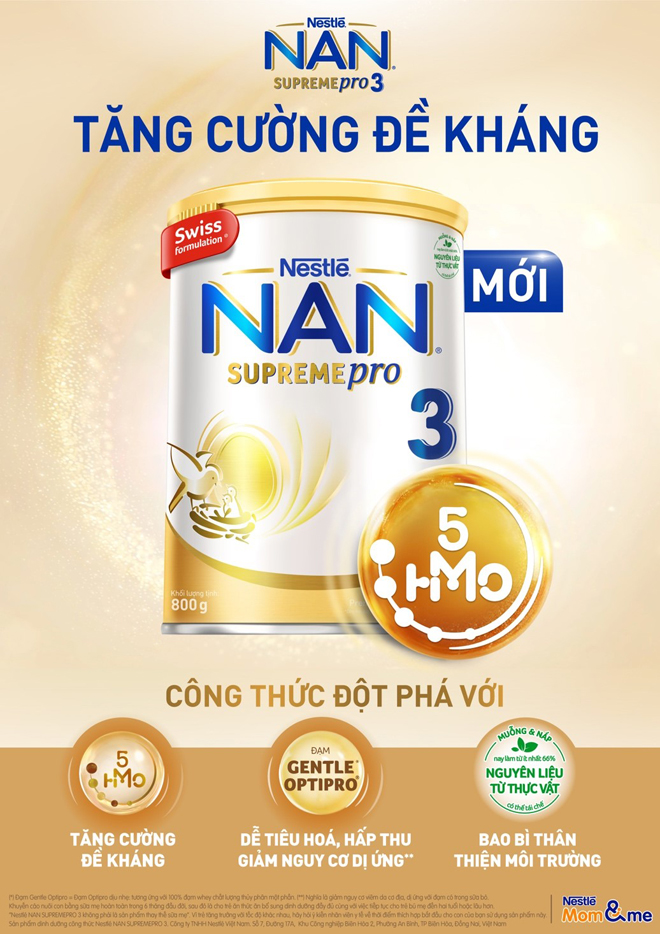 NAN SupremePro 3 – Breakthrough formula to help children strengthen their resistance
According to the results of clinical studies, 5 types of HMOs (2'FL, DFL, LNT, 3'SL & 6'SL) have been shown to help support the development of the intestinal immune system, reducing pathogenic bacteria in the gut. stool, establishes a healthy gut microbiome, helps reduce respiratory infections, and helps relieve some types of diarrhea. With a healthy gut, enhanced resistance, moms and babies can go back to school healthy, study and play comfortably.
Unique technology to create partially hydrolyzed protein (Gentle Optipro protein) – The solution for good absorption and healthy digestion
NAN SupremePro 3 also contains high-grade protein Gentle Optipro – a unique protein hydrolysate technology from Nestlé that supports healthy digestion and easy absorption by cutting down protein molecules in milk, and also helps children prevent risk of allergies (eczema).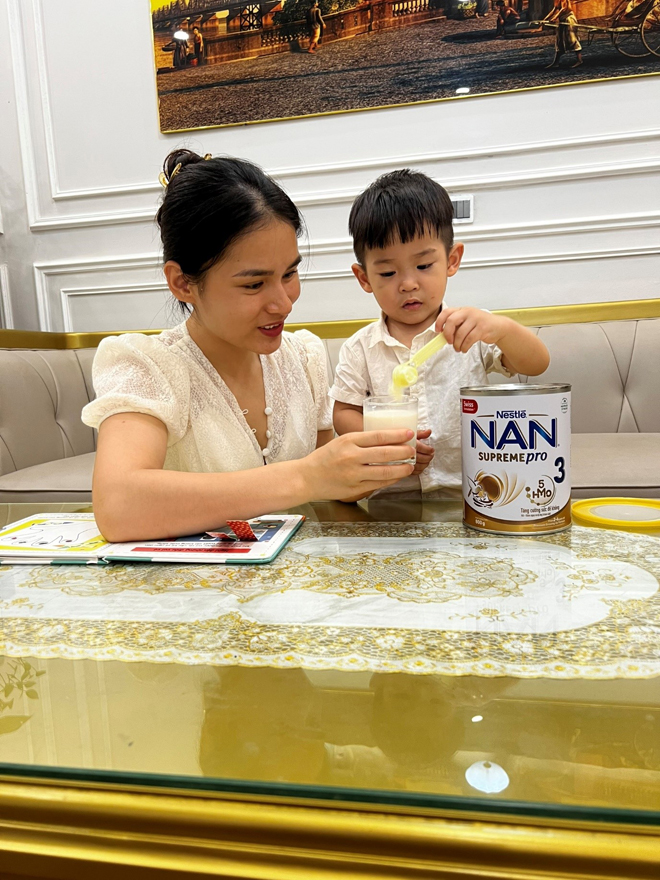 Because 70% of the immune system is located in the intestinal tract, when children have healthy digestion and good absorption, their resistance will be stronger.
Pioneering environmental protection – Protecting future generations
As one of the leading multinational corporations in the Food and Beverage industry, Nestlé not only protects the health and development of children but also joins the trend of environmental protection, towards the Live green to protect future generations. Specifically, the NAN SupremePro 3 has a spoon and lid made from at least 66% recyclable plant-based materials. Besides, cans and tin lids are also used for recycling purposes easily, saving raw materials as well as limiting solid waste into the environment.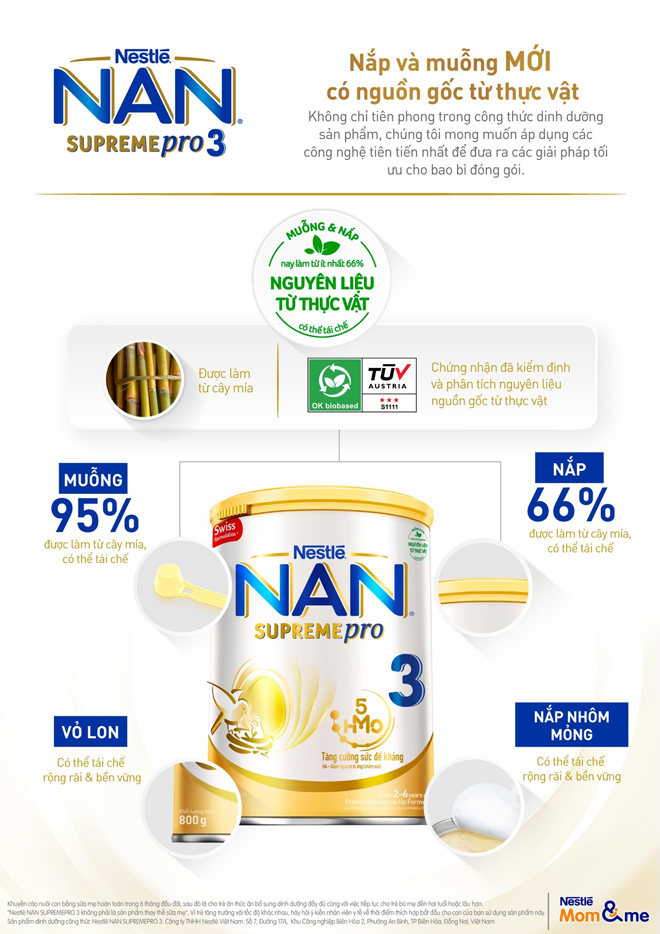 Not only focusing on improving nutrition research, Nestlé also protects children's living environment, towards a future with better environmental quality and quality of life.
100% manufactured and imported in full cans from Germany
NAN SupremePro 3 is imported genuine in cans from Germany by Nestlé Vietnam, with labels containing necessary information in Vietnamese such as: ingredients, quantity, packaging, preservation, instructions for use … so that parents can easily read and learn more information about the product along with the QR code on the back of the can to help mothers easily check, trace the origin, avoid buying fake products/ Poor quality directly affects the health of children. Ms. Minh Phuong (Ba Dinh, Hanoi) shared: "Currently, fake and poor quality products are made too sophisticated, so I only choose genuine products that can be checked by QR code. Since knowing that the innovative product NAN SupremePro 3 has a formula that completely adds 5 HMOs to help my child increase resistance, and is genuine distributed in Vietnam, I have started to learn and let my child use it, steal my baby's heart better income, much less sickness."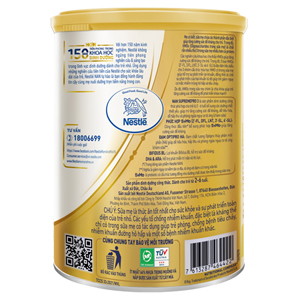 It only takes 3 seconds for a mother to easily trace the origin of the can before buying milk for her baby with peace of mind. Information about the origin is also clearly shown on the back of the milk can
Parents who are interested in strengthening their child's resistance can immediately learn about the NAN SupremePro 3 product line with a breakthrough formula. Products are now widely sold at mom and baby store systems, large and small supermarkets nationwide.
You are reading the article
Wise Vietnamese mother explains 4 reasons to prefer super resistant milk

at
Blogtuan.info
– Source:
Eva.vn
– Read the original article
here