Business
There are driverless taxis in China
On April 28, Beijing granted China's first autonomous driving licenses to two driverless taxi operators (robotaxi) Baidu and Pony.ai.
The move marks an important milestone for China's self-driving ride-hailing industry, showing regulatory openness to take the vehicle a step further, industry experts said. Completely unmanned.
With the license, 14 autonomous, unmanned vehicles behind the wheel can carry passengers in a regulated area 60 km wide.2 in Yizhuang, a southern suburb of Beijing. At first, a safety supervisor will sit in the front passenger seat.
From April 28, users can order driverless taxis through the Apollo Go mobile app from 10 a.m. to 4 p.m., Baidu said. The company plans to add 30 such vehicles and continues to expand its fleet of driverless vehicles.
The company is focused on expanding its commercial robotaxi test services in more cities, said Wei Dong, vice president and chief safety operations officer of Baidu Intelligent Driving Business Group.
Meanwhile, Pony.ai has set up hundreds of pick-up and drop-off locations, including subway stations, parks, stadiums, commercial and residential buildings. Peng Jun, co-founder and chief executive officer of Pony.ai, said: "The approval to operate driverless vehicles in Beijing is a major milestone in the transition from autonomous vehicle testing to autonomous vehicle testing. provide robotic rides for public passengers".
Late last year, major Chinese tech firms such as Baidu, which operates China's most popular search engine (it bans Google), signed up to offer robot taxis (robotaxi).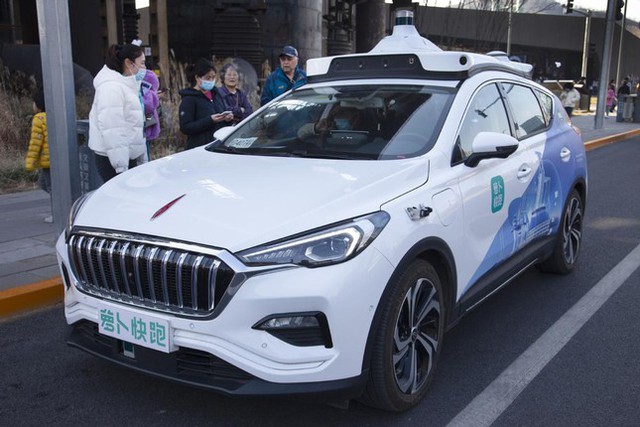 Beijing residents use Baidu's driverless taxi service. Photo: China Daily
Robotaxi connects to the Internet 5G
An EFE reporter took part in a demonstration tour in which the car moved without the help of a manual accelerator, steering wheel or indicator lights. Vehicles change speeds and stops on big data, deciding how to drive or interact with passengers.
The taxi does not move until all the doors are fully closed and the passengers fastened with their seat belts, while the navigation system turns on automatically, using the 5G Internet connection to receive data about their surroundings and Connect to the motion detection camera.
Officials at Baidu's Apollo tech park in Beijing explained that anyone living in specific areas can call robotaxi to get to work through the Luobo Kuaipao app, similar to Didi (the equivalent of Uber or Grab of China).
The fee schedule is similar to Didi's premium service: about 58 yuan (about 202,000 VND) for a 10 km trip. Driverless taxis are equipped with an assistive technology that helps the vehicle to stop in case of any breakdown at the nearest safe point.
A Baidu representative said during the demonstration (which took place on the roads near the tech park near Beijing) that the robotaxi had been tested more than 27 million kilometers without recording any accidents. Currently, cars are required to carry the driver safely in the driver's seat to monitor trips.
but Baidu announced on April 28 that its 10 self-driving taxis will serve passengers in an area of ​​60 km .2 in the sparsely populated Yizhuang district of Beijing.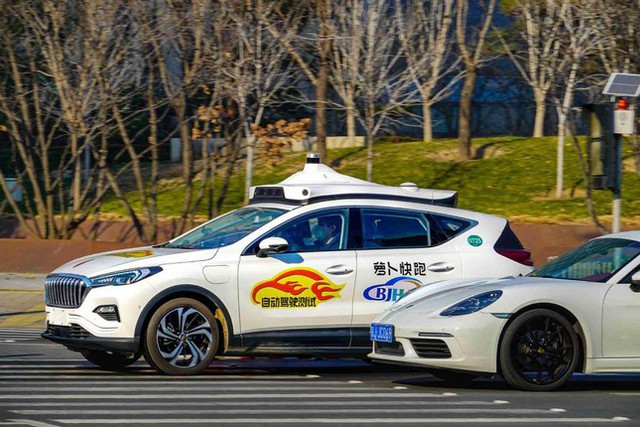 A Baidu driverless taxi rolls through the streets of Beijing. Photo: China Daily.
Huge market
In addition to Beijing, seven other cities are also offering Baidu's robotaxi service – whose English name is Apollo Go – and the company expects this number to grow to 65 cities by 2025 and 100 cities by 2020. year 2030.
The self-driving taxis are using the Hongqi EV, an SUV model jointly produced by Baidu and FAW, which is classified as a level 4 out of 5 levels of self-driving vehicles. To develop fifth-generation vehicles, Baidu is using technology from Chinese automakers such as WM Motor, Aion and Arcfox, which are owned by BAIC.
In June 2021, BAIC announced that it would produce 1,000 low-cost robots a year – about 500,000 yuan (about 1.7 billion VND).
China is looking to lead in robotics development in a tech competition with the US, where companies like Waymo and Lyft have been trying similar products in a market expected to grow 136 percent/year. years over the next decade, according to a study by Reportlinker.
Reportlinker believes that the market growth will be driven by high demand for passenger transport vehicles, technological developments in the automotive sector, increasing demand for efficient public transport and infrastructure development.
Baidu's own estimates present a staggering picture, with the market expected to surpass 1.3 trillion yuan (4.5 million dong) within a few years.
Baidu is not the only company offering driverless taxi services. Earlier this week, Pony.ai, an emerging self-driving car company based in Guangdong province (southern China), also received a license to operate 100 robotaxi over an area of ​​more than 800 square kilometers.2.
AutoX, backed by Alibaba, is also providing robotaxi services in an area of ​​168 km2 in Pingshan District, Shenzhen, with vehicles using fifth-generation autonomous driving technology.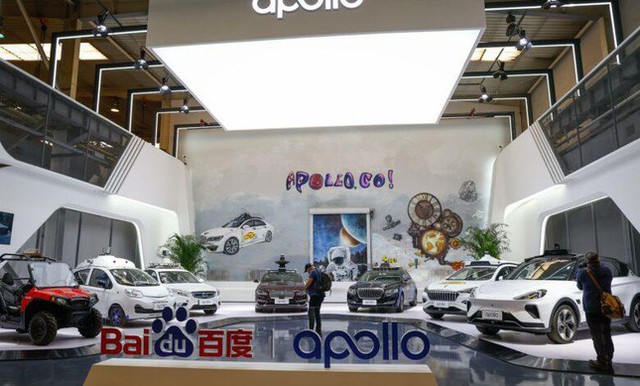 Baidu's robotaxi service has the English name Apollo Go. Photo: EFE.
You are reading the article
There are driverless taxis in China

at
Blogtuan.info
– Source:
cafebiz.vn
– Read the original article
here