Life Style
Tek-life
The richest person in the world, but few people know that Elon Musk used to live like this, obsessed with poverty to the point of being "exploited" by his girlfriend.
Contrary to popular belief, the world's richest billionaire Elon Musk grew up in difficult and debt-ridden circumstances. Before becoming the "king" of the technology world, the billionaire struggled with many different jobs when he could not find a direction in life.
This is confirmed by many of Musk's own past Tweets, as well as information from friends and ex-girlfriends. According to Pranay Pathole, in 1995, Elon Musk was refused a job at Netscape – a large internet company at that time.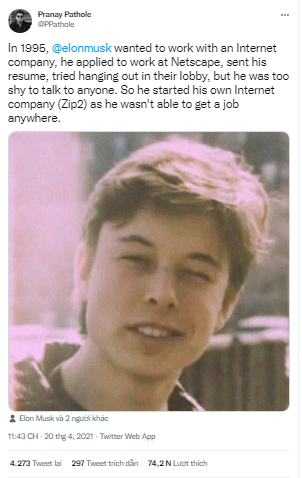 In 1995, Elon Musk wanted to work at an internet company. He applied for a job at Netscape, submitted resumes, and paced the corporate lobby but was too shy to start a conversation with anyone. After that, he founded his own internet company (Zip2) because he couldn't find a job anywhere.
In response to Pranay, the SpaceX boss said that he was not completely unemployed, just couldn't get a job at an internet company, which was rare at the time.
In several other posts, Musk also denied rumors that his father owned an emerald mine. Earlier in 2018, a source on Business Insider said that Musk's father was a wealthy mine owner and paid for the family's high life, with many luxury pleasures such as yachts, skiing or motorbikes. expensiveness.
Denying the rumor, Musk said that "it's a terrible lie". "I left South Africa on my own at 17, with a backpack and suitcase full of books. I worked on a relative's mother's farm in Saskatchewan and a sawmill in Vancouver. Went to college at Queen's on a scholarship and tuition debt, similar to the universities of Pennsylvania, Wharton and Stanford," Mush said.
In a later Tweet, he also added that he had to support himself through college, had to take on $100,000 in student debt and couldn't afford a secondhand computer for Zip2. His mother also confirmed that the family was so poor at the time that they had to eat out on Thanksgiving because they couldn't afford a turkey and spent three weeks renovating their makeshift accommodation in Toronto.
Even Elon Musk's remarried father's family has been financially dependent on his two brothers for more than 20 years, as shared in a post in March 2021.
It can be said that having a poor past has partly boosted the motivation to work for Elon Musk or even his somewhat odd personality. The Tesla boss revealed that he once experimented with living with a spending of 1 USD / day for 1 month, the ration consisted of only hotdogs and oranges.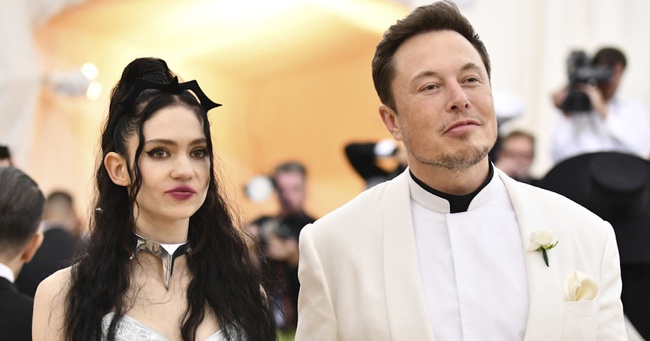 Grimes' ex-girlfriend confirmed that Musk has a habit of "living below the poverty line" even after becoming rich
Even after becoming a billionaire, Musk still maintains the habit of living a "below poverty" lifestyle, in the words of his ex-girlfriend Grimes. She said that when the two got to know each other, Musk refused to change the mattress that had a hole in the bed. The couple still live in a 40,000-dollar apartment with lax security, constantly being filmed by neighbors, and eating peanut butter for eight days straight.
Last year, Musk also confirmed that he regularly lives in a modest $50,000 home in Texas, leased back from SpaceX.
Source: Synthesis
You are reading the article
The richest person in the world, but few people know that Elon Musk used to live like this, obsessed with poverty to the point of being "exploited" by his girlfriend.

at
Blogtuan.info
– Source:
Kenh14.Vn
– Read the original article
here